Electronic Soil Tester
Short Description
Helpful garden tool to find out how well your soil supports plant growth.
Full Description
This solid-state model quickly and accurately measures soil fertility and pH levels. No batteries required.
Buy this product
Order
Quantity
Price
100%
satisfaction
guaranteed
Video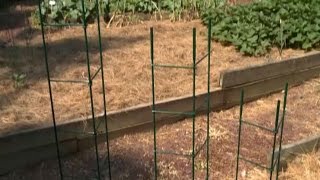 Electronic Soil Tester
is rated out of
5
by
30
.
Rated

1

out of

5
by
Ss55960
from
Awful product
Tested several samples.... even 100% sand They were all given the same reading...(didn't exactly give accurate info)
Date published: 2019-01-21
Rated

5

out of

5
by
Tom R
from
Soil cleans the probes
Oxidation layers on the probe ends WILL result in nuetral measurement. Its you not the probe. The soil scratches the metal and makes a pure contact. Let the meter sit around and then pull it out and stick it in some muddy water off your soil sample and IT WIL NOT WORK AS DESIGNED. Found out the hard way.
Date published: 2018-09-28
Rated

4

out of

5
by
judieguthrey
from
Works great for the garden
Works great for the garden, but can you use it for house plants if so how do you do it.
Date published: 2018-01-24
Rated

1

out of

5
by
Wanerd
from
Doesn't work
I bought it today and I couldn't get it to read anything but a 6.5 or 7 so I decided to check it in white distilled vinegar and it read 6.5 not 2.4 and I moved it to fertility and it moved to 5.5 so it does move it just doesn't work
Date published: 2017-07-31
Rated

1

out of

5
by
ginnie
from
don't buy!
I bought this a couple weeks ago and it doesn't seem to work. (I did move the switch to ph or fertility) When I bought it the needle was pointed to 7 even though it was off which I thought was odd. When I put it in the ground-different places-the needle hardly moved. I deliberately put it where I knew the ground to be rich or poor. I will take it back -but I am disappointed. I really wanted a soil tester. I like other Burpee products.
Date published: 2017-03-23
Rated

1

out of

5
by
AnMarieB
from
soil tester didnt work
I tried it on 3 different beds in Texas, all read exactly the same. Then also tried it in soil in Arkansas, read the same. I am confident the soil is not the same in both states/every bed, but instead, the tester did not work.
Date published: 2017-03-08
Rated

5

out of

5
by
Kghareeb
from
Worked Perfectly
I bought this product and followed the instructions on Pantlay's review. It worked perfectly in vinegar.
Date published: 2017-02-12
Rated

5

out of

5
by
J Fo
from
Pantlady review is the answer
My brother gave me his Burpee meter and said it did not work. It had been in his garage for a number of years. I followed Pantlady's instructions and now it works great.
Date published: 2016-12-30