Strawberry, Mignonette
Short Description
HEIRLOOM. Neat, bushy runnerless plants bear delicious red berries.
Full Description
Mignonette is a French type strawberry that has smaller berries and a distinct flavor and aroma. Excellent edging, border or container variety. Grow as an annual or perennial. GARDEN HINTS: Strawberries grow best in a sunny area with rich, moist, well-drained soil containing plenty of organic matter. They also do well in a greenhouse during winter.
Buy this product
Order
Quantity
Price
Order:
1 Pkt. (125 seeds)
Product properties
Fruit Bearing
Everbearing
Ornamental Use
Beds, Container
Harvest Season
Summer-Fall
100%
satisfaction
guaranteed
Images
Video
Fall Planted Fruits
Fall is an ideal time to plant fruit plants. Plants will establish strong root systems and get a jump on spring growth.
Watch video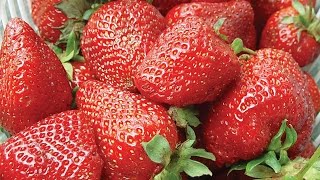 Growing Strawberries
Soft succulent strawberries are difficult to find store bought. The answer is to grow your own – too soft to ship but unmatched for flavor. See how easy it is.
Watch video
Choose a location with loose, well-drained soil containing plenty of organic matter.
Strawberries may also be planted in containers or pyramid gardens, as an edging for flower and shrub borders or in matted beds and rows.
To grow in rows, space strawberry plants 18-24 inches apart in rows 3-5 feet apart. Runners will form new plants and eventually form a solid bed.

Planting Bare Root Plants:

Soak roots in lukewarm water two hours before planting.
Trim roots to 3 inches long and pick off any blossoms or dead leaves.
Using a trowel, open a hole large enough to spread roots out without bunching roots.
Set plants in the hole so that the crown is level with the surrounding soil line.
Press soil firmly against roots.
Water frequently until plants are growing vigorously.

Planting Potted Plants:

Make sure the root ball is sufficiently moist.
Carefully unpot the plant.
Set plants so the crown is level with the surround soil line.
Back fill the hole with soil and press soil firmly against the root ball.
Water frequently until plants are growing vigorously.

Apply a light mulch to keep weeds down, conserve moisture and keep fruit clean.
After harvest, remove old foliage. Be careful not to injure the crowns.
Fertilize beds in early summer and again in September with a balanced fertilizer. Do not fertilize if plants are flowering.
Watering is very important in early summer and September.
Note that June-bearing plants produce the second year after planting. Cut all runners off during the first year, leave 2-3 runners the second year.
Winter protection for all strawberry varieties is important in most northern areas. Apply a mulch of straw or other loose organic matter 2-3 inches deep over the plants after the ground freezes but before the temperature drops below 20 degrees F. In spring, pull the mulch back into the rows.

Pick the fruit as it ripens, when fully red.
Pick with a short piece of stalk attached.
Regular picking will help keep the plants fruiting.
Fruits are best eaten straight off the plants, and may be kept for up to a week in the refrigerator if kept dry. They are also easily frozen, or made into preserves.

Fruit Bearing

Everbearing

Ornamental Use

Beds, Container

Harvest Season

Summer-Fall

Strawberry, Mignonette

is rated out of

5

by

13

.

Rated

3

out of

5

by

WVHomeGardener

from

Cute

As the name suggests, this is a small plant with small berries. I don't know whether my plants got started late or are just not enjoying their spot, but they're nowhere near as bushy as the plant in the photo. Not creeping, but not as tall and bushy as the Alpine Fragiola that I'm growing nearby. It's not a huge problem, but a little disappointing. The fruits are very small: I don't think I've gotten a single one bigger than my pinky fingernail. But they do have a very intensely strawberry taste when they're ripe, so it balances out. They're about perfect to put in cereal or on top of a cake as decoration.

Date published: 2014-09-17

Rated

5

out of

5

by

mahlynn

from

Great so far! :)

This is my first year starting seeds indoors and the first time growing strawberries from seed. I am very impressed so far and I am hopeful that they will continue to impress. I started my seeds using seed starting mix in small paper cups (about 5-6 seeds per) and put them into recycled clear plastic bakery containers (the ones you get the cookies in), poked a few holes in the top, closed the lid and placed them on top of the kitchen cabinets to germinate (70-75 degrees F) and checked them everyday (along with the other seeds I had started). The package said the seedlings would emerge in 30-40 days, on the 7th day after starting 1-3 seedlings were emerged in each cup, I placed them under lights and they are a little over 2 weeks old now with 93 seedling (last I counted) from a packet of 125 seeds that have grown and have one true leaf so far. I don't have anything bad to say, just don't be shocked by the size of the seeds (smaller then carrot seeds in my opinion), but if you read the description and look them up on the web, you can understand why they are so small and you shouldn't be disappointed with the size of the berries, as they will be small, not like the berries you buy in the store, which are of a different type. I can't say anything about the taste of the berry since I have never had this type of strawberry before and mine are not to that stage yet, but so far I am very satisfied with the results and I'm hopeful that they will taste and look as described.

Date published: 2014-04-17

Rated

1

out of

5

by

H2gRO

from

1 out of 72 I planted germinated

I Planted 3-4 seeds per rapid rooter. out of 72 rapid rooters 1 germinated. This was part of the 2014 batch thatIi got. Had no problem with the 2013 seeds that i had gotten last year. 90% germination in 2013. I do not recomend these seeds. Good luck all

Date published: 2014-01-13

Rated

4

out of

5

by

JuneBug

from

Wonderful strawberries

I have been growing Mignonette strawberries for two seasons now. I started them in the house in March, 2012. It does take time for them to germinate. However, When I was ready to plant, I had about 25 plants up and ready to go into the garden in May. They were slow to grow at first. In fact, I was a little worried, so I bought about three Ozark beauty strawberry plants that were blooming and planted them among the Mignonettes. I don't know if there is a correlation, or if it's just a coincidence, but the Mignonettes started taking off after I planted the other strawberries with them. I got some berries last year. But this year they have been bearing fruit from May to present, the hottest part of July. The fruit is small, with an unusual texture, not as juicy as the hybrid varieties. That being said, I prefer the flavor of these little strawberries. They have a sweet very "strawberry" taste with a little hint of vanilla flavor as an end note. They are big, bushy plants now and weathered the N.E. Washington winter just fine last year. I recommend these strawberries. They require patience for picking because they are small fruits, however, I am enjoying them and am very glad I tried this strawberry.

Date published: 2013-07-24

Rated

1

out of

5

by

Sammy44

from

Very Disappointed

I am extremely disappointed in this plant. It has now been a full year since I planted the seeds and they are still barely two inches tall. My family and I are no strangers to growing fruits/veggies, and I did everything I could when it comes to growing and raising a plant from seeds. I used special soils, fertilizers, etc, and still after all this time they look no different than a patch of weeds in my driveway. I did not expect fruit right away obviously, but I was looking forward to it at least looking like a small plant and I am extremely disappointed.

Date published: 2013-05-12

Rated

4

out of

5

by

Robb

from

Mixed review for the south east

I didn't have any problem getting them to germinate. My problem is they have a low heat tolerance. They grew great in the spring. When it started hitting 90 degrees every day, they simply couldn't handle it. I tried more shade, less shade. More water, less water. Nothing. I'm fairly sure it's just the heat in my area. Either way, I can't blame the plant for that. I believe it is a cool climate berry, so that is my fault for expecting any different result.

Date published: 2012-07-14

Rated

2

out of

5

by

flow

from

Challenging

This is my 1st time growing strawberries. I don't know if the seeds are old, but unlike most others reviews it took a month for them to emerge out of soil. I had kept some under grow lights & some others under a dark cool place. I had about 15 different cups to start them in using miracle grow organic soil. The darkish cool place are the ones that did best. Infact the ones I started under grow lights still haven't emerged. I gave up on all of them after 2 weeks and only the dark cool placed ones grew after a month. Then once I brought them outside still in their cups they barely grow under the morn and eve sun with temps in 70's-80's. BUT when I've brought them inside and placed under grow lights they are growing much faster. I plan to keep them inside under grow lights until hopefuly they reach big then I'll try some outside. Hopefully I get a strawberry this season and not have disappointments and wasted my time and money and energy. .

Date published: 2012-04-23

Rated

5

out of

5

by

JimD

from

Awesome and easy

I germinated these no problem. Threw 10 seeds in and got 6-7 out. I used a thin coconut fiber layer on top of regular soil then lightly covered them with a little more soil. Covered with saran wrap and vented daily while in the window sill, took about 5 days.

Date published: 2011-11-07