Pepper, Sweet Carnival Blend
Short Description
Five different, colorful bell peppers for the price of one.
Full Description
When you plant a packet, some will turn out gold or orange and others will be red, purple or ivory. Most start out green and are tasty as soon as they reach full size; a few weeks later, their full ripe color will show. These are all classic big bell hybrids: California Wonder, Diamond, Golden California Wonder, Orange Sun and Purple Beauty.
Buy this product
Order
Quantity
Price
Order:
1 Pkt. (100 seeds)
Product properties
Type Some flowers and vegetables fall into subcategories that may define how they grow (such as pole or bush), what they are used for (such as slicing tomatoes or shelling peas), flower type, or other designations that will help you select the type of a class of plant that you are looking for.
Sweet Mix Bell
Days To Maturity The average number of days from when the plant is actively growing in the garden to the expected time of harvest.
70 days
Fruit Size The average size of the fruit produced by this product.
3-4 inches
Sun The amount of sunlight this product needs daily in order to perform well in the garden. Full sun means 6 hours of direct sun per day; partial sun means 2-4 hours of direct sun per day; shade means little or no direct sun.
Full Sun
Spread The width of the plant at maturity.
12 inches
Height The typical height of this product at maturity.
18-24 inches
100%
satisfaction
guaranteed
Video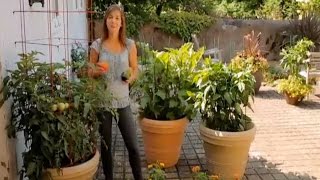 Peppers

Start Indoors

Starting seeds indoors is called Indoor Sow or Indirect Sow and these dates are when to sow seeds indoors in the spring or summer

Transplant

When to transplant bulbs or roots in the garden for spring

Start Outdoors

Starting seeds outdoors is called Outdoor Sow or Direct Sow and these dates are when to sow seeds outdoors in the spring or summer

Start Indoors Fall

Starting seeds indoors in the fall called Indoor Sow or Indirect Sow and these dates are when to sow seeds outdoors in the fall

Transplant Fall

Transplant Fall-When to transplant bulbs or roots in the garden for fall

Start Outdoors Fall

Starting seeds outdoors in the fall is called Outdoor Sow or Direct Sow and these dates are when to sow seeds outdoors in the fall

First Date: Feb-22 - Last Date: Mar-07

First Date: May-02 - Last Date: May-30

Jan

Feb

Mar

Apr

May

Jun

Jul

Aug

Sep

Oct

Nov

Dec
How to Sow and Plant
Only home gardeners who enjoy long growing seasons in the Deep South should attempt to sow pepper seeds directly in the vegetable garden. Most of us must start our own pepper plants indoors about 8-10 weeks before transplanting, which should be done 2-3 weeks after the expected last frost.
Sow seeds ¼ inch deep in seed-starting formula
Keep the soil moist at 75 degrees F
Seedlings emerge in 10-21 days
As soon as seedlings emerge, provide plenty of light on a sunny windowsill or grow seedlings 3-4 inches beneath fluorescent plant lights turned on 16 hours per day, off for 8 hours at night. Raise the lights as the plants grow taller. Incandescent bulbs will not work for this process because they will get too hot. Most plants require a dark period to grow, do not leave lights on for 24 hours.
Seedlings do not need much fertilizer, feed when they are 3-4 weeks old using a starter solution (half strength of a complete indoor houseplant food) according to manufacturer's directions.
If you are growing in small cells, you may need to transplant the seedlings to 3 or 4 inch pots when seedlings have at least 3 pairs of leaves before transplanting to the garden so they have enough room to develop strong roots
Before planting in the garden, seedling plants need to be "hardened off". Accustom young plants to outdoor conditions by moving them to a sheltered place outside for a week. Be sure to protect them from wind and hot sun at first. If frost threatens at night, cover or bring containers indoors, then take them out again in the morning. This hardening off process toughens the plant's cell structure and reduces transplant shock and scalding.
Planting in the Garden:
To get an early start with your pepper plants, particularly in the North, cover the prepared bed with a dark colored polyethylene mulch at least a week before transplanting. This will heat the soil beneath and provide a better growing condition for young pepper plants. The mulch will also help the soil retain moisture throughout the season as the pepper plants grow.
Select a location in full sun with good rich moist organic soil. Make sure you did not grow tomatoes, peppers, eggplant or potatoes in the bed the previous year to avoid disease problems.
Prepare the bed by turning the soil under to a depth of 8 inches. Level with a rake to remove clumps of grass and stones.
Peppers should be set 18 inches apart in a row with the rows spaced 2-3 feet apart.
Dig a hole for each plant large enough to amply accommodate the root ball.
Carefully remove the plant from its pot and gently loosen the root ball with your hands to encourage good root development.
Fill the planting hole with soil to the top and press soil down firmly with your hand leaving a slight depression around the plant to hold water.
Use a plant tag as a location marker. This is particularly important if you are trying different varieties. It is very difficult to tell which variety is which from the foliage.
Water thoroughly, so that a puddle forms in the saucer you have created. This settles the plants in, drives out air pockets and results in good root-to-soil contact.
Peppers may also be planted in containers. Use a container at least 18-24 inches wide and deep and use a commercial potting mix rather than garden soil.
How to Grow
Keep weeds under control during the growing season. Weeds compete with plants for water, space and nutrients, so control them by either cultivating often or use a mulch to prevent their seeds from germinating.
Mulches also help retain soil moisture and maintain even soil temperatures. This is especially important for peppers as their roots may be easily damaged when weeding, and this can lead to blossom end rot.
Keep plants well-watered during the growing season, especially during dry spells. Plants need about 1-2" of rain per week during the growing season. Use a rain gauge to check to see if you need to add water. It's best to water with a drip or trickle system that delivers water at low pressure at the soil level. If you water with overhead sprinklers, water early in the day so the foliage has time to dry off before evening, to minimize disease problems. Keep the soil moist but not saturated.
Note that hot peppers tend to be hotter when they have less water and fertilizer. If they receive plenty of water and fertilizer they may be more mild than expected.
Monitor for pests and diseases. Check with your local Cooperative Extension Service for pest controls recommended for your area.
Try planting pepper plants near tomatoes, parsley, basil, and carrots in your home vegetable garden. Don't plant them near fennel or kohlrabi. Peppers are very colorful when in full fruit and combine well with green herbs, okra, beans and cucumber fences in the garden bed.
Harvesting and Preserving Tips
Like cucumbers and summer squash, peppers are usually harvested at an immature stage. The traditional bell pepper, for example, is harvested green, even though most varieties will mature red, orange, or yellow. Peppers may be harvested at any stage, but their flavor doesn't fully develop until maturity. Fully ripe peppers in multi-colors are delightful in the garden as well as in salads.
Cut the fruit from the plant with a sharp knife or pruners leaving a small part of the stem attached.
Sweet bell, pimento and cherry peppers are delicious eaten green but are sweeter and higher in vitamins if allowed to turn bright red before harvest. Some varieties are yellow at maturity or may mature from green through yellow and red.
Hot peppers may be harvested at any stage. Anaheim is usually picked green and cayenne types red.
Bell peppers may be chopped and quick frozen for use in many recipes; sweet cherry and banana peppers and hot cherry peppers are perfect for pickling.
A popular and trouble-free way to store hot peppers is to dry them. String mature red peppers by piercing the stem with a needle and heavy thread. Hang the string in a warm, dry, airy place (not in the sun!) to dry. They can make a colorful kitchen accent. Pull a pepper from the string when you need one. Hot peppers remain hot even after they are dried. Remember that in recipes a little hot pepper can go a long way.
Please note that hot peppers can burn sensitive skin on contact and fumes from grinding or cooking them can irritate the lungs and eyes. When working with hot peppers use rubber gloves and wash your hands before touching your face or eyes.
Pepper, Sweet Carnival Blend
is rated out of
5
by
36
.
Rated

5

out of

5
by
jimfromchitown
from
Peppers need lots of tlc
I suggest you do research in the Old Farmer's Almanac on growing peppers. Peppers need warmth to germinate. You will need to purchase a heating mat. All seedlings need a minimum of 14 hours under a grow light every day and they must be only a couple of inches from the light. They must be transplanted several weeks after the last frost when the soil is warm. They need fertilizer, full sun, and just the right amount of moisture.
Date published: 2014-07-09
Rated

1

out of

5
by
SCGreenville
from
Bad Carnival Mix
I had 0% germination with this pack. The first round was started early and I thought the cool temperatures prevented the seeds from sprouting. A second round was temperature controlled and they also failed. Drop this from your seed line Burpee.
Date published: 2014-05-27
Rated

1

out of

5
by
Shimmyglider
from
Terrible!!
I had absolutely none germinate. I followed suggestions and tips from Burpee. I know it wasn't me because I also planted Gypsy seeds and have about an 80-85% germination. It's especially upsetting because having ordered them directly from Burpee, I paid literally four times as much as I would have in the store. I figured the seeds would be fresher and healthier, I guess I was waaaay wrong.
Date published: 2013-12-09
Rated

3

out of

5
by
preachermom
from
Okay....but....
These little peppers were happy to grow and fairly resistant to the root knot nematode that seems to plague my garden. But my emphasis for this review is, little. The peppers never got very large. I would compare the size to that of a tangerine or a medium apple. Good for flavor, not for stuffing.
Date published: 2013-09-29
Rated

5

out of

5
by
bpowell
from
Good producer of colorful bells
Have several plants growing in containers that were started as seeds the beginning of April. We are now harvesting several brightly colored bell peppers from each plant. They took a while to ripen to this stage, but it was well worth the wait.
Date published: 2013-09-16
Rated

1

out of

5
by
PandB
from
Not Great
My seeds did grow into large plants but at the middle of July a have 2 peppers one green and one yellow. Picked the yellow one and had no taste at all. No other peepers coming on. Very disappointed.
Date published: 2013-07-12
Rated

4

out of

5
by
SPJB1987
from
Good Peppers so far
I had a very good success rate with these germinating. I probably got 35-40 seedlings out of 50 seeds. I started them in Jiffy greenhouse pellet trays and later transplanted them into peat pots. They took about 2 weeks to germinate but started to grow faster when I moved them from inside near a window to my FlowerHouse greenhouse. I use organic miracle grow on them. I'm anxious to see how well these produce and what color the peppers are.
Date published: 2013-04-10
Rated

4

out of

5
by
Kimkimi
from
This year I started all my peppers and tomatoes from seeds inside in March. Planted them outstide by May. It was already the 1st week of July and picked my first purple tomato. I honestly didn't do much too them. A little bit of food about once a month, and soaker hoses throughout. Out of the packet of seeds, I probably have around 15-20 plants. Overall thought it was a good product
Date published: 2012-07-08
Rated

1

out of

5
by
sassygirlkaraoke
from
Not Much of a Carnival
Relieved to see it wasn't just me. Out of 2 full packets of seeds, have maybe 10 plants. Also growing 7 other varieties of different peppers, all of which are already flowering, while I try to baby these guys along. I was so excited when I found the seeds, but really let down at the results.
Date published: 2012-05-17
Rated

3

out of

5
by
Newbee
from
Just started a garden
I started 18 seeds and I have 15 that came up. I see people in the past have had a hard time gettting these to grow but I am using compost tea on them and they seem to be doing very well. I am looking forward to getting them in the ground and watching them take off! I hope to have some of the great success that others have. For those of you who are not having much luck... I started mine in individual pots and put the pots in a makeshift greenhouse and they are responding well. They all look very healthy and seem to be growing rapidly. I take them out when I get home to give them a few hours of direct sunlight and water. As long as they produce well I will definately be planting these again.
Date published: 2012-03-15
Rated

1

out of

5
by
andreamf15
from
One pepper plant!!!
Out of the whole package I got one pepper plant. I bought these seeds at lowes. Its unfortunate burpee seeds were on sale and I got four packages. I really won't be buying anymore burpee brand pepper seeds. I have a lot of burpee seeds that have started just fine. I bought a different brand of marconi peppers seeds to see if they would be better. I planted three marconi seeds, they all sprouted in a week. So if you want multi-colored pepper plants, I would suggest you buy another brand.
Date published: 2011-06-29
Rated

5

out of

5
by
Alison
from
Lots of plants
I've read the other reviews and I'm sorry that people did not get similar results to mine. None of them say how they planted them or fertilized them. It might be helpful so someone can tell you what to try. I planted them in a tray with Miraclegro soil. When they were large enough to be transplanted I put them in pots. I live in Florida and this year has been very dry. I have to water them twice a day. I also put epson salts on them and my tomato plants once a month and fertilize once a month too. From one package of seeds I have 16 plants. Only one plant is very small. Not sure how that one will come out. But its about 4 inches tall while most of the others are over a foot tall. Many have peppers on them. I did have to move them from where I originally had them because they were getting too much sun.That's the nice part about putting them in pots. The down side is that you do have to water them more often.
Date published: 2011-06-25
Rated

1

out of

5
by
RainbowGardener
from
Carnival Mix Peppers
Arrgghh!!! Second year in a row, purchased seed packet from big box store. Supposed to be new, good seed. Year 1 - a 5 seeds germinated. Year 2 - ZERO! Gonna try one more time. Burpee???? And btw, i have a Hort degree.
Date published: 2011-04-26
Rated

2

out of

5
by
cookjsd
from
no luck
only 1 plant survived...2 small purple peppers..will try again
Date published: 2011-03-13
Rated

1

out of

5
by
CCCC
from
Didn't bloom
Not sure what happened, but none of my seeds bloomed. It was VERY disappointed. I must have done something wrong.
Date published: 2009-10-04
Rated

2

out of

5
by
Meggie
from
We started our seeds in the middle of April, in Jiffy peat pots. They didn't start very well we only have about 6 or 7 left. They are just starting to flower and we have a couple of tiny peppers. I'm not impressed, but I haven't grown peppers before. My mom says they're doing okay.
Date published: 2009-06-24
Rated

2

out of

5
by
Birdie
from
Will try again
Decent germination, but the weak seedlings didn't survive a little wind after transplanting.
Date published: 2009-06-20
Rated

3

out of

5
by
Krawz
from
OK
It might have had to do with our growing season, but I had great success with the cream colored variety producing early (but small fruits) Later, the other varieties produced a small crop late in the season, but took forever to turn on the plant (as the other varieties start off as green then turn their respective color.) This is the problem choosing a mix. If you know your peppers, choose the individual varieties you want.
Date published: 2009-01-22
Rated

4

out of

5
by
Bean
from
Good choice
I had good luck with the germination of the seeds, plenty of plants. I kept many and gave away some. So far they are growing well. I have at least 10 plants growing, many are producing peppers already, but too small to tell what kind they are. One purple beauty so far. Does anyone know which pepper start off looking like a hot pepper the shape of it that is.
Date published: 2008-07-28
Rated

2

out of

5
by
Kronos
from
Disappointing
Decided to try these this year for some variety. Out of the 50 seeds in the packet only 20 actually managed to germinate and of those only 4 survived long enough to transplant into the garden. We started another set of regular green bell peppers at the same time and those plants are doing great. Same soil mixture, same amount of watering and sunlight, surprisingly different results. Not sure what happened, but I'm not planning on bothering with this seed mix again. Peppers are usually one of the easiest things to grow in this area. The four plants that have survived are just begining to flower so I can't comment on colors or taste yet.
Date published: 2008-07-23
Rated

3

out of

5
by
ChristyACB
from
Difficult beginnings
This household loves a colorful array of peppers and we thought this mix might be fun to grow. We started 25 seeds, but in the end, wound up with only 10 that made it into the garden for transplant. While it is tempting to think it was our methods, we have a much greater success rate with all other peppers. The germination rate wasn't great and the seedlings were very sensitive for a longer period of time. It appears that the purple and red peppers were the strongest of the group since all of our mature plants are of that group. To bolster our crop, we purchsed some nursery starts to hedge our bets at transplanting time and these nursery starts continue to outperform the plants from this seed mix. My other peppers grown from seed are all doing fantastically but these just aren't quite as vigorous. We are getting peppers from them, but significantly fewer than all other cultivars, with a lower rate of blossom take than others. The plants themselves are as attractive as one could want from a pepper plant and the peppers that do come from the plants are delicious. I still have half the packet so I will be trying them again next year one more time. I'll update my review then but as of now, I'd only recommend this to those that are very experienced in raising from seed or those who can afford significant losses.
Date published: 2008-07-19
Rated

5

out of

5
by
Anonymous
from
Best peppers I've grown yet!
I was really nervous about these peppers when I saw the negative reviews last year, but I bought them before I read the reviews. I had no problems germinating from seed at all! These pepper plants grew tall and sturdy, and were LOADED with peppers. We got a lot of purple peppers, and a good mixture of green, yellow, red and orange. This will be the pepper seed packet I go with from now on!
Date published: 2007-12-31
Rated

4

out of

5
by
greenthumbgrammy
from
these are growing amazing!
I am growing 28 of these plants and they all are around 18 inches in height and solid as a tree. Nice compact plants that are bushy and LOTS of peppers everywhere. I have identified 6 purple beautys and four diamnond plants and the rest are green which will turn either red,yellow or orange. Peppers that are growing are getting bigger everyday. I predict by end of July i will be harvesting loads and loads of these. On average right now each pepper plant has roughly 20 peppers growing and the flowers just keep coming! I've had to stake plants now that they are getting top heavy with growing peppers. Wind damage would topple these plants over easy now that they are loaded with peppers everywhere. I am growing in full sun and water deeply once a week. I highly reccomend these to anybody as they are EASY to grow and load up with LOTS of peppers. All I do is water them and they do their magic. I reccomend fertalizing lightly when transplanting into garden and thats about it. After that just water and watch them grow.
Date published: 2007-07-06
Rated

4

out of

5
by
cathekorn24
from
KEEPS PRODUCING!!!!
These peppers are great!! I'm a beginner gardener and had an excellent turnout. I live in Hawaii, and I planted them in Mid March and they kept producing until December. I had medium size yellow, red, purple, green peppers. Great for stir fry and grilled!!
Date published: 2007-04-08
Rated

1

out of

5
by
bella
from
I planted these last year and had zero success. I ended up buying plants at a nursery that produced really well but these still weren't producing at the end of the season, they were barely growing...
Date published: 2007-01-05
Rated

2

out of

5
by
abc123
from
EMBARASSING WASTE OF TIME & SPACE
large plants producing a few small tasteless peppers, not a very good mixture either, all I got was yellow and purple peppers, definitely won't be growing these again
Date published: 2006-10-27
Rated

5

out of

5
by
phoenixjs
from
Needs FULL SUN
These are really great but it is for certain that they need full sun.
Date published: 2006-05-31
Rated

5

out of

5
by
Anonymous
from
COLORFUL!
The peppers look beautiful in a bowl as a centerpiece and are very tasty.
Date published: 2006-03-08