Corn, Full Season Suntava Purple Hybrid
Short Description
Extraordinary purple corn is scrumptious and healthy!
Full Description
This great variety of home grown corn features gorgeous purple kernels and a healthy, dark green, easy to grow plant. We offer many other great corn varieties, yellow, white and bicolor, which are ideal for a quick grill or boiling and for eating relatively raw. But Suntava is really best when used in recipes. It's perfect for boiling, roasting, steaming, corn salad, salsa, or purply-beautiful creamed corn when it is young- around 70 days from planting. Allowed to mature into a full season corn, about 90-120 days from planting, the uses continue! Excellent for cornmeal, grits, and the traditional South American health drink "chicha morada".
Buy this product
Order
Quantity
Price
Order:
1 Pkt. (300 seeds)
Product properties
Type Some flowers and vegetables fall into subcategories that may define how they grow (such as pole or bush), what they are used for (such as slicing tomatoes or shelling peas), flower type, or other designations that will help you select the type of a class of plant that you are looking for.
OP
Days To Maturity The average number of days from when the plant is actively growing in the garden to the expected time of harvest.
80-120 days
Fruit Size The average size of the fruit produced by this product.
8 inches
Sun The amount of sunlight this product needs daily in order to perform well in the garden. Full sun means 6 hours of direct sun per day; partial sun means 2-4 hours of direct sun per day; shade means little or no direct sun.
Full Sun
Spread The width of the plant at maturity.
24-36 inches
Height The typical height of this product at maturity.
72-96 inches
100%
satisfaction
guaranteed
Video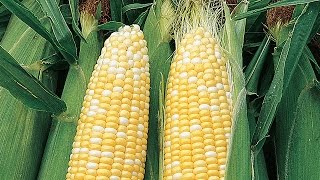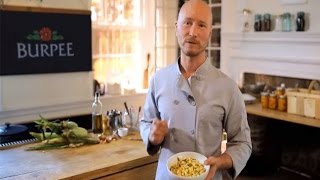 Corn

Start Indoors

Starting seeds indoors is called Indoor Sow or Indirect Sow and these dates are when to sow seeds indoors in the spring or summer

Transplant

When to transplant bulbs or roots in the garden for spring

Start Outdoors

Starting seeds outdoors is called Outdoor Sow or Direct Sow and these dates are when to sow seeds outdoors in the spring or summer

Start Indoors Fall

Starting seeds indoors in the fall called Indoor Sow or Indirect Sow and these dates are when to sow seeds outdoors in the fall

Transplant Fall

Transplant Fall-When to transplant bulbs or roots in the garden for fall

Start Outdoors Fall

Starting seeds outdoors in the fall is called Outdoor Sow or Direct Sow and these dates are when to sow seeds outdoors in the fall

S

Succession Planting

This means that the plants have multiple harvests in a season

First Date: May-02 - Last Date: Jun-13

Jan

Feb

Mar

Apr

May

Jun

Jul

Aug

Sep

Oct

Nov

Dec
How to Sow
Growing corn is easy provided you have enough space and plenty of sun. Corn is wind-pollinated, so you need to plant in blocks to ensure pollination. You should have a minimum 10 foot by 10 foot area. The exception to this rule is 'On Deck' corn, which has been bred to grow in containers. If you are growing 'On Deck', choose a container that is at least 24 inches wide and deep and plant nine seeds evenly spaced.
Corn is classified as Sh2, SE, SU, or SY. These refer to the sweetness and how long the corn may be stored. Sh2 is is supersweet, lasts 4-6 days in the refrigerator and is more challenging to sow in cool soils; SE is sugar-enhanced and lasts over a week in the refrigerator; SU is normal sugary, more cool soil tolerant but with a shorter shelf life; SY combines SE and Sh2 traits. Isolate Sh2 corn varieties from others by planting seeds at least 250 feet apart, or select varieties that mature at least 2 weeks apart, so they will not cross pollinate.
When choosing a site for corn, plant on the north side of your garden so the tall plants do not shade other plants in your vegetable garden.
Corn is a warm season crop and should not be planted in cool soils. The non Sh2 varieties tend to be more tolerant of cool soils, but in general the soil should be about 65 degrees F or warmer.
Sow corn seed 1 inch deep, 5 to 6 inches apart in rows 2 to 3 feet apart.
Seedlings emerge in 7-14 days.
When corn seedlings are 3-5 inches tall and healthy, thin to 1 foot apart.
How to Grow
Keep weeds under control during the growing season. Weeds compete with plants for water, space and nutrients, so control them by either cultivating often or use a mulch to prevent their seeds from germinating.
Keep plants well watered during dry periods to promote uninterrupted growth. Corn needs 1-2 inches of rain per week for best production. Use a rain gauge to check to see if you need to add water. Corn is also a heavy feeder and will benefit from side dressings of fertilizer applied as directed through the growing season.
Monitor for pests and diseases. Check with your local Cooperative Extension Service for pest controls recommended for your area.
Suckers tend to form at the base of the plants; they help support the stalks and make food for the plant. The stalks may have to be staked in windy areas, but in general they are self-supporting.
Sunflowers are good companion plant for corn. Direct sow sunflowers in rows parallel to corn rows to help separate corn varieties that need isolation from each other. Choose sunflower varieties of comparable height to the corn plantings. The sunflower border, with vibrant hues in russets to golden-yellow, will add sparkle next to the almost all-green corn plot. The 'Three Sisters' (corn, bean and squash) are traditional companion plantings with Native American gardeners.
Harvest and Preserving Tips
Ears of corn are ready to harvest about 17-20 days after the silks appear. The kernels should be firm. Open an ear and pierce a kernel with your fingernail. If the liquid is watery, the corn is not ripe yet. It should be milky. If it is creamy, it is overripe and will not taste as sweet.
Firmly grip the ear and twist downward to harvest. Take care not to break the plant when harvesting the first ear, or the second ear will not develop. Most corn produces two ears.
Store unhusked corn in the fridge and consume as soon as possible. Sh2 and SE varieties keep the longest in the fridge, up to one week.
Corn freezes well after blanching and may also be canned using a pressure cooker. Immature ears may be pickled.
Days To Maturity
80-120 days
Sow Time
After Last Frost
Corn, Full Season Suntava Purple Hybrid
is rated out of
5
by
17
.
Rated

5

out of

5
by
Wisconsin backyard grower
from
Turned me into a tortilla queen
This variety was fantastic. Nearly every seed germinated. I averaged one ear per stalk. We ate a few as underdeveloped ears. But the corn flavor is so amazing as tortillas. If you make tortillas with it, you won't have to grind it dry. Just get the seeds off the cobs and then check out Alton Brown's video "Tortilla Reform" for detailed video instructions.
Date published: 2018-11-16
Rated

5

out of

5
by
WoodlandRanch
from
Outstanding corn... Literally
We have a section at the ranch where the soil is mostly clay and when the summer heat dries up the soil, it cracks and makes crevices. This area was never used for farming and some have commented as being the Wild West. Last year we decided to use this section and added some compost which was mostly leaves, branches and wood chips to prep the soil. The purpose of using this section is to determine which type of corn would perform best. We tried all types of corn that you could name such as yellow, white, bicolor, red and purple. The corn that survived and thrived the most was the Suntava Purple corn. All of the other corn were stunted and did not make it. The Suntava corn also exhibits a drought tolerant characteristics since the plants were neglected shortly afterwards which we do not recommend doing for proper growth. The corn needs to be picked early when the kernels are milky and not creamy thick to maintain the greatest flavor. You definitely want to grow as directed as with any corn. Microwave with the husks on appears to be the best in our experience with any corn. We will be planting and purchasing additional seeds in the future.
Date published: 2018-10-09
Rated

5

out of

5
by
VeiledMaid
from
Geese Approve
I tried growing non-GMO 'Suntava' purple corn, just to see if it was any better than the heirloom purple corn we usually grow... Suntava is a far more attractive plant, with more purple coloration. The amount of beneficial anthocyanins it produces is substantially higher! I was getting one full ear, and multiple small ears, on every stalk. Our ESA Sabastopol geese love every part of this plant! They eat the corn, husks, the entire plant is edible, and they eat it like it was the best thing they had ever tasted. I'll definitely be growing Non-GMO Suntava corn on a larger scale next year.
Date published: 2017-09-27
Rated

4

out of

5
by
nana anna
from
Needs more disclosure/information
First-time impressions: Great germination. Impressive growth and appearance of stalks. No disease or worms! Beautiful ears. BUT: By the time it looks "ready" (like the photo) the kernels are tough and hard and not very tasty. Yes, Burpee's description says you should pick at 70 days to eat fresh and pick at 90-120 days to use as "full-season corn" -- cornmeal and grits. I checked mine at 70 days and it was barely starting to turn purple. By the time it was purple, well, see above. I think now I'll just leave it on the stalks to dry and figure out how to shell it and grind it. Never done that before, so we'll see how it goes! I do wish Burpee had provided a photo of what the corn looks like when it is edible as fresh corn.
Date published: 2017-09-12
Rated

5

out of

5
by
sunflowerlover
from
Hardy, Very Easy and Quick to Grow
This corn is very easy to grow, and is an excellent, beautiful deep purple hue as portrayed in the picture. Germination was excellent; both direct sow and indoor start-transplant methods work well for this hardy variety. Experiencing large yields from multiple, quick to grow stalks, this corn adds both an excellent color and great flavor to salsa. Hats off to Burpee!
Date published: 2017-06-25
Rated

5

out of

5
by
TheKid
from
Beautiful corn, but know what you are buying.
This is beautiful corn, but please know what you are buying. This is NOT fresh eating corn. This corn is best used after it has completely dried. It makes wonderful corn meal and makes a great Chicha Morada drink! But it is not sweet fresh eating corn.
Date published: 2016-05-11
Rated

5

out of

5
by
Gardenlady1
from
Health kick
I just bought this corn and haven't had a chance to grow it yet. However, I just wanted to say I'm glad Burpee is going off the beaten path with this one. After researching Suntava, I suspect this is a kulli/morado hybrid better adapted to Northern climates. If so, don't expect a sweet corn for corn-on-the-cob like you buy in the store. Rather than eating it fresh, either purchase a grinder and make your own starchy flour and corn meal or look up a good recipe for Chicha Morada, the Peruvian purple corn fruit drink, and enjoy it for its health benefits. Purple corn produces some of the most powerful antioxidants known! The only down side is it's a hybrid.
Date published: 2016-02-02
Rated

5

out of

5
by
SummerLove
from
Deep purple color
I was impressed with how vigorous this corn grew. I grew this corn along my shed next to the zinnias, after 70 days I picked my first ear and cooked it, then I cut the kernels off and put it in my mixed salad. It was great, I liked the taste and I know it is healthier than yellow or white corn, plus it is easy to grow.
Date published: 2015-09-07