Bean, Bush, Tenderpod
Short Description
Stays tender and stringless even when fully mature.
Full Description
HEIRLOOM. This 1941 All-America Selections winner remains a customer favorite. Why? Because the beans stay tender, stringless and ever so tasty when fully mature. Bush bean pods are 4 1/2 - 5 1/2" long, thick and round in cross section, with distinctive curved tips. Superb as a dried shell bean.
Buy this product
Order
Quantity
Price
Product properties
Type Some flowers and vegetables fall into subcategories that may define how they grow (such as pole or bush), what they are used for (such as slicing tomatoes or shelling peas), flower type, or other designations that will help you select the type of a class of plant that you are looking for.
Bush Snap
Days To Maturity The average number of days from when the plant is actively growing in the garden to the expected time of harvest.
50 days
Fruit Size The average size of the fruit produced by this product.
4-6 inches
Sun The amount of sunlight this product needs daily in order to perform well in the garden. Full sun means 6 hours of direct sun per day; partial sun means 2-4 hours of direct sun per day; shade means little or no direct sun.
Full Sun
Spread The width of the plant at maturity.
10 inches
Height The typical height of this product at maturity.
15-20 inches
100%
satisfaction
guaranteed
Video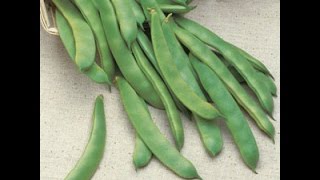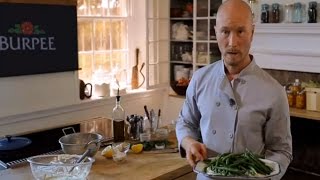 Beans

Start Indoors

Starting seeds indoors is called Indoor Sow or Indirect Sow and these dates are when to sow seeds indoors in the spring or summer

Transplant

When to transplant bulbs or roots in the garden for spring

Start Outdoors

Starting seeds outdoors is called Outdoor Sow or Direct Sow and these dates are when to sow seeds outdoors in the spring or summer

Start Indoors Fall

Starting seeds indoors in the fall called Indoor Sow or Indirect Sow and these dates are when to sow seeds outdoors in the fall

Transplant Fall

Transplant Fall-When to transplant bulbs or roots in the garden for fall

Start Outdoors Fall

Starting seeds outdoors in the fall is called Outdoor Sow or Direct Sow and these dates are when to sow seeds outdoors in the fall

S

Succession Planting

This means that the plants have multiple harvests in a season

First Date: May-16 - Last Date: Jun-13

Jan

Feb

Mar

Apr

May

Jun

Jul

Aug

Sep

Oct

Nov

Dec
How to Sow
Because beans are members of the legume family of plants, they can benefit from an application of a soil inoculant designed for beans and peas, prior to planting. The inoculant will enable the plants to take nitrogen from the air to use as fertilizer, which can increase crop yield and quality.
Sow in average soil in a sunny location after danger of frost and soil has warmed, from spring to early summer. Sow after the soil has warmed, as seeds may rot in cooler soils.
Coat untreated seed with an inoculant.
Sow in rows 24 inches apart. Sow seeds 3 inches apart and cover with 1 inch of fine soil. Firm lightly and water gently.
Seedlings emerge in 10-14 days depending on soil and weather conditions.
Keep sowing bush bean seeds every 2 weeks for a constant supply of beans.
Thin gradually to stand 12 inches apart when seedlings are 1-2 inches high.
How to Grow
In dry weather, keep soil well-watered. Plants need about 1 inch of rain per week during the growing season. Use a rain gauge to check to see if you need to add water. It's best to water with a drip or trickle system that delivers water at low pressure at the soil level. If you water with overhead sprinklers, water early in the day so the foliage has time to dry off before evening, to minimize disease problems. Keep the soil moist but not saturated.
Cultivate or mulch to keep weed-free, but do not work or handle plants when leaves are wet.
Beans as companion plants: Planted closely in rows spaced around two feet, bush bean plants blend well with like-sized warm-season vegetables such as peppers, tomatoes and eggplants. Between towers of pole bean plants, planting vines such as squash can help keep weeds down. Pole beans can help protect cool-season vegetables such as spinach and lettuces, as the weather warms.
Harvest and Preserving Tips
For fresh use, pick pods as soon as well-filled out with peas
For dried bean use, harvest in about 80 days, when the pods start to dry on the plant.
To Dry Beans: Allow the beans to stay on the plants until they are partially dry. Then pull up the plants and hang them in a warm, dry place with good air circulation until the pods and seeds are thoroughly dry. Shell the beans and save the pods and plants for composting.
Planting Time
Spring, Summer
Sow Time
After Last Frost
Bean, Bush, Tenderpod
is rated out of
5
by
55
.
Rated

1

out of

5
by
martain74
from
Don't waste you money
I purchased these bean seeds back in March. I then planted my garden the middle of May. I even soaked the bean seed for 24-36 hours, before placing then in the ground. 3 weeks later, and only 5 plants to show for 50 seeds. DO NOT WASTE your money. Buy a different bean!
Date published: 2015-05-23
Rated

1

out of

5
by
Hopefull
from
give us back the old Tenderpod seeds
I have had luck with this bean for years and then as others have said in 2013 there was the vining issue and tough beans. I had hoped that by the 2014 season it would be resolved. As others note it was not. However, someone at Burpee put me on to the fact that there are 2 types of seed in the packets (one with brown spots and one that is all white). I planted them separately and found that the ones with the brown spots were the good ones. I love these beans so much that I will order extra this year and only plant the ones with the brown spots. I wish they could resolve this since this will cost me extra.
Date published: 2014-12-20
Rated

1

out of

5
by
nodo14
from
BEAN BUSH BURPEE'S TENDERPOD
Not happy with these. They were supposed to be long and skinny. Instead they were flat, stringy, and had big beans inside. They took a long time to start producing. Will never buy them again
Date published: 2014-11-10
Rated

5

out of

5
by
proudmamaof4
from
Great producer.
These did very well. 1 st time growing them and I was very happy. My family enjoyed them.
Date published: 2014-09-21
Rated

1

out of

5
by
djk1
from
Can't possible be an heirloom variety
I planted Burpee's Tenderpod bush bean in an Heirloom demonstration garden. I think this seed could not possibly be the heirloom Tenderpod seed as there is not way someone would have passed this down from generation to generation or considered this bean a superior variety. The "bush" plants vined to over 4 ft and as others pointed out--the beans at the top were coarse and had strings. The beans at the base were few and far between. I would rate this "0" stars if I could. Do not buy!
Date published: 2014-09-17
Rated

1

out of

5
by
mayaz2
from
Don't buy these beans
A Burpee representative told me by phone that these beans have reverted to the parent in the field. The seeds grew a very bad pole bean. Don't buy these seeds.
Date published: 2014-09-17
Rated

1

out of

5
by
msmusic
from
tenderpod bean
bean seed did not grow.100% failure even germ test
Date published: 2014-09-06
Rated

2

out of

5
by
nyjjohn
from
notbushbean
I wish I had read the reviews before ordering. No problem with germination, but they are climbing like pole beans. They have tiny strings, so they are not string less. Planted mid May, and finally getting some beans July 25th. It's hard to find the beans because of the vining type growth. Flavor not as good as Blue Lake.
Date published: 2014-07-27
Rated

1

out of

5
by
bumpkin
from
Bummer
I planted these in late May and only 1 plant germinated out of all. I planted three 12 ft rows of them! So disappointed. My mom said the two in depth seemed too deep, so I replanted just over an inch deep. They finally grew, BUT... like the other review, they are vines!!! The package says Bush and even compact, but they are all over my garden!!! So frustrating! Also, I will add that my package says packed for 2014, so if this was a problem, it still exists! I've never bought Burpee seeds for my garden, but my father used to all the time. I'm personally disappointed.
Date published: 2014-07-16
Rated

1

out of

5
by
GardenerApprentice
from
Mixed seeds?
I purchased these seeds in winter 2013, I planted them as soon as I could in spring 2014 but very few seeds germinated. I kept planting more batches at three week intervals and as the weather became warmer the germination rate improved. But I was surprised to see that the plants started to vine and climb on everything, I have been managing the vines by clipping them because I was not prepared to give them support in the little space I have. I was also surprised to see that I was getting two types of pods,some nice, tender and round, and some flat, harder and with strings. I have to overcook them for my little sons to be able to eat them. I should have read the reviews before buying, I am not the only one with this problem.
Date published: 2014-07-12
Rated

1

out of

5
by
Seaurchin
from
Beans Gone Wild
Wow! Just got back from a two week vacation to find a juggle vine of beans that climbed up every fence stake and leftover pea crop. I thought maybe I miss-ordered but checked the packet-no, it was the same old favorite. No wonder my daughter was stymied by the flat and round beans that she picked in my absence. Won't be planting any second crop of these wild ones.
Date published: 2014-07-04
Rated

4

out of

5
by
CTGarden
from
1 Year Problem
Ok, we all know that they had an issue with this bean in 2013, but they took care of it, at least for me. I have grown this bean many times and they are the best bush bean! Flavor is excellent, and I have no problem with the germination rate. I will order this again this year even if it had a problem in 2013. You got it fixed right Burpee?
Date published: 2014-02-13
Rated

1

out of

5
by
Cjalonen
from
Low germination rate & rogue vines!
Like others, I was shocked to see vines sprouting up out of the midst of my bush beans! I got maybe one out of 10 plants that went rogue. I staked them up and harvested along with the others, but they are a bit different... flatter and long hard strings. I was also INSANELY DISAPPOINTED with the low germination rate! I didn't read the small print on the package close enough the first planting: "30% germination rate." Ugh. I felt like I'd thrown away money. True to the words, only about 30% of my plants came up from each planting. I won't be buying these again.
Date published: 2013-08-28
Rated

1

out of

5
by
Anonymous
from
what bush beans?
as others have mentioned this is not the bush bean tenderpod. I can echo the comments made by others. Tall agressive vines, flat beans on the top and a few that look normal on the bottom. Since i did not plan on pole beans I had to scramble and drive in a lot of stakes but the vines just took off, intertwined and fell over. The are prolific and still producing in large quantities but the flavor is poor and the pods are a bit bit chewy. The definatly have strings. I wounder if they were labeled wrong. I wonder if they are actualy eatable pods?? I planted 2 packages and it a shame to waste the limited garden space I did freeze ~6 quarts because I do not like to waste, its the yankee in me. However my wife thinks I am crazy for even trying.
Date published: 2013-08-28
Rated

1

out of

5
by
cmgardener
from
Tenderpod growing like a pole bean
I'm glad to see that other gardeners are having the same issue that I am. These are NOT bush beans, but are growing like pole beans. They are one giant tangled mess. Some of the seeds produced bush type plants with beans like I would have expected. Others produced long tangling vines with flat beans, more like an Italian style pole bean. This has been very disappointing. I really thought that pole bean seeds were included in the package by mistake. I've seen Burpee's reply on a couple other reviews with the same complaint stating that "when stressed, the plants will send out runners." That maybe, but this summer we couldn't have had a more perfect growing season in our area - ample rainfall and not too hot. I can't imagine these plants are stressed at all. It seems more likely there is a breakdown in the breeding or packaging for these seeds. I have always purchased Burpee seeds because of the quality and reliability of the plants they produce. I am very disappointed with these and will be very reluctant to purchase this variety again, even though I have grown them successfully in the past.
Date published: 2013-08-07
Rated

3

out of

5
by
Katalou
from
Climbing bush beans!
I see from other reviews that my experience with Tenderpod beans this year is similar. I've planted this variety for several years with great success. This year I've had good germination, but about half have sent up aggressive runners. I've improvised stakes and poles for them, but at 4' tall they are not high enough. What's crazy is that the beans I pick from the bottom bush part of the plant are round and look normal, but the beans I pick from the higher vines are lighter in color, flatter and somewhat spongy, like a bean left too long on the vine. So far I haven't noticed any strings, and they seem to taste like I remember them.
Date published: 2013-07-26
Rated

1

out of

5
by
DanaM
from
Not Bush Beans, but Crazy Pole Beans!
These are NOTHING like advertised. I bought the Burpee Signature Tenderpod Garden Beans that are advertised as BUSH BEANS, but they have turned into insane pole beans that are taking over my garden. I'm constantly having to separate and string up vines to keep my rows from growing together, I have massive amounts of vines I'm fighting daily to control! . To make matters even worse, I'm not harvesting tenderpod beans...they are FLAT Beans. So aggravated about this, as my beans are not stressed, if anything, they are larger and healthier than the years past!
Date published: 2013-07-17
Rated

1

out of

5
by
Asherspapa
from
Terrible germination
I planted an entire packet of Burpee's Tenderpod beans and had 1 (ONE!) plant emerge. Over the past two years, Burpee's germination rates for the seeds I bought has been terrible. Burpee appears to have put all its money in a spectacular catalog and has forgotten that product quality is more important than marketing, because this has been a regular occurrence (see also On Deck Corn, Snack Pac Watermelon, Ancho Peppers). There are MANY cheaper, more reliable seed sources. Don't get suckered by the Burpee catalog. I asked them to remove me from their mailing list so I won't.
Date published: 2013-06-23
Rated

1

out of

5
by
Superduty450
from
Bad Choice
I planted half the seeds of a 2oz pack and got 6 plants that germinated, replanted the remaining seeds and only got 4 more plants which is about a 5% germination rate, its the only thing in my garden that did not germinate well. The soil is a sandy loam that is fairly well mixed with compost. This is the only product I have ever bought from Burpee that did not meet my expectations.
Date published: 2013-05-21
Rated

1

out of

5
by
potterhead2
from
Tenderpod not breeding true
I did an inventory of all my seeds today. I have two partly used packets of Burpee Tenderpod. One is from 2010 and the other is from 2012. They are different color beans. The 2010 packet beans are light green. The 2012 packet beans are white with brown speckles. I looked back in my garden journal for 2012 and see that the tenderpod section was un-expectantly semi-vining. This had been a bush bean in my previous gardens. Clearly there was a problem at Burpee with the Tenderpod variety breeding true.
Date published: 2013-02-08
Rated

1

out of

5
by
hessianguy1
from
Not Tenderpod Bush Beans
I have been growing this variety of bean for some 20 years now and last year was quite unusual in that the seeds I received had no trouble germinating (which is very unusual for this variety), and then the plants proceeded to vine all over the place. The beans produced were good, but not of the usual high quality of the Tenderpod variety, in my opinion. I believe there was a crop mixup and the wrong bean seeds were produced and sent to us last year. Let us hope this doesn't happen again this year. (Please also see my earlier review in 2010 as hessianguy.)
Date published: 2013-02-04
Rated

3

out of

5
by
Zone6Guy
from
Good bean but is it bush and stringless
This is my first experience with this bean. I just picked a couple of pounds yesterday (first fall picking). We've found it to germinate well in Zone 6, and it grows like crazy. I've got a lot of production for the number of plants we have. I do not think this is a bush bean though, as I understand that term. I've got runners everywhere, and the plants have sort of become one big plant due to that. My biggest issue though is that this bean is not stringless. I don't mind stringing that much, but that's not how these are described. The flavor is good though, and I'll probably grow them again. The germination, growth, and production outweigh my other issues.
Date published: 2012-09-16
Rated

1

out of

5
by
skywalker
from
Tenderpod beans
I have grown tenderpods for 30+ years and have never had them grow like pole beans. The beans I have picked look more like Roma beans, they are wide and flat. There were some Tenderpods mixed in, but less than half. I know what Tenderpods look like and these seed packs didn't have Tenderpods in them. I had a pack left over from last year and planted them in a row next to the packs from this year, and last years were REAL Tenderpods.
Date published: 2012-09-05
Rated

1

out of

5
by
Sassyfras
from
Really Disappointed
Planted what was advertised as a bush bean, only to have it sprout runners and become a pole bean. Unfortunately, most of the runners came on while I was vacationing, so they found and wound their way to the neighboring rows and now I have a huge mess. Several of my plants have snapped because of the pull of the vines. So disappointed.
Date published: 2012-07-20
Rated

1

out of

5
by
emmyo
from
Not a bush bean
This is a new bean for me, but I have been gardening and planting beans for a very long time. I was quite suprised that this bean was putting off runners because I was sure I planted a bush bean. I looked up my order and package of beans and it does say Green Bush Bean on it. Burpee is sending me replacement of Tenderpick beans.
Date published: 2012-07-11
Rated

1

out of

5
by
Neener
from
Tenerpod - Climbing?
I have no idea what this bean is because it is definitely climbing. These are not slim and tasty - they are very "lumpy". (Lot 10)
Date published: 2012-07-08
Rated

1

out of

5
by
debs
from
bush beans
This is suppose to be a bush bean but for some reason it is growing like a pole bean, this is the first time I have had a problem like this I think burpee made a mistake with their packaging. They are really taking over my garden worried about all my other plants very disappointing. Any suggestions on how to tame these beans so they don't strangle my other vegetables in my garden.
Date published: 2012-07-08
Rated

1

out of

5
by
mrwingman
from
Tenderpod beans
This is supposed to be a bush bean. It now has grown tendrils 4 feet long, becoming pole beans. Extremely disappointed in Burpees beans!
Date published: 2012-06-25
Rated

3

out of

5
by
BKTN
from
Whoops
Tried this bean for the first time this year. Very surprised when they started climibing! Even more surprised when half of the beans were flat and only some of them were stringless. I think your seed producer had a whoopsie. They are producing just fine, just not as we expected.
Date published: 2012-06-24
Rated

1

out of

5
by
weeder
from
Normally, my bean plants are very productive. None of these seeds produced plants.
Date published: 2012-05-24