Pole Bean And Pea Tower
Short Description
A space-saving way to grow pole beans and snap peas.
Full Description
One of these pole bean or pea towers takes up only 5 square feet, so you can save space in your garden. Can accommodate at least 12 pole bean vines or 36 pea vines. String the cotton twine (provided) from hoops at top and bottom of the 6' galvanized pole.
Buy this product
Order
Quantity
Price
$39.99
Buy 2 or More for $35.99 each
Restrictions:
Item 91439 cannot ship to: AA, AE, AK, AP, AS, CN, FM, GU, HI, MH, MP, PR, PW, VI
See all Burpee plant shipping restrictions for your state
100%
satisfaction
guaranteed
Video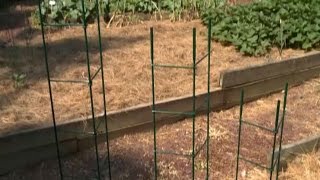 Pole Bean And Pea Tower
is rated out of
5
by
34
.
Rated

5

out of

5
by
JustAnotherBeanGrower
from
This thing is worth it weight.
We have used this system to grow pole beans for the last 2 year. It is a little expensive to hold up string, but believe me it is worth it. The metal is great and stands up over time. It looks good for year 3 and beyond. Your yield will increase, You will find that beans will grow both on the inside and outside and it will take some time to find them all. We just parboil the beans, put them in plastic bags, and store in the freezer. It is now January and we still have green beans left.
Date published: 2015-01-02
Rated

4

out of

5
by
DirtyKnees
from
Does its job
Had reservations when I realized it was only 6 feet -- tripod towers that I'd built with saplings always led to a tangled drooping mess of bean vines at the top when they were no taller than that. For whatever reason, this year with this tower I got a reasonable mushroom-shape. The beans give up and grow across and drape rather than trying to climb higher? Who knows. It did require a supporting tie to prevent leaning. The central stake doesn't go deep enough to hold against wind when in soft garden soil. The bottom circular rung would have prevented toppling, but it was pretty unstable.
Date published: 2014-09-21
Rated

4

out of

5
by
KayInMD
from
Great tower; gets top heavy
I'm was very pleased with this tower and will put in 4x as many next year. I did, however, discover a design limitation -- it gets top heavy and needs some support. To be fair, I did put about 35 plants on it and they really wanted to be 10' tall, not 6'. Once they grew past the top, they started wrapping themselves around each other and made a heavy knot of green beany goodness. Add in several very violent thunderstorms (it was unusual to have so many) and the tower started tipping -- the Leaning Tower of Pole Beans. I ran some guylines from the top down hoop down to tent stakes and that took care of it. There may be other ways to secure it better, so give it some thought if you plan on misuing the tower like I did. Dimension-wise, the bottom hoop is about 32" across, so it fits nicely in a standard 4'-wide bed.
Date published: 2013-08-26
Rated

5

out of

5
by
bluebean
from
LOVE the tower!!
Every review I read says this will hold anywhere from 12 to 36 pea/bean vines. HOLD UP...I was able to grown 72 vines per tower. I did purchase more string to allow for all the vines:-) Can you say AMAZING? The most important part with this many vines is to make sure you go out daily and train the vines to the string. Then sit back and wait:-) Well, weed and wait lol. I had two towers of peas and two towers of beans which\ supplied more than enough for daily meals throughout the harvest season, and plenty for freezing. In fact our peas were the hit of the neighborhood for the neighbor kids. Literally had them waiting for me everyday to come and nab my peas! This year I will be doubling the peas so that we will have plenty even after the hungry kids pass through:-) I made a couple of "towers" on my own, they worked ok, not as sturdy and weather proof though, but spending the money on THE tower and being able to use it year after year is a better deal...trust me! I grew up on a farm and the back-breaking work of picking beans or peas in the hot sun......for the birds:-) The "tower" makes gardening fun and not a chore at all:-) FYI, I will have a total of 10 towers this year and plan on canning and freezing the extras...oh how sweet it is! And how wonderful these towers are!!!!
Date published: 2013-03-10
Rated

5

out of

5
by
JDSz
from
Buy 2 at a time
There is a good discount for buying 2 at a time, don't miss that. For tall telephone peas, and beans, you should do the obvious and buy a PVC pipe to extend the height of this pole. I think I bought a 1 1/2 inch inner diameter, 2 foot long pipe and drove it into the ground about 1 foot so that my tower is 7 feet tall. My TT peas grew all the way up it and kept going at least 6 inches. Very pleased, will buy more if I can make room for them. Easy to assemble, and I didn't use the string because it was like mop threads, very soft and tear easily, I just used my own twine. Great Product!
Date published: 2012-06-02
Rated

1

out of

5
by
Vegas
from
Pole Bean tower
Well I ordered this, a big box came and there is no pole! No instructions,, I am not sure which is the top and which is the bottom. I had a fairly large order of seeds, etc. and didn't get the seeds, nor the pole. This was my first order with burpee and I am not very happy. I called and they are sending me my seeds and a pole. I hope. I may change my rating if I actually get the product!
Date published: 2012-05-31
Rated

5

out of

5
by
Love2Garden
from
For more than just beans & peas!
Vertical gardening is definitely the way to go! I wish they had these things years ago - my cucumbers have never been better! I currently have 7 of these towers in my garden - I am back for 3 more!
Date published: 2012-04-18
Rated

5

out of

5
by
cukesalad
from
Functional and beautiful
This tower works so well, takes up minimal space, and adds a beautiful vertical focal point to the garden. I've attached a photo of it in use in my 2011 garden. I definitely recommend it!
Date published: 2012-02-03
Rated

5

out of

5
by
NHGardener
from
Love it!
These are so great! Easy to assemble, breaks down for storage, sturdy. Definitely the best way to grow pole beans and peas.
Date published: 2011-08-30
Rated

5

out of

5
by
2shalbe1
from
BEAN TOWER
AMAZING.................. I am so impressed with the bean pole I had to bye two more, I have a total of four, and I have Peas Beans Cucmbers and when i dont have a veggie to go i go Sweet Peas ty Burpee
Date published: 2011-08-14
Rated

5

out of

5
by
Bruiser
from
These are amazing!
I usually grow bush type green beans, but thought I would try pole type with these towers this year. They are so cool! They look great and I get lots of green beans every day. I am going to try them with the Big Mama lima beans next year. Can't wait!
Date published: 2011-07-29
Rated

5

out of

5
by
SuburbanVegGardener
from
Works Better Than Advertised
I knew this was a toy when I ordered two of them, and I hoped that they would work since I wanted real pole beans & places for peas to stretch their tendrils. Wow. It worked better than advertised. I assembled them quickly and got peas planted in the spring (they kept producing so well that I almost didn't have time for the blue lake beans!) I had no problems with mildew like I had when the peas & beans were closer to the ground. And it's so much fun to harvest because you just push over one of the strings & there's a bunch of beans & peas waiting to be plucked. It's a great way to go out & get a handful of beans for dinner, or send the kids out to just eat snap peas from the garden. I'm really glad I bought two so I could grow two varieties at the same time. And the string seems to have gotten through one growing season. I'll be interested to see how it is next year. I won't put the same pictures I did for my blue lake bean review. So if you want to see how they looked with blue lake beans, check out that review. Meanwhile, the images below are when I got them installed and when the beans were first growing.
Date published: 2010-10-25
Rated

5

out of

5
by
NJ Tomatoman
from
Outstanding Product
This product is a great value. It's the difference between single family housing and high-rise housing--a lot more people can live in a high-rise on a small plot of land than in single famly homes. So can pole beans. I'm using it in a 4' x 4' plot with 10 beans plants growing up the twine. The top is now covered and looks like an arbor. I would suggest extending the height of the trellis by using a foot-long piece of PVC pipe somewhat larger than the pipe supplied by Burpee and then inserting the Burpee pipe into the larger PVC pipe and filling it with quickset cement. Not only will this give you more height for your trellis, it will add weight to the buried part, and thus stability to your system.
Date published: 2010-08-05
Rated

4

out of

5
by
Iglekott
from
Good design, bad twine
As billed, it provides a good amount of vertical support for peas in a relatively small amount of horizontal space. Seems sturdy in design, and has held up to strong winds so far. Main complaint is that the twine which arrived with the kit was unusable due to an immediate tendency to knot and kink. Knots were so bad that I had to hack it into lengths and tie them back together. Would strongly recommend using 10lb monofilament fishing line rather than the provided twine.
Date published: 2010-05-30
Rated

5

out of

5
by
BatonRougePlanter
from
Great for Climbing Veggies
I purchased two of these towers a couple seasons ago and they work great. I have used them for pole beans, pole peas, and vine type tomatoes and they do a fine job with each. Last year I only used them for the spring/summer season - this year I am going to try and use them for a fall crop of pole beans and peas. I had never tried pole peas in my area before but a neighbor who moved to Louisiana from MN planted them a couple years ago and they did good so I tried them and they worked great on this tower. Buy one and try it. . .
Date published: 2010-05-25
Rated

5

out of

5
by
Honeybeenc
from
I need more of these
I purchased two of these a couple of years ago and they work so well that I'm expanding my garden area and need more. Mine came with jute twine, which I prefer - even this has lasted two years. Great product!
Date published: 2010-04-26
Rated

5

out of

5
by
Flora
from
Great bean tower!
I have 2 of these and they have lasted for years, I just buy new twine every season. Easy to put up and take down, and once the plants get started on the string they don't need any attention, just wait for the harvest! One of the few items on the market of this type that's actually close to being tall enough for vigorous pole beans.
Date published: 2010-04-17
Rated

5

out of

5
by
socrateach
from
Jack Could've Climbed My Beanstalks
I purchased two of these, one for sugar snap peas and the other for pole beans. The tower is easy to assemble, plenty tall, and quite sturdy. It also works great in a square raised bed. Both my peas and beans loved the towers, particularly the beans, which covered their tower like kudzu and were prolific in output. Next year I plan to use both for beans, since you don't use the upper half or so of the tower for peas.
Date published: 2010-01-02
Rated

4

out of

5
by
JenniferT
from
Biodegradable string included
Although the description says the kit includes monofilament, mine came with a natural fiber string instead. I haven't had a chance to install these yet, but I have a feeling they will work beautifully. I used a sawed off section of plastic culvert pipe that is just slightly larger than the diameter of the bottom ring to form a "raised bed" and will be using these to grow sweet pea flowers (Lathyrus odoratus) and then snow peas and pole beans later. Jennifer Backyard Grown Gardens
Date published: 2009-11-04
Rated

4

out of

5
by
alexa071
from
Great but needs more string
Good product... could use more string for the trellising. Of course the string is pretty cheap so the main thing is that the pole and hoops are high quality and I was completely satisfied with those. I do wish the pole was longer so I could sink more of the bottom into the ground.
Date published: 2009-05-11
Rated

5

out of

5
by
Krawz
from
A must for small gardens
What a great product! Sturdy, yet compact for storage. I grew out of tubs, due to a limited sized backyard, snap peas and purple pole beans. Not only does it allow the crops to grow well in a tight spot, it makes seeing and picking your crops easier to do.
Date published: 2009-01-22
Rated

5

out of

5
by
mackeller
from
this is a great tool
I bought two of these from the catalog and grew pole beans in them. Fantastic production. Works exactly as I would want it too and its now a standard in our garden...
Date published: 2009-01-20
Rated

5

out of

5
by
gardenelf
from
Jack & The bean stalk
This product is fabulous!! I really was not sure if it would work as shown in the picture and sure enough it did!! The beans climb by themselves, the harvesting is a snap and no more sore back!! I love them so I bought 4 and will purchase more this upcoming season.
Date published: 2008-12-20
Rated

5

out of

5
by
brenda615
from
Wonderful
I've used it for two seasons now and I am very happy with it.
Date published: 2007-11-23
Rated

5

out of

5
by
lambem
from
Keep your beans in their place.
I've had so many problems, in the past, controlling my pole beans, but not with this system. Its simple and reuseable. I'm getting ready to set it up for another great year of Kentucky Wonder beans. I recommend it for those who have small gardens. It makes the beans easy to reach and harvest and keeps them up off of the ground and away from pests. I love it!
Date published: 2007-03-11