Cold Frame
Short Description
Start seedlings and plants outdoors and get a jump on spring.
Full Description
Shelter your vulnerable seedlings and young plants from the wintry blasts that venture into spring, and from pests as well. This easy-to-assemble double cold frame includes durable UV-protected plastic panels and sturdy aluminum frames. Dimensions for Double: 42.5" L x 41.5" W x 21" H. Dimensions of Single: 40.9" L x 20.8" W x 16.9" H.
Buy this product
Order
Quantity
Price
Send me an email when this item is back in stock
Customers also bought these products
Thank you!
Add to Wish List
Restrictions:
Item 94135 cannot ship to: AA, AE, AK, AP, AS, CN, FM, GU, HI, MH, MP, PR, PW, VI
See all Burpee plant shipping restrictions for your state
100%
satisfaction
guaranteed
Video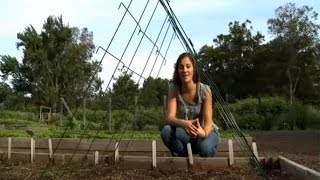 Cold Frame
is rated out of
5
by
9
.
Rated

3

out of

5
by
Zone10er
from
poor fabrication but workable
The tapered machine screws (21) are too big, so I drilled- out all the holes with a metal drill bit about 3/4-1in deep. Use a bit that fits snug, just ream each hole out being careful to keep the drill straight as you can. You could just go to the hardware store and buy some regular machine screws (not tapered) that fit. Then, I squirted a little sewing machine oil in the hole and on the screw. When you make the frames (2) for the lens (2 clear plastic windows) after you have 3 sides, just slide it in and put one hand underneath and one on top and push it into the grove until it snaps tight, working your way from one side to the other, the plastic lens has a rolled lip than catches, putting tension inside the slot. It pushes in at least 1/2 -3/4 in before it snaps. (Must have patience with this product.) The lids just hook onto the top and open but they do NOT open straight-up vertically and stay up. (The pictures and instructions really don't claim that, which I realized afterwards.) I plan on making some pole-prop like you have on a car hood. Here in Carlsbad, CA we don't have severe winds except summer Santa Ana so l will make sure it's secure, and we don't have any severe temps, where this cold frame is probably too light-weight for you. It has it's flaws but for under $100, try just buying the aluminum for that. :~) I already have Burpee Patio Princess tomatoes started under it and plan on putting some kind of rigid foam floor in it. It's easy to move but not heavy-duty enough for some areas of the country. I suppose eventually the plastic (it's like a heavier plastic version of a fast-food salad lid) will get brittle and crack but I'll deal with that later, hopefully much later.
Date published: 2015-01-31
Rated

1

out of

5
by
cvillegardener
from
Complete Waste of Money
I should have checked the reviews before ordering this piece of trash. I figured with Burpee's reputation I could trust them to offer quality products. I was wrong. This flimsy excuse for a cold frame isn't worth $20 much less $100. Now that I've read the reviews and see that the product has been slammed in all but one review I'm amazed the product is still offered. I'm looking into other online suppliers of seed and supplies since Burpee doesn't care enough to protect their customers from shoddy product.
Date published: 2012-12-19
Rated

1

out of

5
by
Geranium51
from
Big disappointment
This cold frame is made of very flimsy materials. My husband volunteered to put this together for me, and when he did, a flanges on a plastic piece snapped in half. But we put the cold frame outside, and I began to put my trays of seedlings outside during the day. But as soon as I lifted one of the doors, it came right off and was very difficult to put back on again. This happened every time I lifted the doors. I will be returning this cold frame and asking for my money back as soon as I have a chance to take it apart again and put it back in the box.
Date published: 2012-02-10
Rated

4

out of

5
by
willym65
from
Good, but not great.
My wife has always wanted a cold frame for starting her seeds in the spring, so we looked around and I discovered this frame. After showing her pictures of it and reading the reviews (which are not great) I decided to buy it any way. It arrived and we opened it up and I began to put it together. It was actually a no-brainer. The parts are a little flimsey, but it appears to be made with care and I expect it will last for many growing seasons if cared for properly. The quality is very good for something that cost less than $100.00. One can't expect this to be commercial grade afterall. After using it for a few weeks, one of the tabs for the cover support broke off so I decided to contact the customer service department of the manufacturer for a replacement part. They were very cordial and sent me a replacement part, but a set of 4 new parts just in case that ever happened again......for FREE! I was impressed! Finally a company that makes a quality product, supports their products, and stands behind them. I will not hesitate to buy this companies products again.
Date published: 2011-09-15
Rated

1

out of

5
by
greenie227
from
Waste of $
I wish the reviews had been written before I purchased this, but nope, I bought it and I built it, and I've watched it fall apart over and over, and and I've seen how the top won't stay up, and I wish I had kept my money in my pocket. Not even worth the inexpensive price.
Date published: 2011-05-26
Rated

1

out of

5
by
HoosierGardener
from
Disappointed Hoosier
Unfortunately, all of the reviews on this item were written after I purchased mine. I actually bought two of the double-size cold frames (94135). Assembly was a challenge as portions would pop apart at various times and I would have to begin all over again. When finally constructed, any repairs to parts becoming displaced meaning I had to take about half of the cold frame apart to get at and fit all back into place. The trouble is that the parts are not well-fitted and any movement seems to cause displacement. Some parts never did fit together properly and other separated all the time while constructing the item to regular use out in the garden. I never even got to test it under heavy winds since it fell apart long before they arrived. The worse aspect of this cold frame is that the roof panels have a curved plastic lip that provides for hinge openings and movement. Trouble is that its poor design only allows about a one foot opening, much too small for my large male hands. When opened further, the entire top dislodges and just pops apart. When this happens, you must take everything apart and essentially start all over again. I hoped this would provide for an easy and reasonably-priced alternative to constructing cold boxes from scratch, but the product is engineered poorly and made of material that is way too thin and much too flexible. I thought of using super glue, but another reviewer tried this and reports it did not work. I wonder if Burpee will stand by its guarantee since I no longer have the boxes and everything is attached (well, partially attached) with screws. This says nothing about all the time I wasted assembling and reassembling the frames time and time again.
Date published: 2011-05-17
Rated

1

out of

5
by
Debsunshine
from
Do NOT Buy This
I wish I had read the previous posts (they weren't there yet) before ordering this. Ditto. My cold frame is in pieces throughout my yard. It was very difficult to even build due to the flimsy materials it was made of. I tried to superglue the panels together. It is still strewn about the yard.
Date published: 2011-05-12
Rated

1

out of

5
by
Kate
from
Waste of Money!!
I ordered the single cold frame #94132 this winter and was so happy to get a head start on my summer vegetables. What an absolute disappointment! The item was poorly represented with language like "Shelter...from the wintry blasts". The item easily blew over in a stiff wind. The plastic hinges broke right off, and the cover flew repeatedly across my lawn. Not only did my young seedlings under the frame die (from exposure to overnight freezing), but the flying debris caused other damage in my yard (i.e.: to other young and vulnerable seedlings: lettuce, etc.). And it is now completely broken, lying for the garbage pick up. It was one of the quickest and most decisive waste of my money. I want my money back!
Date published: 2011-04-25