XL Pro Series Cage - Green
Short Description
Our tallest and widest cages for managing the biggest tomato plants.
Full Description
Give your tomato plants room to grow. These taller and wider tomato cages allow easy access for picking. Cages are 18" square by 58" high, providing 150% more growing space. Now available in red or green. Three extenders measure 18" x 18" x 24" tall.
Made in USA.
Buy this product
Order
Quantity
Price
Order:
3 Cages, 3 Extenders
Restrictions:
Items 93015, 93017C, 97599G cannot ship to: AA, AE, AK, AP, AS, CN, FM, GU, HI, MH, MP, PR, PW, VI
See all Burpee plant shipping restrictions for your state
100%
satisfaction
guaranteed
Video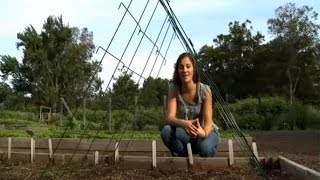 XL Pro Series Cage - Green
is rated out of
5
by
45
.
Rated

5

out of

5
by
club_mimosa_mom
from
Best cages ever. . .at least so far.
We used to use the triangular cages that wrap around the plants. Talk about flimsy - they would bend and were difficult to store even thought they fold flat. The piece with hook attachment would get caught up in the other cages and it was a job getting them all separated in the spring. They were also not tall enough for our larger tomato plants. The XL Pro Series Cages are sturdy and the metal is coated to prevent rusting and the additional tops are great because you can add them as you need them. Just don't wait too long to attach them to the cage because the plants get a bit unruly. I'm attaching one pic (I thought I had more) that shouws how tall and supported the plants were last summer. I started out with 3 cages and extensions last summer. This year I bought 6 more cages and now I'm buying more extensions. The extensions take two people to attach (at least they did in our case) but I took a pic of the attachment before I disassembled the cages last summer so this year was much easier. Happy growing everyone!
Date published: 2017-07-03
Rated

5

out of

5
by
DCDC
from
The Best
I have been tomato gardening for 30 years and now own 12 of these. They are sturdy and are easy to extend as your tomatoes grow. Just ordered 3 more. Love them and are attractive in the garden as I have gone from farm gardening to yard gardening.
Date published: 2017-05-27
Rated

1

out of

5
by
Garius
from
Flimsy and no instruc for extenders--second post
Flimsy and extenders besides arriving damaged came with no instructions This is my second attempt to post, as the first seems to have vanished into ether-Burpee did acknowledge, but did nothing about either Another company's similar products arrived at the same time and they are GREAT ! I had ordered from two companies to try....guess who I will reorder from? Gary
Date published: 2017-04-25
Rated

1

out of

5
by
xtea
from
Fails to support XL tomato plants
Attachment between the cage and the extender is flimsy at best. The XL cages are wider, so they are a little more difficult to tip over, but do not be fooled! They WILL tip over. With the extender, the cage is a little shy of 7' tall, and my tomato plants grew up and OVER the top last season. Late in the summer, a storm knocked all of them over AND collapsed the cages onto the plants. I am buying replacements for 2017, but I bought 8-foot steel T-posts to drive into the ground and make the whole mess virtually tip-proof. The potential height of the cage/extender combo may give you the impression that these will support very large tomato plants, but I'm sorry to say that Burpee's design really doesn't support the WEIGHT of a tomato plant that would need a 7' support cage! Stick to cherry tomatoes with these cages unless you are planning on additional anchoring!
Date published: 2017-04-25
Rated

5

out of

5
by
Mikem 91
from
Tomato cages
I have been growing tomatoes for 40 years and buying or building cages to support them. These are by far the finest tomato/cucumber cages I have ever found and they fold away for winter storage.
Date published: 2016-11-06
Rated

5

out of

5
by
Candy27
from
Very strong
These worked great! These have supported very heavy tomato plants all summer.
Date published: 2016-09-19
Rated

5

out of

5
by
Just Me
from
The best cage ever.
I have used many kinds of tomato cages, even made some of my own, but nothing has been even close to as good as the XL Pro Series Cage-Green. My tomato plants are all over 6 feet tall and nicely contained by the cage.
Date published: 2016-09-17
Rated

5

out of

5
by
Kare
from
Sturdy Tomato Cages
I bought three of these Pro Series Cages in the spring and am very pleased with their quality. The height works well and I expect to get many years of use with them.
Date published: 2016-09-16
Rated

5

out of

5
by
Heavy
from
Outstanding
Worked very well. Strongest cages I have ever used!
Date published: 2016-09-16
Rated

5

out of

5
by
nisha
from
Surprisingly stable and strong
I bought these as an alternative to the much more expensive Texas tomato cages, and ended up liking these better. The 2 legs on each side make the cages very stable, even though they are lighter in weight. I only wish they were a little bit taller.
Date published: 2016-09-15
Rated

5

out of

5
by
Alyson
from
Love these XL cages and extenders
This was my first year growing tomatoes and I wasn't sure if I would need such xl cages or the extenders. Boy am I glad I bought both! I fertilized my tomatoes early on and they grew like crazy. I have the extenders on every plant and only 2 of the plants did not grow past them. Most of them grew WAY over the extenders and I am now having to tie off the extra long vines to the cages next to the plants. Many of my plants are over 10' long. These cages are very sturdy and are holding up these huge plants very well. There is plenty of room to reach into the cages to pick the tomatoes. The extenders were very easy to attach and are very secure. They don't wobble or come loose. I really like that they fold up and will store easily in my shed this winter. My mother was so impressed with my "freshman year" garden that she has asked me to plant extra tomatoes for her next year. So I guess I'll be buying more of these cages. These are a bit expensive but they are worth it.
Date published: 2016-09-15
Rated

5

out of

5
by
Stew
from
Best garden addition Ever
I have used various tomatoe cages in the past and none come close to doing the job as these . Very easy to pick the fruit and doesn't even move when wind blows. Best purchase I have made for the garden!!
Date published: 2016-09-15
Rated

5

out of

5
by
JMBSr
from
Good Product
Very useful - especially the taller version. Somewhat difficult to assemble for one individual, but well worth the effort. Make sure all four "legs" are fully inserted in ground to insure that the column will with-stand high wind loads.
Date published: 2016-09-15
Rated

5

out of

5
by
E Tucker Art
from
Bought them for me, bought them as gifts
I've had my XL-Pro Series cage for at least 4 years and they've held up perfectly. They are super strong and wide enough for large tomato plants. I bought the extensions as well and they work not only for indeterminate plants, but I've also used them to coral bush tomatoes. I like these so well I've bought them for most of my family member's gardens and will be buying them again for Christmas gifts.
Date published: 2016-09-15
Rated

5

out of

5
by
Seymour
from
Top quality product
I bought nine of these this Spring...will buy more next Spring. I am totally pleased & satisfied. I've used other wire cages in the past and kept using them each and was very dissatisfied. The weight of the tomato plants would tip cages over; cages were small and plants far exceeded dimensions of cage...but they were cheap. Finally decided to research products and buy the best cage I could find. And I found them. You will also be completely satisfied. Suggestions: Buy the taller ones...you won't believe how tall tomato plants can grow; mine are over six feet high and how many more branches because of the size of cage and numerous lateral supports. End result, at least a 50% increase in tomatoes harvested...and no problem with the cages holding up the plants. Another suggestion: Space your plants further apart because with these cages growth and size of plants when they mature will be at least double of what you'll expect...I did three feet apart this year; will do four feet next year. Great product!!! P. Seymour
Date published: 2016-09-15
Rated

5

out of

5
by
IT Gardener
from
Very Sturdy!
We bought these cages to support our heavy producing tomato plants. They performed remarkably well. Great purchase.
Date published: 2016-09-15
Rated

4

out of

5
by
Retriever Lover
from
XL Pro Series Cages
Bought 3 of these about 2 months ago and loved the ease of staking my tomatoes with them. Thought they would be terrific until a severe thunderstorm came and the wind pulled them out of the ground. I expected the cylinder type to bend but not these. I was unable to use the extenders also. Not a job a woman of my age can handle alone so that was wasted money. Still better by far than those round things. I will order more but no extenders. I can't understand why 3 cost more without extenders than with.
Date published: 2016-07-08
Rated

5

out of

5
by
smcapgreg
from
Great
These are the best tomato cages, Extenders attach just fine no problems at all. Only wish they were 2 feet taller.
Date published: 2016-07-07
Rated

2

out of

5
by
tomato lady
from
cages are nice, beware of the extenders
Disappointed in the quality of the extenders. The instruction sheet was a photo copy, it was in black & white and it was such a poor quality copy you couldn't make out any of the details, like how the hardware is actually installed to hold the extender onto the cage. Very tacky. The first extender I attempted to install broke. One of the crossbars had a badly soldered joint. Also, the extenders didn't seem like they were even made for the xl cages. They were a lot bigger in circumference then the cage so you had to squeeze the extender inward as you screwed on the hardware. The hardware was overkill. It weighed a ton and I was concerned it would create an imbalance in the cage should a stiff wind blow by. Luckily Burpee customer service refunded me for the extenders. However, the cages were a gift, a gift I no longer can use as intended,for my tall cherry tomato plants. I'm going to use them for my slicing tomato plants. I did find some VERY STURDY tomato cages that were just as tall as the cages if they had the extenders.
Date published: 2016-06-03
Rated

5

out of

5
by
ronjp31
from
best cage
these are the best cage. I got 3 of these. then turned around and got 3 more. Best cages for tomatoes i have ever used. Would buy these again and again if i needed tomato cages. I also got the extensions to make them toler.
Date published: 2016-03-21
Rated

5

out of

5
by
SassyCat
from
Love these cages!
First purchased tomato cages I ever liked let alone loved! I need the extenders in the south; I start a lot of indeterminate tomatoes from seed. Most of the varieties I grow get very tall in our long growing season. I can not tell you how many cages I have made over the years from rolls of fencing wire, the tallest I could find. None were as sturdy as these. The wires that go into the ground are longer are stronger. The square design is much better when the plants get huge and heavy. Have not had one cage go down in the wind and rain storms. Have not had to drive stakes to attach to the cages either. I can move them easily after the season is over so the tomato beds can be rotated as needed. They fold for storage. So far no rust and I have had the first of these for several years. Easy to pick the tomatoes because the squares are a good size and it is also easy to weed inside the cage. I buy a set or two of these each year and they are well worth the money.
Date published: 2014-10-22
Rated

5

out of

5
by
Tomatomaster
from
Awesome cages
The first cages that could contain my jumbo tomato plants. I'm glad I got the extenders.
Date published: 2014-09-21
Rated

5

out of

5
by
cableknitter
from
Tomato Cage
Last year I ordered 6 of the extra large cages; this year I ordered an additional 3. I wish I had purchased them 10 years ago. They are very sturdy and do a wonderful job supporting my tomatoes. I no longer have to worry about staking the old circular cages only to watch them topple with the weight of the tomatoes or in high winds.
Date published: 2014-09-17
Rated

5

out of

5
by
AgTeacher
from
Very sturdy square design
Larger square design and heavier construction material make these cages sturdier than the locally available round cages that can topple under a heavy plant and wind. Especially like the way these fold for storage. More expensive, but well worth the investment. I'll buy more next year.
Date published: 2014-07-09
Rated

5

out of

5
by
Chad
from
Best Cages I Ever Owned
I had these cages for several seasons before they were stolen from my shed... I'm sure the thieves will get many more years of use out of them, they are built to last!
Date published: 2014-05-17
Rated

5

out of

5
by
Snowyval
from
Best cages yet!
I love these tomato cages. Best I have found yet, and have been slowly replacing my old cages for the past 3 years. I have found I do not need the the extenders on the XL Pro series. FYI: I usually plant around 40 tomato plants of varied types, with most growing to 6-8 ft tall
Date published: 2013-11-09
Rated

4

out of

5
by
Bushrod
from
Useful Cages
These cages are well constructed and with the extenders, I find them very useful for my better boys and pole beans. I simply attach the extenders with zip ties, which I find a lot faster and simpler than using the enclosed hardware. I have not use these with monster 8' tomato plants, but I feel those concerned about purchasing these cages will find them very useful in their gardens for many years,, I would purchase them again.
Date published: 2013-08-11
Rated

5

out of

5
by
Norma
from
Best cages I've ever seen
These are far sturdier than anything else I've seen. I ordered them for my young blueberry plants; my chickens have taken a special liking to the leaves. The holes are too big to keep chickens out, but I knew that when I ordered them. I wrapped the cages in bird netting, leaving a slit on one side so that I can tend the plants easily. They work very well for my purpose. The blueberry plants have plenty of room to grow, and the chickens are at bay. I have seven blueberry plants, so I ordered three boxes for a total of nine cages. I'm using the two extra cages for tomatoes. Given that I prefer a smaller tomato, Romas, I planted a tomato plant a few inches outside of each side of the cage, so that each cage supports four Roma plants that are appropriately spaced. (The chickens don't go into that part of the garden, so the exposure isn't a problem.) I hated spending the money. But I hate more the fact that I've bought so many worthless cages over the years and wasted money that way. My father used to say that a poor man isn't poor because he buys things but because he replaces things. I don't think I'll ever have to replace these cages.They're that good.
Date published: 2013-05-18
Rated

1

out of

5
by
bellow12
from
these cages and .extenders are awful; they do not even go together as shown and do not have instructions on how they go together. absolutely awful.
Date published: 2013-03-04
Rated

5

out of

5
by
dannyb
from
new tomato cage extenders
Yes the design for attachment is seriously lacking, believe that just placing the four bottom braces of extender on the outside of bottom cage seems to be stable, at this time. Seems like the simplest way without re engineering.
Date published: 2012-06-18