Lettuce, Healing Hands Mix
Short Description
Burpee BOOST—highly nutritious mix of greens.
Full Description
Nutrition made easy. This collection of wholesome leafy greens takes the guesswork out of creating health-giving salad mixes, with four expertly chosen varieties combined in a single easy-sowing pellet. Healing Hands is one the Burpee BOOST enhanced nutrient introductions and is packed with 20% more lutein and 30% more beta-carotene than the average salad mix. Plant once for an entire season of healthy, scrumptious eating. Begin first harvest when leaves reach 6". Make second harvest 3 weeks later and continue to harvest every 3 weeks thereafter, as the season allows. Great for container growing too. Sow 6 pellets per 10" container to ensure a well-balanced mix and full container.
Buy this product
Order
Quantity
Price
Order:
1 Pkt. (20 Pellets)
Product properties
Type Some flowers and vegetables fall into subcategories that may define how they grow (such as pole or bush), what they are used for (such as slicing tomatoes or shelling peas), flower type, or other designations that will help you select the type of a class of plant that you are looking for.
Looseleaf
Days To Maturity The average number of days from when the plant is actively growing in the garden to the expected time of harvest.
28-42 days
Leaf Texture The typical height of this product at maturity.
Mixed
Sun The amount of sunlight this product needs daily in order to perform well in the garden. Full sun means 6 hours of direct sun per day; partial sun means 2-4 hours of direct sun per day; shade means little or no direct sun.
Full Sun, Part Sun
Spread The width of the plant at maturity.
8-12 inches
Height The typical height of this product at maturity.
8-12 inches
100%
satisfaction
guaranteed
Video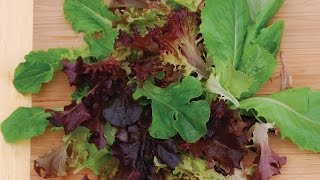 How to Sow
Sow lettuce seeds in average soil in full sun in early spring for first crop. Sow in late summer for fall crop.
Sow every two weeks to extend harvests.
In late summer, sow in a protected are that stays below 75 degrees F.
Sow thinly in rows 12 inches apart and cover with ¼ inch of fine soil.
Follow the spacing recommended on the seed packet for specific varieties.
Firm lightly and keep evenly moist.
Seedlings emerge in 7-10 days.
How to Grow
Thin to stand 8 inches apart when seedlings are 1-2 inches tall.
Keep lettuce plants well watered during dry periods to promote rapid, uninterrupted growth.
Lettuce is shallow-rooted, so avoid disturbing the soil around the plants when weeding.
Unless there is regular rainfall, lettuce plants must be watered deeply at least once a week and more frequently during periods of drought.
Mulch with a layer of compost or clean straw to help the soil retain moisture.
Harvest and Preserving Tips
For the best quality, pick lettuce early rather than late as lettuce allowed to grow too long may be bitter and tough.
Try to harvest in the morning when the leaves are crisp, sweet, and full of moisture.
Harvest looseleaf types anytime the leaves are large enough to use.
Harvest butterhead types when they have formed heads and the leaves are a good size.
Cut the heads below the crown.
On leaf types, you can just pick a few leaves at a time, if you like.
Store for 5-7 days in a plastic bag in the refrigerator. Many gardeners wrap leaves in moist paper towels.
Lettuce is a classic ingredient in salads. It adds crispness to sandwiches and can be used as a garnish, braised, or added to soups. Many of the looseleaf cultivars are also decorative in the garden.
Days To Maturity
28-42 days
Sow Method
Direct Sow/Indoor Sow
Planting Time
Fall, Spring
Lettuce, Healing Hands Mix
is rated out of
5
by
13
.
Rated

5

out of

5
by
Thea
from
Delicious Salad Greens
I planted in early spring in a large pot/barrel and picked salad all summer. Was very pleased with them and will order again.
Date published: 2016-02-26
Rated

5

out of

5
by
Dennie
from
Love This
I bought these last year and it was excellent. Because the seeds are pellets they require extra watering to germinate. It makes a beautiful and nutritious salad!
Date published: 2016-02-02
Rated

5

out of

5
by
preachermom
from
YUM! Will buy again.
I had 17 out of 20 of these sprout, some started indoors, some out doors. What a fabulous addition to my usual Romaine salad! I will be buying these again!
Date published: 2015-10-18
Rated

5

out of

5
by
leojen
from
I haven't had much luck with salad greens in the past. This looked so tasty and seemed so easy, Early spring I gave it a try, and I sowed inside and outside on the same day.. My inside plants germinated very well, flourished, then withered away to nothing about two weeks after germination. The 1st crop sown outdoors germinated at a slower rate, but did very well, and flourished in a raised bed, in a 3x1 row..3 weeks later, I then successively sowed a 2nd crop, in 3x1 planters, two of them. Then a 3rd crop, in the pepper pots, under the shady leaves, again, 3 weeks later.. Weekly hair cuts have given me a steady crop for months. It's very tasty, every one who has tried it has liked it. All crops have been planted/kept in the more shaded areas of the garden, or under/near bigger plants for sun screen, and water as needed. I'm ordering again for a fall crop, and then again for next year.
Date published: 2015-08-10
Rated

5

out of

5
by
BillTMcD
from
Loved it
I planted these in early spring in a very large container. Had excellent results. Loved the salads I made with this and my guest were impressed as well. I will buy again for the 2013 season!
Date published: 2012-11-26
Rated

2

out of

5
by
Chef
from
Lettuce healing Hands
Had to order twice---2nd time I sowed in container. That was a month agoI have all varities germinate,but the leaves are about 1 1/2 '' tall and at this rate, I won't have lettuce until Oct!! Have watered AND fed diligently!
Date published: 2012-07-17
Rated

1

out of

5
by
Seasaidh
from
Low Germination
I have attempted to grow these twice. The first time there was no germination what so ever. I started over and only a few sprouts came up. I like the idea of a pelleted mix but I can't eat what will not grow. Disappointed in these.
Date published: 2012-06-25
Rated

1

out of

5
by
Vieuxblue
from
No germination
Unfortunately, none of the "pellets" germinated in the large pot in which they were planted. Lettuce seeds I had planted earlier there had germinated reasonably well, so I am at a loss to explain the cause of the failure. Perhaps a squirrel had made off with them all? If so, he covered up his theft well.
Date published: 2012-05-22