Cool Weather Vegetable Garden
Short Description
Perfect for early spring or fall gardening, or cooler climates!
Full Description
Four cool-weather gardening staples. These varieties can all take a frost, and are a great choice for anyone living in a cooler climate. Excellent choices for early spring and fall gardening as well. Includes one packet each of:
'Four Seasons' Lettuce - One of our best and most beautiful lettuces. A 6" butterhead with remarkable cold hardiness.
'Merlin' Beet - The sweetest beet we've ever grown. Excellent roasted, baked, or boiled.
'Bend and Snap' Pea - Grow crunchy, plump peas with and old-fashioned English pea flavor and a touch of sweetness.
'Double Take' Hybrid Spinach - A richly-flavored, prolific spinach variety that's our new go-to for both baby leaf and mature harvesting.
Buy this product
Order
Quantity
Price
Order:
1 Collection (4 Pkts./ 1 Ea. Variety)
100%
satisfaction
guaranteed
Video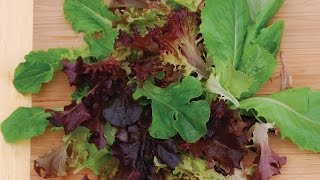 How to Sow
Sow lettuce seeds in average soil in full sun in early spring for first crop. Sow in late summer for fall crop.
Sow every two weeks to extend harvests.
In late summer, sow in a protected are that stays below 75 degrees F.
Sow thinly in rows 12 inches apart and cover with ¼ inch of fine soil.
Follow the spacing recommended on the seed packet for specific varieties.
Firm lightly and keep evenly moist.
Seedlings emerge in 7-10 days.
How to Grow
Thin to stand 8 inches apart when seedlings are 1-2 inches tall.
Keep lettuce plants well watered during dry periods to promote rapid, uninterrupted growth.
Lettuce is shallow-rooted, so avoid disturbing the soil around the plants when weeding.
Unless there is regular rainfall, lettuce plants must be watered deeply at least once a week and more frequently during periods of drought.
Mulch with a layer of compost or clean straw to help the soil retain moisture.
Harvest and Preserving Tips
For the best quality, pick lettuce early rather than late as lettuce allowed to grow too long may be bitter and tough.
Try to harvest in the morning when the leaves are crisp, sweet, and full of moisture.
Harvest looseleaf types anytime the leaves are large enough to use.
Harvest butterhead types when they have formed heads and the leaves are a good size.
Cut the heads below the crown.
On leaf types, you can just pick a few leaves at a time, if you like.
Store for 5-7 days in a plastic bag in the refrigerator. Many gardeners wrap leaves in moist paper towels.
Lettuce is a classic ingredient in salads. It adds crispness to sandwiches and can be used as a garnish, braised, or added to soups. Many of the looseleaf cultivars are also decorative in the garden.