Corn, Northern Xtra-Sweet Hybrid
Short Description
Early yellow sweet corn with 9" ears
Full Description
No other early yellow corn combines a large 9" ear and great cool-soil vigor with Sh2 sweetness. Plant corn in blocks at least four rows wide for cross-pollination and well-filled ears. Plants grow to 5' high. For the best flavor, isolate Northern Xtra-Sweet from non-Sh varieties to stop cross-pollination. A packet contains 200 seeds, enough to plant four 15 ft. rows. Seeds are not treated.
Buy this product
Order
Quantity
Price
Order:
1 Pkt. (200 seeds)
Order:
1 Pkt. (800 seeds)
Product properties
Days To Maturity The average number of days from when the plant is actively growing in the garden to the expected time of harvest.
67 days
Fruit Size The average size of the fruit produced by this product.
9 inches
Sun The amount of sunlight this product needs daily in order to perform well in the garden. Full sun means 6 hours of direct sun per day; partial sun means 2-4 hours of direct sun per day; shade means little or no direct sun.
Full Sun
Spread The width of the plant at maturity.
12 inches
Height The typical height of this product at maturity.
60 inches
Sow Method This refers to whether the seed should be sown early indoors and the seedlings transplanted outside later, or if the seed should be sown directly in the garden at the recommended planting time.
Direct Sow
100%
satisfaction
guaranteed
Video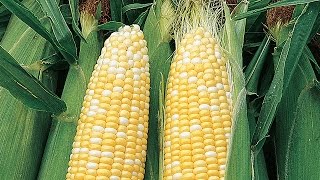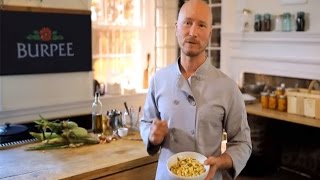 How to Sow
Growing corn is easy provided you have enough space and plenty of sun. Corn is wind-pollinated, so you need to plant in blocks to ensure pollination. You should have a minimum 10 foot by 10 foot area. The exception to this rule is 'On Deck' corn, which has been bred to grow in containers. If you are growing 'On Deck', choose a container that is at least 24 inches wide and deep and plant nine seeds evenly spaced.
Isolate corn varieties when recommended (Sh2s), by planting corn seeds at least 250 feet apart, or select varieties that mature at least 2 weeks apart so they will not cross pollinate.
When choosing a site for corn, plant on the north side of your garden so the tall plants do not shade other plants in your vegetable garden.
Corn is a warm season crop and should not be planted in cool soils. The non Sh2 varieties tend to be more tolerant of cool soils, but in general the soil should be about 65 degrees F or warmer.
Sow corn seed 1 inch deep, 5 to 6 inches apart in rows 2 to 3 feet apart.
Seedlings emerge in 7-14 days.
When corn seedlings are 3-5 inches tall and healthy, thin to 1 foot apart.
How to Grow
Keep weeds under control during the growing season. Weeds compete with plants for water, space and nutrients, so control them by either cultivating often or use a mulch to prevent their seeds from germinating.
Keep plants well watered during dry periods to promote uninterrupted growth. Corn needs 1-2 inches of rain per week for best production. Use a rain gauge to check to see if you need to add water. Corn is also a heavy feeder and will benefit from side dressings of fertilizer applied as directed through the growing season.
Monitor for pests and diseases. Check with your local Cooperative Extension Service for pest controls recommended for your area.
Suckers tend to form at the base of the plants; they help support the stalks and make food for the plant. The stalks may have to be staked in windy areas, but in general they are self-supporting.
Sunflowers are good companion plant for corns. Direct sow sunflowers in rows parallel to corn rows to help separate corn varieties that need isolation from each other. Choose sunflower varieties of comparable height to the corn plantings. The sunflower border, with vibrant hues in russets to golden-yellow, will add sparkle next to the almost all-green corn plot. The 'Three Sisters' (corn, bean and squash) are traditional companion plantings with Native American gardeners.
Harvest and Preserving Tips
Ears of corn are ready to harvest about 17-20 days after the silks appear. The kernels should be firm. Open an ear and pierce a kernel with your fingernail. If the liquid is watery, the corn is not ripe yet. It should be milky. If it is creamy, it is overripe and will not taste as sweet.
Firmly grip the ear and twist downward to harvest. Take care not to break the plant when harvesting the first ear, or the second ear will not develop. Most corn produces two ears.
Store unhusked corn in the fridge and consume as soon as possible. Sh2 and SE varieties keep the longest in the fridge, up to one week.
Corn freezes well after blanching and may also be canned using a pressure cooker. Immature ears may be pickled.
Sow Time
After Last Frost
Corn, Northern Xtra-Sweet Hybrid
is rated out of
5
by
8
.
Rated

4

out of

5
by
Terry R
from
good corn
Last year I grew Golden Cross Bantam Hybrid corn, it was the worst corn ever. This year I grew Hybrid Northern Xtra-Sweet. Good corn I will definitely grow it again.
Date published: 2016-07-30
Rated

5

out of

5
by
eveoftheseas
from
My first corn success in the desert!
Planted first week of March, had to take out 3rd week of May due to desert heat. Any prior corn attempts were wormy and all underformed, so this was a great harvest! I did take out some stalks that the ear felt empty and seemed to have worm dirt. Had four 10-ft rows. Used some of the mini ears in stir fry, worked very well. We have two sowing seasons for corn in the desert southwest, and I will be ordering more for the fall planting.
Date published: 2016-06-02
Rated

3

out of

5
by
TJC1999
from
Unexpected let down
I purchased this corn because I read the reviews of getting 2 ears per stalk or more. I did get multiple ears on many stalks but unfortunately the flavor was lacking. It just wasn't as sweet as the delectable hybrid from the year prior. I'll have to settle with a smaller harvest but more flavorful.
Date published: 2015-10-29
Rated

1

out of

5
by
lynnski
from
Disappointed
After reading the 2014 reviews, I was ready to try this corn. Sadly, it has produced short stalks with one ear on each stalk. Most of the ears are very small and some are not fully developed. I don't know if I did something wrong (after successfully growing corn the same way for 8 years) or if the seed has run its course. Every year in the garden is different and this year is the year of the cucumber instead.
Date published: 2015-09-05
Rated

5

out of

5
by
KSharpe
from
Grew Well in Containers!
I did a little research because most of my yard doesn't get full sun but I wanted to grow corn so I pursued container growing. Since the container variety on here didn't get the best reviews I kept looking for a short stalk height but long ear length and came across this variety. I planted at the end of May in 20"-across plastic buckets with drainage holes drilled in the bottom, 3 seeds per hole, 4 holes per bucket, 2 buckets, and thinned to one plant per hole. I was prepared to do some hand pollination and when the stalks were about 4 feet tall (from soil level of the bucket) I had 2 ears per stalk and later began hand pollination to ensure maturity. When a few ears were 4-5" long (around 45 days after planting), squirrels tore them all off the stalk, shucked, and ate the cobs. I was devastated and let my garden die after that (they also got my tomatoes and berries). My only tips are to fill the buckets and inch from the top rim and use a popular higher quality potting soil because I had a pretty significant difference in growth rate since the cheaper mix condensed in the bucket. If you aren't overrun with squirrels or don't have a yard you can grow this!
Date published: 2015-08-22
Rated

5

out of

5
by
FairbanksFarmer
from
Best of Test
Northern Xtra-Sweet beat out Kandy Krisp, in productivity, taste and early-ness. Produced 5 ears per plant, fabulous flavor, a week earlier than other varieties of corn. Harvest in mid August here in Fairbanks, Alaska. Also stays sweet on the stalk a week or so if you can't get around to harvest. Stays sweet in the cold room (storage) too. This one is totally the best for the North, whether we are having a rainy dreary season or a hot dry season or something in between, this variety succeeds over the others.
Date published: 2014-02-27
Rated

5

out of

5
by
Enelra
from
Awesome!!!
This corn is the sweetest, best tasting corn I have ever had! I will never buy a different seed!!!
Date published: 2012-02-25
Rated

5

out of

5
by
1911vic
from
Another winning variety!!
I planted this the first weeks of March. Germination was a little slow, but, almost of the seeds sprouted. This variety is an above average producer. Almost all of my plants produced two ears, although one produced three!! The ears are barrel shaped and measure between 8-9 inches long. I just finished harvesting the final ears last week. The flavor is the perfect balance between the SU and SE varieties. You still get the tradional corn taste, but it's extra sweet. I will definately plant this variety again! I highly reccommend this!!
Date published: 2011-06-13