Corn, Maple Sugar Hybrid
Short Description
Sweet maple candy flavor with sugar levels beyond belief!
Full Description
We knew from the first bite that we had a winner. This utterly unique yellow hybrid had us at "hello". It boasts sugar levels truly beyond belief while retaining the full texture and creaminess of older types. We like it grilled to bring out the most of its maple candy flavor. Petite 5" ears fit neatly on your plate. The size also allows for great husk protection, so each ear is a perfect specimen with kernels packed to the very tip. Isolate from other corns and plant seeds 8" apart after soil has completely warmed. You'll love it.
Buy this product
Order
Quantity
Price
Order:
1 Pkt. (100 seeds)
Product properties
Days To Maturity The average number of days from when the plant is actively growing in the garden to the expected time of harvest.
78 days
Fruit Size The average size of the fruit produced by this product.
5 inches
Sun The amount of sunlight this product needs daily in order to perform well in the garden. Full sun means 6 hours of direct sun per day; partial sun means 2-4 hours of direct sun per day; shade means little or no direct sun.
Full Sun
Spread The width of the plant at maturity.
12 inches
Height The typical height of this product at maturity.
72-84 inches
Sow Method This refers to whether the seed should be sown early indoors and the seedlings transplanted outside later, or if the seed should be sown directly in the garden at the recommended planting time.
Direct Sow
100%
satisfaction
guaranteed
Video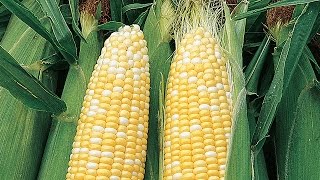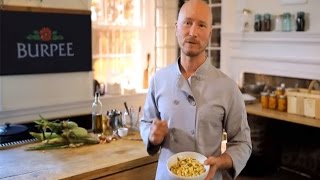 How to Sow
Growing corn is easy provided you have enough space and plenty of sun. Corn is wind-pollinated, so you need to plant in blocks to ensure pollination. You should have a minimum 10 foot by 10 foot area. The exception to this rule is 'On Deck' corn, which has been bred to grow in containers. If you are growing 'On Deck', choose a container that is at least 24 inches wide and deep and plant nine seeds evenly spaced.
Isolate corn varieties when recommended (Sh2s), by planting corn seeds at least 250 feet apart, or select varieties that mature at least 2 weeks apart so they will not cross pollinate.
When choosing a site for corn, plant on the north side of your garden so the tall plants do not shade other plants in your vegetable garden.
Corn is a warm season crop and should not be planted in cool soils. The non Sh2 varieties tend to be more tolerant of cool soils, but in general the soil should be about 65 degrees F or warmer.
Sow corn seed 1 inch deep, 5 to 6 inches apart in rows 2 to 3 feet apart.
Seedlings emerge in 7-14 days.
When corn seedlings are 3-5 inches tall and healthy, thin to 1 foot apart.
How to Grow
Keep weeds under control during the growing season. Weeds compete with plants for water, space and nutrients, so control them by either cultivating often or use a mulch to prevent their seeds from germinating.
Keep plants well watered during dry periods to promote uninterrupted growth. Corn needs 1-2 inches of rain per week for best production. Use a rain gauge to check to see if you need to add water. Corn is also a heavy feeder and will benefit from side dressings of fertilizer applied as directed through the growing season.
Monitor for pests and diseases. Check with your local Cooperative Extension Service for pest controls recommended for your area.
Suckers tend to form at the base of the plants; they help support the stalks and make food for the plant. The stalks may have to be staked in windy areas, but in general they are self-supporting.
Sunflowers are good companion plant for corns. Direct sow sunflowers in rows parallel to corn rows to help separate corn varieties that need isolation from each other. Choose sunflower varieties of comparable height to the corn plantings. The sunflower border, with vibrant hues in russets to golden-yellow, will add sparkle next to the almost all-green corn plot. The 'Three Sisters' (corn, bean and squash) are traditional companion plantings with Native American gardeners.
Harvest and Preserving Tips
Ears of corn are ready to harvest about 17-20 days after the silks appear. The kernels should be firm. Open an ear and pierce a kernel with your fingernail. If the liquid is watery, the corn is not ripe yet. It should be milky. If it is creamy, it is overripe and will not taste as sweet.
Firmly grip the ear and twist downward to harvest. Take care not to break the plant when harvesting the first ear, or the second ear will not develop. Most corn produces two ears.
Store unhusked corn in the fridge and consume as soon as possible. Sh2 and SE varieties keep the longest in the fridge, up to one week.
Corn freezes well after blanching and may also be canned using a pressure cooker. Immature ears may be pickled.
Sow Time
After Last Frost
Corn, Maple Sugar Hybrid
is rated out of
5
by
27
.
Rated

3

out of

5
by
Weezy
from
Challenging to grow
I didn't get good germination with these with a soil temp of 65 degrees. I still had over half the pack left so I put them in a Baggie with a moist paper towel and put it in a warm spot in my house. Within 2 days about 80% had sprouted so I knew I had good seed. I planted the sprouted seeds and very few of those took. Now two months later, most of the stalks are just past my knees. There are a couple taller ones that are getting tassels. I will be surprised if I get one cob out of my planting. I don't think this is a bad variety of corn, I just think you need to have different growing conditions than what we have here in Minnesota. I wouldn't recommend this corn to a Northern gardener, but I'm guessing if you're down South you will have better luck with it.
Date published: 2016-07-31
Rated

2

out of

5
by
mulkeyusa
from
Poor Gertmination Rayr
Germination rate less than 20%. Planted 36 seeds in a 3x6 raised bed and only 6 seeds germinated. 15 seeds second planting and only 1 seed germinated. Will trya different variety next year.
Date published: 2016-06-15
Rated

1

out of

5
by
Huntr70
from
Hard to grow. Poor rate.
Planted about 60 kernels and had none sprout. Replanted the rest of the packet (100 seeds) and have 3 plants. I always plant Silver Queen, and every one of them grows. Never has such a hard time growing corn.
Date published: 2016-06-01
Rated

2

out of

5
by
12309brand
from
Poor germination
I am very disappointed with the germination rate, maybe 20% at best.
Date published: 2016-05-18
Rated

5

out of

5
by
gbburp
from
Marvelous Maple
Just cant wait for the harvest ! Wanted to grow my own flavors for a long time! Maple flavor without the drips. Fire up the grill !
Date published: 2015-05-20
Rated

5

out of

5
by
Auntnana
from
Superb corn
This is the most tender corn I have ever grown and the taste is excellent. I had no problems growing; at least a 99% germination rate. Would have liked to seen bigger ears but for the taste, I'll take it!!!
Date published: 2013-09-26
Rated

4

out of

5
by
bruceingermany
from
Scant but great
Every year I have friends send seeds from the U.S. to plant here in Germany. It's a shorter, less sunny, maybe drier summer than in the Northeast U.S. Every year I plant Maple Sugar corn, and, unfortunately, every year I get less than I do of any other corn crop I plant. But it is always the best corn (and I've tried many!) It's without a doubt a five-star product, but I have to subtract something for its low yield. I'll continue to grow it even if I get only a dozen, and I recommend it to anyone who has a sweet tooth, as I do.
Date published: 2013-08-29
Rated

5

out of

5
by
Chels21
from
Great Grower
This season (2013) was my first time ever growing corn, well if you don't count those failed experiments in kindergarden...anyway I started about five seeds indoors and put them on a heating mat, every single one of them came up. I made the mistake of putting all the seeds in the same peat pot so they were all growing together. When it came time to transplant I didn't try to separate or thin out, because I wanted every single plant, so I plugged them into a five gallon pot and said, "We'll see what happens" I read reviews that corn couldn't be grown that close together, but I didn't want to damage the roots by separating them, and I don't have much of a yard, so I used what I had available. Not only did my corn grow, but it also produced fruit! I have 6 ears of corn right now all just about ready to harvest. I do have a kiddie pool that I'm growing tomatoes in and I also plugged a few seeds in there when the weather warmed up, every single one of those also germinated, (granted it was like 90-100 degrees outside) The corn in the pool are starting to develop tassels and the silks won't be far behind. I had very good germination rates with this corn, Burpee sent like 100 seeds and I figured I had plenty to play with if none of them came up the first time. I would recommend you try this variety, just make sure your conditions are warm enough for them to germinate and you shouldn't have a problem.
Date published: 2013-08-01