Carrot, Short 'n Sweet
Short Description
Bred especially for heavy or poor soil.
Full Description
Easy to grow and full of vitamins, this rich, sweet flavored carrot has 4" roots that are bright orange to the center. It was bred especially for heavy or poor soil and can also be grown in large containers. Burpee Exclusive. GARDEN HINTS: Sow seed in deep, well-worked stone-free soil after danger of heavy frost in the spring. Do not transplant because crooked roots may result. A 1,500 seed packet sows a 40' row.
Buy this product
Order
Quantity
Price
Order:
1 Pkt. (3000 seeds)
Product properties
Type Some flowers and vegetables fall into subcategories that may define how they grow (such as pole or bush), what they are used for (such as slicing tomatoes or shelling peas), flower type, or other designations that will help you select the type of a class of plant that you are looking for.
Chanetnay
Days To Maturity The average number of days from when the plant is actively growing in the garden to the expected time of harvest.
68 days
Fruit Size The average size of the fruit produced by this product.
4 inches
Sun The amount of sunlight this product needs daily in order to perform well in the garden. Full sun means 6 hours of direct sun per day; partial sun means 2-4 hours of direct sun per day; shade means little or no direct sun.
Full Sun
Spread The width of the plant at maturity.
3 inches
Height The typical height of this product at maturity.
4-8 inches
100%
satisfaction
guaranteed
Video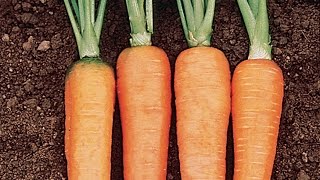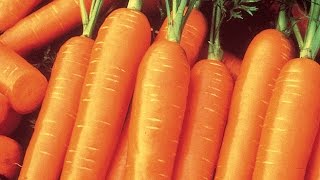 Carrots

Start Indoors

Starting seeds indoors is called Indoor Sow or Indirect Sow and these dates are when to sow seeds indoors in the spring or summer

Transplant

When to transplant bulbs or roots in the garden for spring

Start Outdoors

Starting seeds outdoors is called Outdoor Sow or Direct Sow and these dates are when to sow seeds outdoors in the spring or summer

Start Indoors Fall

Starting seeds indoors in the fall called Indoor Sow or Indirect Sow and these dates are when to sow seeds outdoors in the fall

Transplant Fall

Transplant Fall-When to transplant bulbs or roots in the garden for fall

Start Outdoors Fall

Starting seeds outdoors in the fall is called Outdoor Sow or Direct Sow and these dates are when to sow seeds outdoors in the fall

S

Succession Planting

This means that the plants have multiple harvests in a season

First Date: Apr-18 - Last Date: Jul-25

First Date: Aug-06 - Last Date: Sep-17

Jan

Feb

Mar

Apr

May

Jun

Jul

Aug

Sep

Oct

Nov

Dec
How to Sow
Carrots can be sown early, after danger of heavy frost is over. Sow every two weeks thereafter for continuous harvest, or simply sow a second crop in midsummer for fall harvest. In frost free areas, sow in fall.
Carrots do not like to be transplanted and are best sown directly into the garden bed. Sow carrot seeds in deep, well-worked soil in full sun. Straight roots require soil that is light, loosened deeply, and free of stones, so prepare a carrot planting thoroughly. Consider using a soil amendment such as compost if your soil is heavy. If you choose long carrot varieties, your soil will need to be worked more deeply.
Sow thinly in rows 12 inches apart and cover with ½ inch of fine soil. Firm lightly and keep evenly moist.
Since seedlings have fine leaves it may be beneficial to plant radish along with your carrot seed. The radishes will be harvested well before carrots form and act as a guide to the carrot row.
Seedlings emerge in 14-21 days.
Thin carrot plants to stand 1 inch apart when seedlings are 3 inches high.
How to Grow
Keep weeds under control during the growing season. Weeds compete with plants for water, space and nutrients, so control them by either cultivating often or use a mulch to prevent their seeds from germinating.
Deep, consistent watering and soil well-enriched with compost help carrots form high quality roots by encouraging lush leafy tops that shade the roots, helping to prevent "green shoulders."
Keep plants well watered during dry periods to promote uninterrupted growth. Plants need about 1 inch of rain per week during the growing season. Use a rain gauge to check to see if you need to add water. It's best to water with a drip or trickle system that delivers water at low pressure at the soil level. If you water with overhead sprinklers, water early in the day so the foliage has time to dry off before evening, to minimize disease problems. Keep the soil moist but not saturated.
Monitor for pests and diseases. Check with your local Cooperative Extension Service for pest controls recommended for your area.
Harvest and Preserving Tips
To make harvesting easier, soak your carrot bed with water before pulling. Twist the tops off while pulling the roots up.
You can leave carrots in the ground after the first frost. In cold climates, pull carrots up before the ground freezes. In warm climates, you can harvest carrots all winter.
Cut the greens off the top after harvest to about ¼ - ½ inches above the shoulder. This will help the carrot to keep longer as the greens can take moisture from the root.
Carrots store best at 32-38 degrees F at 98% humidity.
You can store them in the refrigerator in plastic bags, or they may be blanched and frozen for later use.
Carrots may be canned or pickled as well.
Planting Time
Fall, Spring
Carrot, Short 'n Sweet
is rated out of
5
by
18
.
Rated

5

out of

5
by
Anonymous
from
Nice Little Carrot
These are my first up (still waiting for short and sweet and others) and my first home-grown carrot ever. I thought they would be kinda not great since they are intended for poor soil. Not the case at all. Very, very tasty - very fresh and more tender than store bought carrots. Nicely sweet too. A HECK of a lot more flavorful than store bought carrots. Not bothered by bugs in my garden - at all. Great germination (need to sow more lightly next time because I had to pull out a whole bunch while thinning). I'm still waiting on harvesting the other carrots, but we are very pleased with this one.
Date published: 2011-06-09
Rated

4

out of

5
by
Kristine
from
Enjoyed!
The first year I planted I didn't thin like I should have and as a result none of the carrots go to the size they should have been. This year was better and I was rewarded with some bright, crisp, short carrots! Though I still think that I need to thin even more than I had. Trial and error, trial and error.
Date published: 2010-08-02
Rated

5

out of

5
by
mommavet
from
great little carrot
I planted some of these in a 4" deep raised bed, and was very pleased with the germination. They continuted to get thicker into the fall, not a lot longer than described, and the core wasn't bad. I finally pulled the rest from the bed after a couple light frosts and they were still fantastic.The carrots are suprisingly fragrant, and very sweet, nothing like the carrots you find in the grocery store. Great in stir fry, these definitely take more of a main role flavor wise instead of playing second fiddle to the other veggies. I planted the rest of my packet from last year this spring and the germination is still great, I'm looking forward to another great crop.
Date published: 2010-06-08
Rated

5

out of

5
by
Beaker
from
Great for beginners
These carrots are pretty short as their name says. I planted them last autumn and pulled them today and look fantastic. I didn't have any problems with pests or diseases so they get an A for easiness. They are also nice an sweet. I will definitely be growing these again.
Date published: 2010-04-12
Rated

5

out of

5
by
thomasmc
from
Sweetest Carrots EVER
When we started our garden, I could only manage to dig out about 6-8 inches of hard clay and rock before putting down a mix of topsoil, compost and peat moss. I hoped these carrots would still be able to grow in the shallow garden, but never expected them to be this good. They really are the SWEETEST carrot you could imagine. They only get about 6 inches long, but keep getting fatter and fatter all summer. Unlike other carrots, the core does not get woody, but is as tender as the rest of the carrot. By fall, we were cooking carrots that were bigger than our beets!
Date published: 2010-02-25
Rated

4

out of

5
by
GardenGirl88
from
A Bit Bitter Raw, Great Cooked
I planted these because I wasn't having success with other varieties. They came up and grew great, but when I pulled and cleaned them up for fresh eating I was very disappointed. They had quite a bitter taste. I cut them up and blanched them for freezing, and tried them a while later for a meal. I couldn't believe they were the same carrot I had tried raw. They were great! I am definitely going to plant more of these, but am also going to plant another variety to hopefully get a better carrot for fresh eating.
Date published: 2009-01-20
Rated

5

out of

5
by
TomatoesRYUMMY
from
WOW
This is my first attempt at carrots because my clay soil is so poor... but they did GREAT! I have had loads of fresh carrots this season, so I will probably grow these again next year. For those of you worried about your soil... mine is probably as bad as it gets. I have almost all clay and rocks, and I still had tons of carrots. Good luck!
Date published: 2007-07-04
Rated

5

out of

5
by
cathekorn24
from
First Timer!!
I had a great success with these carrots. I sow half of the packets in my soil, which is not the best, and 3 days after seedlings were out. I didn't do anything special just water them and I had tasty and crispy carrots all summer long. My daughter ate them for afterschool snacks out of the garden. Highly recommend for first time gardeners.
Date published: 2007-04-08
Rated

5

out of

5
by
Marsha
from
These little carrots are great!
I planted a packet of these little carrots thinking that I would be lucky if half of them came up. Since my soil is a bit hard and compact, I was very impressed with germination. However, my resident groundhog ate the tops right after germination and I thought that this was going to be the end of my carrots. In a few weeks, the tops began to reappear and within 50 days or so, I started thinning and eating baby carrots. Now it's the middle of September. I've been digging and eating carrots all summer, eating them raw with ranch dressing, chopped for salads, sliced and steamed, and grated for bread and muffins. The flavor is still sweet and the carrots are not pithy. So take that, groundhog :)
Date published: 2006-09-16
Rated

5

out of

5
by
JasonC
from
Excellent
These carrots really suprised me, i thought with my hard clay soil they wouldnt be very big, well much to my surprise they grew to a good size and fat. I didnt mulch my soil this year so it got harder than normal, the carrots did good. Plant and enjoy a very tasty carrot. Only wish i planted more.
Date published: 2006-07-23