Beet, Detroit Dark Red Med Top
Short Description
Unbeatable beets: dark red, extremely sweet flesh.
Full Description
These perfectly round 3" beets have striking deep red flesh that's incredibly sweet. Baby beets make excellent eating, and harvesting them helps promote the growth of the remaining beets. When planting, mix beet seeds with fast-sprouting radish seeds to mark the rows.
Buy this product
Order
Quantity
Price
Order:
1 Pkt. (1000 seeds)
Order:
1 Pkt. (3000 seeds)
Product properties
Planting Time
Spring, Summer
100%
satisfaction
guaranteed
Video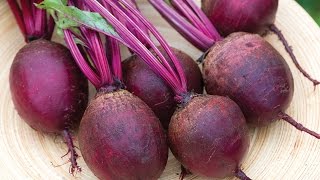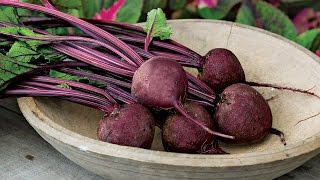 Growing Beets
With earthy sweetness and rich colors, beets are a delicious addition to your garden. We show you how easy it is to grow your own.
Watch video
How to Sow

Sow beet seeds in well-worked, well-drained soil in full sun after danger of frost in spring. In frost free areas, sow in fall.
Beets are sensitive to acidic soils and prefer a pH of 6.0 – 7.0. If your soil is more acidic, add Garden Lime as directed on the bag.
Sow thinly in rows 12 inches apart and cover with ½ inches of fine soil. Firm lightly and keep evenly moist.
Seedlings emerge in 14-21 days.
Thin to stand about 3" apart when seedlings are 1-2" tall. Note that beet seeds are actually clusters of seeds and require more thinning than other crops.

How to Grow

Keep weeds under control during the growing season. Weeds compete with plants for water, space and nutrients, so control them by either cultivating often or use a mulch to prevent their seeds from germinating.
Keep plants well watered during dry periods to promote uninterrupted growth. Plants need about 1 inch of rain per week during the growing season. Use a rain gauge to check to see if you need to add water. It's best to water with a drip or trickle system that delivers water at low pressure at the soil level. If you water with overhead sprinklers, water early in the day so the foliage has time to dry off before evening, to minimize disease problems. Keep the soil moist but not saturated.
Monitor for pests and diseases. Check with your local Cooperative Extension Service for pest controls recommended for your area.

Harvest and Preserving Tips

Pick the greens when they are 4-6 inches long and the roots are less than 2 inches in diameter.
Harvest roots at 1 inch for baby beets, up to 3 inches for mature beets.
Store fall-harvested beets at 33-35°F at 95% humidity.
Cook beet greens like spinach.
Beet roots can be pickled, grilled, baked or broiled.
To prevent red beets from excessive "bleeding" in cooking, wait until after cooking to peel, remove taproots and slice. Trim off the tops about 1 inch above the roots and wash carefully with a vegetable brush. Boil until tender, then plunge into cold water. When cool enough to handle, slip the skins off with your fingers and remove the little taproots. Slice the beets, or serve whole.

Planting Time

Spring, Summer

Beet, Detroit Dark Red Med Top

is rated out of

5

by

21

.

Rated

2

out of

5

by

DTAUB

from

Good beet but poor product

I have been using Detroit Dark Reds for many years. I love the quality of the beet itself. My poor rating is because of the seed tape. I will not use it again. I had very poor germination. Those that grew were very good, but I barely got enough for the table out of a full tape. A neighbor of mine had the exact same experience. I'll continue to use Detroit Dark Reds as it is the best beet I've ever tried, but definitely not the seed tape. I thought it would save me the work of thinning, but instead I did not get a full crop of beets. Disappointing!

Date published: 2015-11-25

Rated

4

out of

5

by

wabef

from

Classic

Excellent product. Lovely color, great sweetness!

Date published: 2015-09-14

Rated

5

out of

5

by

LynnW

from

Give beets a chance!

These beets will get even non beet eaters to love them. So sweet and tender. I usually steam them and add a bit of olive oil and balsamic vinegar and add them to salads but they are also deliciious by themselves. Never tried freezing them before but after reading others reviews I will try next year. I'll have to grow more though as they get eaten rather quickly here.

Date published: 2014-11-03

Rated

5

out of

5

by

grandpa1948

from

Seed tapes are the way to go

I've always had a hard time getting beets to sprout and grow. Most years; however, here in North Central Kansas, are exceptionally hot and dry. This year I bought four packets of the seed tapes and planted them in a 45' double row about 12" apart. It seems that every seed germinated and grew like wildfire--they are about 1" apart. I planted the seeds the first part of April, 2014, didn't start thinning until the largest beets were about 1" to 1-1/2" in diameter, June 5th. This year is so far just right for everything, as far as timely rain and temperate sunshine foes, and the tops are lush and delicious. After this year's experience, I will always try to plant my beets using the Burpee's Detroit Dark Red seed tapes. HIGHLY RECOMMENDED!!!

Date published: 2014-06-09

Rated

5

out of

5

by

Salsalady

from

Best beets ever!

I planted these beets for a few years now. They freeze great and the flavor is amazing. I cannot say enough about the quality of Burpee seeds. The beets greens are deliscious too.

Date published: 2013-08-29

Rated

5

out of

5

by

KMAmbrose

from

The Finest Beets You Can Buy

I have been growing and eating these beets in abundance for years. They have the deepest color of any other I have grown and while they're not particularly uniform in size, they can or freeze nicely. They have a nice texture that doesn't get woody even in the larger beets and a sweetness that you don't find in all varieties. This is my go-to beet for large yields and shelves full of canned red beets every year... wear gloves when working with them though, the intense color of these beets will stain your hands, countertops or anything else they touch but fortunately Clorox Clean Up will take it off hard surfaces.

Date published: 2013-01-13

Rated

2

out of

5

by

Donn

from

Not good

I got the tape of this product. Out of the entire box, only got 5 beets! Next time I'll get just the seeds and forget the tape.

Date published: 2012-05-19

Rated

3

out of

5

by

Bountyhuntrss

from

Still waiting...

I planted the beets in February and not many of them have made it to this point. The leaves are starting to get a little bigger, but they are no where ready to harvest. I have an above ground planter and even though it says they take full sun, I'm thinking that the South Florida sun is a bit much. I recently placed a screen over the planter to see if that helps. I'm hoping they turn out delicious!

Date published: 2012-05-09