Bean, Soy, Midori Giant
Short Description
Here's the biggest soybean available to home gardeners.
Full Description
Big on soybeans? The bushy, early-maturing 20-24" Midori Giant plants are superproducers, yielding 2-3 sweet, buttery seeds per pod. Lightly steam beans, add a hint of salt and enjoy as Edamame, a delicious, nutritious snack. Tall, sturdy, well-branched plants.
Buy this product
Order
Quantity
Price
Send me an email when this item is back in stock
Customers also bought these products
Thank you!
Add to Wish List
Product properties
Days To Maturity The average number of days from when the plant is actively growing in the garden to the expected time of harvest.
68-80 days
Fruit Size The average size of the fruit produced by this product.
2-3 inches
Sun The amount of sunlight this product needs daily in order to perform well in the garden. Full sun means 6 hours of direct sun per day; partial sun means 2-4 hours of direct sun per day; shade means little or no direct sun.
Full Sun
Spread The width of the plant at maturity.
18 inches
Height The typical height of this product at maturity.
20-24 inches
Sow Method This refers to whether the seed should be sown early indoors and the seedlings transplanted outside later, or if the seed should be sown directly in the garden at the recommended planting time.
Direct Sow
100%
satisfaction
guaranteed
Video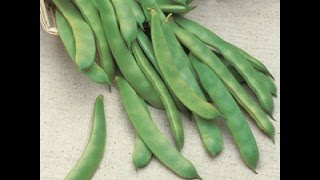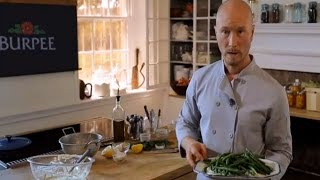 How to Sow
Because cowpeas are members of the legume family of plants, they can benefit from an application of a soil inoculant designed for beans and peas, prior to planting. The inoculant will enable the plants to take nitrogen from the air to use as fertilizer, which can increase crop yield and quality.
Sow in average soil in a sunny location after danger of frost and soil has warmed, from spring to early summer. Sow after the soil has warmed, as seeds may rot in cooler soils.
Coat untreated seed with an inoculant.
Sow in rows 24 inches apart. Sow seeds 3 inches apart and cover with 2 inches of fine soil. Firm lightly and water gently.
Seedlings emerge in 10-14 days depending on soil and weather conditions.
Keep sowing bean seeds every 2 weeks for a constant supply of beans.
Thin gradually to stand 12 inches apart when seedlings are 1-2 inches high.
How to Grow
In dry weather, keep soil well-watered. Plants need about 1 inch of rain per week during the growing season. Use a rain gauge to check to see if you need to add water. It's best to water with a drip or trickle system that delivers water at low pressure at the soil level. If you water with overhead sprinklers, water early in the day so the foliage has time to dry off before evening, to minimize disease problems. Keep the soil moist but not saturated.
Cultivate or mulch to keep weed-free, but do not work or handle plants when leaves are wet.
Beans as companion plants: Planted closely in rows spaced around two feet, bush bean plants blend well with like-sized warm-season vegetables such as peppers, tomatoes and eggplants. Between towers of pole bean plants, planting vines like squash can help keep weeds down. Pole beans can help protect cool-season vegetables such as spinach and lettuces, as the weather warms.
Harvest and Preserving Tips
For fresh use, pick pods as soon as well-filled out with peas
For dried bean use, harvest in about 80 days
To Dry Beans: Allow the beans to stay on the plants until they are partially dry. Then pull up the plants and hang them in a warm, dry place with good air circulation until the pods and seeds are thoroughly dry. Shell the beans and save the pods and plants for composting.
Days To Maturity
68-80 days
Planting Time
Spring, Summer
Sow Time
After Last Frost
Bean, Soy, Midori Giant
is rated out of
5
by
9
.
Rated

5

out of

5
by
Garden Mama
from
Amazing Soy Beans
This summer will be my 3rd year growing Midori Giant Soy Beans. They are delicious and grow vigorously. I harvested 25 lbs of soybeans off 40 plants. They are easy to grow. I planted the seeds with the Burpee Pea & Bean inoculant.
Date published: 2016-01-21
Rated

5

out of

5
by
JennyH
from
delicious
This is my 3rd year planting soybeans and I think these are my favorites yet! They were easy growers requiring very little care. The only care since planting was an occasional watering. Some of the plants grew normal while others growed to over 5 feet in length in a vine-like manner. They gripped each other and wrapped tightly and even grabbed onto the fence around my garden for support. Next year I will provide supports for them. The beans are like an addiction for me. They were very healthy and supplied a LOT of beans. I freeze packs of them to eat over the winter. Worked great last winter and I have no doubt they will be great again this winter. I am definitely getting these again next summer.
Date published: 2015-08-18
Rated

5

out of

5
by
TustinTwinkleStar
from
Taste is Far Superior to Store Bought
My first harvest of an 8' row planted very thickly was consumed in one sitting, these are so delicious! The taste and texture to me was like sweet boiled chestnuts. The plants grew very vigorously, even enduring an attack of stink bug nymphs (Jack's Dead Bug Brew took care of that)! They tend to lean because of the weight of the beans, so I put up some cheap wire plant support fence sections from the dollar store and that did the trick.
Date published: 2015-07-30
Rated

5

out of

5
by
Chels21
from
Mom loved them.
Like most things in my garden, I grew these for my mom. I didn't have a lot of space for them, so I planted them in containers. The Midori giant shared space with grape vines, strawberries, squash, and my plum tree. They did pretty well and we were harvesting soybeans every other day, I could hardly keep up with them. I tried only a few, and turned out to be allergic to soy beans. The taste was also strange for me, I didn't care for it. But my mom loved them, I would grow them again just because they are fun and easy to grow.
Date published: 2015-05-04
Rated

5

out of

5
by
Gardener13
from
High yields!
I planted these for the first time this year, and had great results! The plants are quite small, but they produce many pods per plant, and they don't stop producing pods until they are taken out of the ground!
Date published: 2014-11-06
Rated

5

out of

5
by
FarmerTK
from
Patience Pays Off
I was a little frustrated with these at first, probably because of the success of my Blue Lake beans planted nearby, but everything worked out well in the end. Planted 2 rows with 6 seeds each in late-May. By late-June all plants looked great, but no pods as yet. No until mid-July did the pods show. The beans within were rather flimsy for some time afterwards - hence my frustration - but in mid-August I got the desired results: an abundance of nice, chubby beans. Note: don't be afraid to let these sit until there's a little rust showing on the pods; the beans inside will be just fine - all green, no discoloration. Just pull the pods before they split open. I'd say my average yield was 3 beans per pod - if there was a fourth it'd be somewhat smaller than its pod mates but still decent size - so considering what edamame goes for retail, definitely a money-saver. Yes, it's a bit of work to steam and extract the beans, but well worth it considering their buttery taste - great as a snack. So whereas at one point I had sworn off wasting precious space on these next year, I will in fact be planting another batch come spring 2014.
Date published: 2013-09-15
Rated

5

out of

5
by
modernfarmwife
from
Great Yields!
I planted two beds of the Midori Giant and had outstanding yields! The germination was a little spotty, but I replanted and they caught right up. The bushes were healthy and vigorous. The pods were very plump and many had three beans instead of two. From the packet of 85 seeds I yielded 20 pounds of delicious soybeans!
Date published: 2013-08-28
Rated

5

out of

5
by
CaitlinsCrops
from
Excited for Edamme
I planted these about 6 weeks ago and they got off to a quick start in the 75* weather, nights at 55-65*. They have become significantly bigger than my other bush beans, so plan accordingly (mine are planted as my last row of bush beans). They look extremely strong and healthy, interesting to look at. I can't wait to enjoy the bounty.
Date published: 2013-06-29