Bean Lima, Big Mama
Short Description
Bred from a rarely grown New Jersey heirloom.
Full Description
HEIRLOOM. Soak up a pot of Big Mama and each smooth-textured, extra-tasty bean will swell to fill a teaspoon. Big Mama will make "lima lovers" of your whole family. Healthy too, 1 cup of cooked lima beans provides 20% of the daily value for copper and magnesium, plus a whopping 13 grams of fiber. Easy to grow, the 8-10 ft. vines yield huge 8" long pods that are packed with giant beans. Harvest fresh when pale green or allow to dry to white for storing. Delicious!
Buy this product
Order
Quantity
Price
Order:
Pkt. (3 oz., 85 seeds)
Send me an email when this item is back in stock
Customers also bought these products
Thank you!
Add to Wish List
Order:
Pkt. (1 lb., 450 seeds)
Send me an email when this item is back in stock
Customers also bought these products
Thank you!
Add to Wish List
Product properties
Days To Maturity The average number of days from when the plant is actively growing in the garden to the expected time of harvest.
80 days
Fruit Size The average size of the fruit produced by this product.
8 inches
Sun The amount of sunlight this product needs daily in order to perform well in the garden. Full sun means 6 hours of direct sun per day; partial sun means 2-4 hours of direct sun per day; shade means little or no direct sun.
Full Sun
Spread The width of the plant at maturity.
12 inches
Height The typical height of this product at maturity.
96-120 inches
Sow Method This refers to whether the seed should be sown early indoors and the seedlings transplanted outside later, or if the seed should be sown directly in the garden at the recommended planting time.
Direct Sow
100%
satisfaction
guaranteed
Video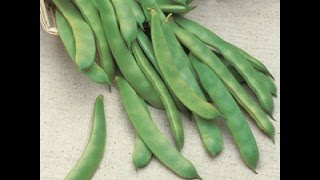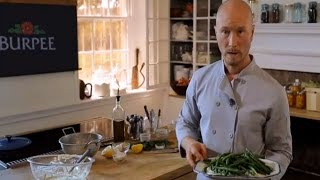 How to Sow
Because cowpeas are members of the legume family of plants, they can benefit from an application of a soil inoculant designed for beans and peas, prior to planting. The inoculant will enable the plants to take nitrogen from the air to use as fertilizer, which can increase crop yield and quality.
Sow in average soil in a sunny location after danger of frost and soil has warmed, from spring to early summer. Sow after the soil has warmed, as seeds may rot in cooler soils.
Coat untreated seed with an inoculant.
Sow in rows 24 inches apart. Sow seeds 3 inches apart and cover with 2 inches of fine soil. Firm lightly and water gently.
Seedlings emerge in 10-14 days depending on soil and weather conditions.
Keep sowing bean seeds every 2 weeks for a constant supply of beans.
Thin gradually to stand 12 inches apart when seedlings are 1-2 inches high.
How to Grow
In dry weather, keep soil well-watered. Plants need about 1 inch of rain per week during the growing season. Use a rain gauge to check to see if you need to add water. It's best to water with a drip or trickle system that delivers water at low pressure at the soil level. If you water with overhead sprinklers, water early in the day so the foliage has time to dry off before evening, to minimize disease problems. Keep the soil moist but not saturated.
Cultivate or mulch to keep weed-free, but do not work or handle plants when leaves are wet.
Beans as companion plants: Planted closely in rows spaced around two feet, bush bean plants blend well with like-sized warm-season vegetables such as peppers, tomatoes and eggplants. Between towers of pole bean plants, planting vines like squash can help keep weeds down. Pole beans can help protect cool-season vegetables such as spinach and lettuces, as the weather warms.
Harvest and Preserving Tips
For fresh use, pick pods as soon as well-filled out with peas
For dried bean use, harvest in about 80 days
To Dry Beans: Allow the beans to stay on the plants until they are partially dry. Then pull up the plants and hang them in a warm, dry place with good air circulation until the pods and seeds are thoroughly dry. Shell the beans and save the pods and plants for composting.
Planting Time
Spring, Summer
Sow Time
After Last Frost
Bean Lima, Big Mama
is rated out of
5
by
21
.
Rated

5

out of

5
by
Linda L
from
A lot of bang for the buck $
Consistently produces large pods with well-sized tender Lima beans
Date published: 2016-09-16
Rated

5

out of

5
by
Sprout
from
BIG seedlings!
I have only just sprouted the seeds, but WOW!, these "Big Mama" seedlings are HUGE. Great germination. I can't wait to see the pods and harvest this summer. Thanks, Burpee!!
Date published: 2015-04-11
Rated

5

out of

5
by
GERick
from
Mutant Pole Lima Beans
I put in new planters last year and ended up planting late. I have been working with lima beans for years and know they are difficult to get to germinate properly. This year they germinated properly and took off. Once the summer heat set in, the vines were growing 4" per day, to a height more than 12 feet. I was worried that the late planting would leave me without many viable pods, and started nipping many of the hundreds of blooms that started. Not to worry. I ended up with about 5 full 5 gallon bucket of enormous 8" pods, most of which developed the full sized beans. Froze about ten gallon bags of beans that we will be eating until the next crop matures. I saved back a bunch of the mature beans for planting this year since I could not find them in the early Burpee catalogs. I will be buying more and also planting the save back seeds from last year to study the difference in seed viability.
Date published: 2015-02-28
Rated

2

out of

5
by
INVT
from
Not many beans
We had a great years for most beans, but I did not get either good germination OR many lima beans on each plant. I Love fresh limas and would not waste space on these again, but try a different variety. I can see why they are rare....
Date published: 2014-09-21
Rated

5

out of

5
by
GardensForJoy51
from
Amazing Beans!
I bought 'Big Mama' purely to experiment in a certain spot in our yard. It's partly shaded - the beans only get about 5 hours a day. They are doing well, considering dry weather, being right up against the house where the soil is poor, and less than ideal supports. The vines are all of 12 feet, easily, and are very vigorous. The beans are delicious, and many are bigger than a quarter. They always bring exclamations of surprise and appreciation when served with a meal. Production is a bit slow and not as many as I'd like, but that's probably due to the shade and the lack of rain this summer. Also - taller supports or a good-sized trellis are in order for next year. Germination seemed skimpy but I am guilty of overwatering, so will be more careful next year. I will DEFINITELY find a spot in my garden for these every year!
Date published: 2014-08-30
Rated

3

out of

5
by
SPJB1987
from
Spotty Germination but worth the wait
The first pack I got had horrible germination, I think one germinated and it later died. Burpee was excellent about replacing the pack and out of the second pack I had very good germination. The plants are starting to climb now and growing quickly, I'm very anxious to see the yield
Date published: 2014-08-25
Rated

4

out of

5
by
Cal1
from
Germination Problems?
I planted a whole pound - mellow sandy loam - watered on the 3rd day, again on 7 th day which was followed by an inch and a half rain on the 9th day...Germination has been about 90%, initial growth is fantastic - about a foot tall 15 days from planting. Very pleased so far...
Date published: 2014-06-28
Rated

1

out of

5
by
dartman
from
does not germinate
This is the third time I have planted these thought maybe to previous years failure to grow could be weather related but conditions this year was great and they still did not grow only four plants grew out of the package. I believe this to be a general burpee problem. Think I'll try another seed provider next year.
Date published: 2014-06-07