Bean, Fortex
Short Description
A bigger and tastier French bean.
Full Description
Extraordinaire! A French bean that's bigger and tastier-a new classic. A gourmet's delight, this stringless French variety is everything you wish for in a bean: tender, green, mildly sweet, nutty, meaty, savory. Wildly popular in France (the French know beans), you can pick them from 6 up to 11". Vigorous growth requires sturdy stakes.
Buy this product
Order
Quantity
Price
Product properties
Type Some flowers and vegetables fall into subcategories that may define how they grow (such as pole or bush), what they are used for (such as slicing tomatoes or shelling peas), flower type, or other designations that will help you select the type of a class of plant that you are looking for.
Pole Filet
Days To Maturity The average number of days from when the plant is actively growing in the garden to the expected time of harvest.
75 days
Fruit Size The average size of the fruit produced by this product.
6 inches
Sun The amount of sunlight this product needs daily in order to perform well in the garden. Full sun means 6 hours of direct sun per day; partial sun means 2-4 hours of direct sun per day; shade means little or no direct sun.
Full Sun
Spread The width of the plant at maturity.
18 inches
Height The typical height of this product at maturity.
96-120 inches
100%
satisfaction
guaranteed
Video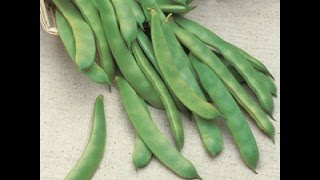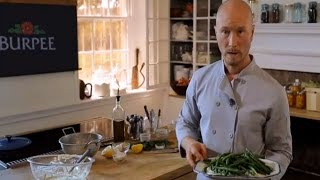 Beans

Start Indoors

Starting seeds indoors is called Indoor Sow or Indirect Sow and these dates are when to sow seeds indoors in the spring or summer

Transplant

When to transplant bulbs or roots in the garden for spring

Start Outdoors

Starting seeds outdoors is called Outdoor Sow or Direct Sow and these dates are when to sow seeds outdoors in the spring or summer

Start Indoors Fall

Starting seeds indoors in the fall called Indoor Sow or Indirect Sow and these dates are when to sow seeds outdoors in the fall

Transplant Fall

Transplant Fall-When to transplant bulbs or roots in the garden for fall

Start Outdoors Fall

Starting seeds outdoors in the fall is called Outdoor Sow or Direct Sow and these dates are when to sow seeds outdoors in the fall

S

Succession Planting

This means that the plants have multiple harvests in a season

First Date: May-16 - Last Date: Jun-13

Jan

Feb

Mar

Apr

May

Jun

Jul

Aug

Sep

Oct

Nov

Dec
How to Sow
Because beans are members of the legume family of plants, they can benefit from an application of a soil inoculant designed for beans and peas, prior to planting. The inoculant will enable the plants to take nitrogen from the air to use as fertilizer, which can increase crop yield and quality.
Sow in average soil in a sunny location after danger of frost and soil has warmed, from spring to early summer. Sow after the soil has warmed, as seeds may rot in cooler soils.
Coat untreated seed with an inoculant.
Sow in rows 24 inches apart. Sow seeds 3 inches apart and cover with 2 inches of fine soil. Firm lightly and water gently.
Seedlings emerge in 10-14 days depending on soil and weather conditions.
Keep sowing bush bean seeds every 2 weeks for a constant supply of beans.
Thin gradually to stand 12 inches apart when seedlings are 1-2 inches high.
How to Grow
In dry weather, keep soil well-watered. Plants need about 1 inch of rain per week during the growing season. Use a rain gauge to check to see if you need to add water. It's best to water with a drip or trickle system that delivers water at low pressure at the soil level. If you water with overhead sprinklers, water early in the day so the foliage has time to dry off before evening, to minimize disease problems. Keep the soil moist but not saturated.
Cultivate or mulch to keep weed-free, but do not work or handle plants when leaves are wet.
Beans as companion plants: Planted closely in rows spaced around two feet, bush bean plants blend well with like-sized warm-season vegetables such as peppers, tomatoes and eggplants. Between towers of pole bean plants, planting vines such as squash can help keep weeds down. Pole beans can help protect cool-season vegetables such as spinach and lettuces, as the weather warms.
Harvest and Preserving Tips
For fresh use, pick pods as soon as well-filled out with peas
For dried bean use, harvest in about 80 days, when the pods start to dry on the plant.
To Dry Beans: Allow the beans to stay on the plants until they are partially dry. Then pull up the plants and hang them in a warm, dry place with good air circulation until the pods and seeds are thoroughly dry. Shell the beans and save the pods and plants for composting.
Planting Time
Spring, Summer
Sow Time
After Last Frost
Bean, Fortex
is rated out of
5
by
37
.
Rated

3

out of

5
by
NCgreenthumb
from
Great vines, but...
Fortex Pole Beans: Wow, great vines. They grow like crazy. Now for the sad part. Due to the hot weather (90+) in this area, there are no beans. Loads of flowers, but no beans. It is now mid July. I am hoping that if these vines stay healthy until the early Fall, I can have a late season harvest to can or freeze.
Date published: 2015-07-20
Rated

5

out of

5
by
MattinVA
from
Planting this every year on orders from my wife
My wife has encouraged me to drop green beans from my garden every year -- until last year. The Fortex variety produced massive amounts of delicious, stringless beans that fed the family for weeks. I'm now on orders to plant this variety every year.
Date published: 2015-03-01
Rated

5

out of

5
by
CookDee
from
Best bean ever!
Perfect bean. We have tried 5 or 6 different varieties over the past 12 years but this will be the only bean we plant. They are delicious fresh, frozen, pickled and canned. Even when we've left them on the vine too long they taste great!
Date published: 2015-02-03
Rated

5

out of

5
by
kbigmomma
from
favorite bean
I have been planting Fortex pole beans now for a few years and just love these beans! Easy to pick and great taste fresh, canned or frozen! These are my go to bean plants and am considering not planting bush beans ever again!
Date published: 2014-09-22
Rated

5

out of

5
by
dignamedsandi
from
Fortex Beans
This is the 2nd season for planting these beans and I love them. Grow them on round bean towers and they do very well. even if I don't pick them right away they stay tender and don't get all seeds inside.
Date published: 2014-09-21
Rated

5

out of

5
by
BurlingtonGardener
from
Finally A Tasty Stringless Bumper Crop of Beans!!!
This packet of seeds is worth every penny. I couldn't even keep up with the amount of beans. The great thing is that if you do let some beans get slightly too big they don't become extremely tough. The beans also taste better than any other bean i've grown. Their flavor was so good that all I did was steam them. Thanks Burpee for a bean that I will use for hears to come.
Date published: 2014-09-21
Rated

5

out of

5
by
Nachodon
from
Best bean I've found in over 50 years
My wife and I have always disagreed on green beans, she likes 4 inch matchstick size green beans and I like a well developed green bean. So, the last 20 years I have grown bush beans for her and Pole beans for me. Well, last year I bought the Fortes green bean. It is stringless and tender. I pick them, or my wife dies about 1 foot long and then break them into about 8 pieces. You can get a meal with just a handful. My wife loved them so much that they are all I am going to grow next year. We give extra produce away to friends and neighbors too and most of them didn't know how to prepare or didn't want to take the time to string the string beans. The Fortex green bean solves this as they are completely stringless and cook so fast. I have never had a tastier or tender green bean and they are easy to pick, clean and cook. I highly and fully recommend them Nachodon
Date published: 2014-09-18
Rated

5

out of

5
by
GreenThumbAmbrose
from
Great, Quality Pole Bean
This is the first year I have planted these beans and I have to say I'm impressed. I liked that they are an heirloom bean, but was a little worried about the brown beans inside not looking very appetizing. Those worries were put to rest today with my first picking. First, these are some crazy long beans! They come on like long skinny worms, but they fill out quickly. They are fairly straight and many of the beans I picked ranged between 10 and 13 inches long. The beans inside even the longer beans are tiny so the bean color has no noticeable impact. The taste is exceptional. I'm planning to plant twice as many next year. The plants rapidly grew up the strings on my bean tower, sometimes growing five inches in one day. We had a blast watching them grow this year. Picking was a dream because most of the beans don't require bending to pick so it wasn't nearly the ordeal of picking bush beans. I'm very happy with this purchase and hoping for many more pickings this year and for many years to come.. Please continue to carry this bean in your catalog.
Date published: 2014-07-21
Rated

5

out of

5
by
TheWormLady
from
Summer Icicles
These were a delight - long, tender, stringless - a real treat to grow and to eat. We grew 10 plants and fed four people 3-4 meals/wk, and still had enough to can 8 pints of spicy (pickeled) beans. Very productive, nearly all of them straight, and on average 8" long. Some were off the charts long - 16" long (yet still tender). Every day I would find more beans, hanging like jewels - that's why I call them my summer icicles. We finally found our favorite pole bean!
Date published: 2013-09-02
Rated

5

out of

5
by
Kimjs
from
It's a keeper
This is my second year of planting the Fortex bean & I know I'll plant it again next year. I grow them on my bean tower & the yield & quality of this bean is the best I've had. I've been growing green beans for over 20 years now, bush beans for about the first 15, until I discovered pole beans & this variety is awesome!
Date published: 2013-08-28
Rated

5

out of

5
by
dankee98
from
Fanrastic
WOW, We tried these beans as an alternative to Blue Lake 274 Bush beans. We have been having difficulty picking bush beans and wanted to try pole beans to eliminate the stooping over. We were also looking for heirloom varieties, for the extra benefit of saving our own seed. These are exactly what we were hoping to find. We had some concern that they might be some sort of novelty item, due to the extra long length (measured one at 13 inches)but, the are great. Very tender, so strings, easy to pick, and easy to clean. We have a small plot of Blue Lake bush beans and they are much harder clean to rinse than these Fortex. What sold us though, is the flavor. One of the best tasting beans we've ever grown. I am looking forward to planting more of these next year. You can't go wrong with these!
Date published: 2013-08-27
Rated

5

out of

5
by
AlexGarden
from
Fantastic, delicious and prolific
I planted these twice in 2012 and they do not disappoint. I gave them a 4' trellis the first planting and that was a huge mistake (it was my first garden). I gave them a 10' trellis in the second planting. I had so many I took them to work to give to coworkers. They were huge also, some getting up to 11" long. Best tasting green beans ever. My 3 year old loves them. I simmered them in chicken broth for 20 minutes. I will ALWAYS have these in my garden. I am square foot gardening, 8 plants per square. Below is a photo of my son on a ladder helping harvest.
Date published: 2013-01-09
Rated

5

out of

5
by
KentuckyFarmer
from
BEST BEAN EVER
I have grown quite a few beans, and still grow other varieties for family and friends, however this one was grown for me. What they claim is exactly what you get. Long tender pods. Not a lot of beans, which I like. Canned great, no strings, and soo easy and fast to pick. Bushels add up real quick. Definitely buying many more this year! Zone:6b
Date published: 2012-12-25
Rated

4

out of

5
by
LeahDVM
from
good bean
Produced well, very tall--grew on a four foot fence, could have been taller. Older, longer beans are still tender as advertised. Noticed quite a few empty pods. Very sturdy vines, hard to remove from fence once dead.
Date published: 2012-10-08
Rated

5

out of

5
by
NCGardenLady
from
Best beans we've ever grown!
When I read about Fortex beans in the Burpee seed catalog two years ago, my first thought was "Yeah, right." They sounded too good to be true. A bean that gets a foot long, has no strings, is tender and tasty no matter how big they grow... Yeah, right. So I ordered some seeds to try. I will never grow another variety. These are absolutely the best tasting beans I have ever eaten, they grow over a foot long and have no strings. A handful of these make enough for a meal.
Date published: 2012-05-14
Rated

4

out of

5
by
Dickey
from
fortex bean
Growth is as expected. Plants are very healthy, beans are firm-tasty & abundant.
Date published: 2012-05-09
Rated

4

out of

5
by
HoustonTexGrower
from
Fortex Green Beans
I am growing for the first time the Fortex green bean. I planted in early April 2012 this year, but they really seem to like it warmer than when I planted. It was warm mid 80's when I planted the first area, they are are 8 ft tall now with blooms and small green beans. I grow in 4x8 boxes, 16" deep of loamy soil, they are doing well. I planted two other areas this past weekend 5/5/12, and within 4 days, they are busting the ground, so these plants like it warm. The only real compliant I have is that it takes 6-8 beans to germinate for each hole I planted; it seems to not have a great germination rate. I will respond as the beans start producing. They do grow tall, so make sure you have at least 8 foot poles or trellis. I actually have two 8 ft sections about 4 ft apart, with connecting strings, and they are making a nice cover between the two sections, so should have nice green beans hanging underneath too. Hope this helped.
Date published: 2012-05-09
Rated

5

out of

5
by
WeekendGardener
from
Stringless and Seedless
I have tried several varieties of beans and this is by far the best tasting and fastest growing in Zone 10. The beans are about 8" to 10" long and need picked every few days. We get so many, the extras go into the refrigerator and they stay just as fresh as the ones picked and cooked right from the vines. I planted these late August with some of the Burbee Pea and Bean Boster, inserted a few 7' 2inch round PVC pipes into the ground and they just grew and grew. The pipes could have easily been a couple of feet higher. Will be trying another planting by the end of October since the Fall weather here is still warm..
Date published: 2011-10-17
Rated

3

out of

5
by
Anonymous
from
great taste, no strings
I agree with previous reviewer. Low production which, hopefully, is only due to the early hot weather. I'll keep my hopes up that it comes back again before frost sets in. I'll try it again next year because it was so good.
Date published: 2011-08-10
Rated

1

out of

5
by
Anonymous
from
High hopes
While the "Fortex" plants grew very vigorously for me, reaching the top of my "bean-zeebo", an inverted satellite with 6 ft legs, within 7weeks from sowing, their production was way below par compared to "Kentucky Blue" variety I have grown in the past. I had checked the reviews for this variety before ordering and had hoped for much better production. The low production may have been due to the rapid onset of very high temps in June and continuing on through July thus causing failure of the blooms to set pods. We harvested only one meal of beans from all that growth, so sad......
Date published: 2011-01-20
Rated

5

out of

5
by
HoneybeeNC7b
from
This is now my favorite green bean
This is the first year (2010) I have grown this bean and it will now be a staple. I set seed in my zone7b garden on May 1st and picked the first beans on June 18th. The beans should be picked daily as they grow quickly. We have experienced weeks of 90+ weather with some days into the 100F's. It is now the beginning of August and they have quit blooming. I assume this is due to the hot weather. Hopefully they will begin blooming again when the weather cools in September. These beans have no strings, and freeze well. I have tried other green beans, but have not liked the flavor. I plan to double the number of plants next year.
Date published: 2010-08-01
Rated

5

out of

5
by
Symphony101
from
The Best!
Wow -- what a delicious string bean. These are the best beans I've ever had and/or grown. Fortex is a fairly 'light' producers. You will pick a handful of beans every day. But, they have a long production season, producing all summer, until frost. I would recommend planting at least two packages of Fortex seeds. These beans need to be picked DAILY, as they are very rapid growers. If you miss a day, you will pick some GIANT beans the next day. But, even the giant beans are tender, flavorful, and delicious. I've grown Burpee's heavyweight beans, previously. They tend to produce a ton of beans, all at once. Then, they're done. Just my opinion, but the Fortex is a much better tasting bean. Fortex is delicious raw or cooked. Fortex is the only green bean I will grow now. I will plant 4 packages of them, this year. I wish Burpee would start selling the seeds by the half-pound or full-pound. I think I will recommend it to them.
Date published: 2010-01-11
Rated

5

out of

5
by
socrateach
from
No Strings Attached, Thank Goodness
I bought a bean pole tower to help these grow, and the resulting combination was about as good as vegetable gardening can get, at least for me. The beans all germinated, grew quickly, and produced alarmingly great amounts of beans. I ate them often, and shared the excess with numerous grateful co-workers. The flavor is splendid, and they really don't have strings, which is ideal. This year I plan to use two towers, but am also preparing to can (for the first time) the overflow that I know will come.
Date published: 2010-01-02
Rated

2

out of

5
by
dolphin
from
Tough
Yes, these beans produced a lot, but they quickly got too big, stringy and tough to be tasty.
Date published: 2010-01-01
Rated

5

out of

5
by
wonderwoman
from
Best Green Been
We tried the Fortex pole been for the first time in 2008 - this is the first pole bean ever, much easier than a bush bean. We had great results with beans arriving in July and lasting until October without replanting. We froze some and had them this winter. They tasted fantastic! Will plant again and again.
Date published: 2009-01-25
Rated

5

out of

5
by
gardenperson
from
Excellent Green Bean
Tried these for the first time in summer of 2008. Had excellent results with good yields. The taste and texture of the bean was excellent. Yields were so great that we are trying to freeze some for this winters use. Will order and plant this bean again.
Date published: 2008-09-13
Rated

5

out of

5
by
JDSH
from
Excellent pole bean
I've grown Fortex for two years in my garden. I stopped growing bush beans, because I find pole beans, and especially Fortex, are simply the best. I usually grow 3 or 4 varieties, but this year, I only planted a few of the others, and doubled my Fortex. These beans are long, flavorful, stringless, and freeze well. They never cease to satisfy. They have a medium, nutty flavor that tastes great steamed with nothing more than a little butter, salt and pepper. They produce all summer long and seem to be quite hardy. Fortex is now a staple in our garden!
Date published: 2007-08-14
Rated

5

out of

5
by
BobaRon
from
BEST YET!!!!
My wife says this is the best green bean she has tried. No stringing, mild taste, nice size. We loved them and these will now be a standard in our summer garden.
Date published: 2007-08-11
Rated

5

out of

5
by
mgun77
from
Fortex Pole Bean
I grew Fortex for this first time this past summer (summer of 2006) and found Fortex to perform quite well. My family loves green beans, but we were pressed for space. I planted Fortex and it survived our dreadful drought ridden summer, but I had to water it weekly during the dry spells. My reward was a surprisingly large yield of great tasting (long) green beans with little or no strings, and once I discovered how good they were I pulled up some other plants that didn't survive the drought and planted another row of Fortex in their place. Thank you Burpee, and keep up the good work!
Date published: 2006-09-27