Bean, Blue Lake 274 Bush
Short Description
Plump, tender pods 5 to 6" long, with white seeds.
Full Description
Blue Lake 274 is an all-time favorite bean that's nearly fiber-free, produces prolifically over a long season and has excellent flavor, fresh or frozen. A heavy producer over a long season, it's excellent fresh or frozen. Plants yield early and need no support. One 2 oz. seed pack will sow a row of about 20'. Our seed is not treated.
Buy this product
Order
Quantity
Price
Product properties
Type Some flowers and vegetables fall into subcategories that may define how they grow (such as pole or bush), what they are used for (such as slicing tomatoes or shelling peas), flower type, or other designations that will help you select the type of a class of plant that you are looking for.
Bush Snap
Days To Maturity The average number of days from when the plant is actively growing in the garden to the expected time of harvest.
58 days
Fruit Size The average size of the fruit produced by this product.
5-6 inches
Sun The amount of sunlight this product needs daily in order to perform well in the garden. Full sun means 6 hours of direct sun per day; partial sun means 2-4 hours of direct sun per day; shade means little or no direct sun.
Full Sun
Spread The width of the plant at maturity.
10 inches
Height The typical height of this product at maturity.
15-20 inches
100%
satisfaction
guaranteed
Video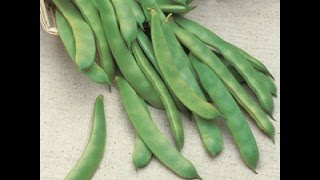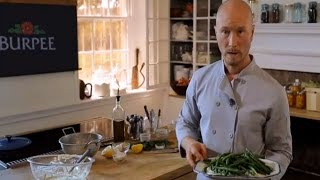 How to Sow
Because beans are members of the legume family of plants, they can benefit from an application of a soil inoculant designed for beans and peas, prior to planting. The inoculant will enable the plants to take nitrogen from the air to use as fertilizer, which can increase crop yield and quality.
Sow in average soil in a sunny location after danger of frost and soil has warmed, from spring to early summer. Sow after the soil has warmed, as seeds may rot in cooler soils.
Coat untreated seed with an inoculant.
Sow in rows 24 inches apart. Sow seeds 3 inches apart and cover with 2 inches of fine soil. Firm lightly and water gently.
Seedlings emerge in 10-14 days depending on soil and weather conditions.
Keep sowing bush bean seeds every 2 weeks for a constant supply of beans.
Thin gradually to stand 12 inches apart when seedlings are 1-2 inches high.
How to Grow
In dry weather, keep soil well-watered. Plants need about 1 inch of rain per week during the growing season. Use a rain gauge to check to see if you need to add water. It's best to water with a drip or trickle system that delivers water at low pressure at the soil level. If you water with overhead sprinklers, water early in the day so the foliage has time to dry off before evening, to minimize disease problems. Keep the soil moist but not saturated.
Cultivate or mulch to keep weed-free, but do not work or handle plants when leaves are wet.
Beans as companion plants: Planted closely in rows spaced around two feet, bush bean plants blend well with like-sized warm-season vegetables such as peppers, tomatoes and eggplants. Between towers of pole bean plants, planting vines such as squash can help keep weeds down. Pole beans can help protect cool-season vegetables such as spinach and lettuces, as the weather warms.
Harvest and Preserving Tips
For fresh use, pick pods as soon as well-filled out with peas
For dried bean use, harvest in about 80 days, when the pods start to dry on the plant.
To Dry Beans: Allow the beans to stay on the plants until they are partially dry. Then pull up the plants and hang them in a warm, dry place with good air circulation until the pods and seeds are thoroughly dry. Shell the beans and save the pods and plants for composting.
Planting Time
Spring, Summer
Sow Time
After Last Frost
Bean, Blue Lake 274 Bush
is rated out of
5
by
12
.
Rated

5

out of

5
by
Southern Growgirl
from
Best green bean ever!!
Best green beans I have ever grown! Plants are hearty, vigorous, and mostly bug free (good because I am chemical free). Plants produce very well, and beans are delicious raw or cooked! Freeze and can very well.
Date published: 2017-02-16
Rated

1

out of

5
by
kjmf
from
not good
bought this plus several more vegetable seeds. I am very disappointed in the products. only seeds that grew was the spaghetti squash. the beans i think i got like half a pound or 1 pound which came to like 8 25 ft rows in my garden only half of 1 25 ft row grew.
Date published: 2016-09-15
Rated

5

out of

5
by
JohnnyBoy
from
Favorite
I rotate these to different spots each year, and each year they continue to produce large quantities of a superb bean. Never disappointed in these.
Date published: 2016-09-15
Rated

5

out of

5
by
Dufus
from
Heavy Yields of Nice Beans
This is my second year of growing snap beans and I have had excellent results with Blue Lake 274 bush beans. This variety of beans produces heavy yields as compared to other varieties grown in the same garden plot. Some reviews claim poor germination, this is from planting in cold soil (too early or wet soil). This is what works for me in heavy clay soil: Amend with compost, manure, bagged garden soil and other organic material. Water in some fish fertilizer, sea magic and worm castings before planting. At the first bloom, repeat a mild solution of fish fertilizer in the evening as a foliar and again at full bloom. I use 1-Tbs of fish fertilizer in a 2-gallon watering container to 15 feet of row... Keep in mind that too much nitrogen can hurt your been crop. My neighbor was watching me carry in several buckets full of green beans from a small garden.
Date published: 2015-11-06
Rated

5

out of

5
by
PlanterJeff
from
Good Bush Bean!!
I am on my second year with these beans. I use these in a square foot garden and plant about 6-9 per square. They always produce decent yields. I get one large harvest from each plant. Taste good, no strings.
Date published: 2014-05-22
Rated

5

out of

5
by
MrsPenguin
from
So far so good!
I planted about three dozen of the seeds, 1/3 in pots and the remainder in the garden. Planted late March, seeds came up right away, but today (June 1) I noticed quite a few beans! They aren't quite ready to pick, about 4" in length, so I'll wait another day or so before I begin to harvest. Don't see a difference between planting in the garden or in the pots, which is really exciting. This is only my second year with a garden, so I'm still learning, but I've had really great results with fertilizing with organic blood meal- the beans really seemed to take off after the first treatment. I planted so many because I was concerned about the quality of the potted plants, but may have been a bit overzealous..I have a feeling our neighbors will be getting sick of me bringing them green beans :) Can't wait to try them in a day or two! I guess my only question would be to ask if it would be OK to harvest when they are a little smaller than the 5-6 inches. Any suggestions?
Date published: 2013-06-01
Rated

4

out of

5
by
Brendy
from
Reliable filler
This variety is a favorite with my kids, I typically plant a spring crop in the North East they slow in the heat of the summer but usually come back in the fall, in my region (keep well watered and picked)..When other plantings fail for whatever reason. I pop a few down to fill the space in my garden..Best results when germinate on paper towels, plant once you see roots developing.
Date published: 2013-01-16
Rated

3

out of

5
by
medicman
from
Nice bean
I planted these in my raised bed and they quickly took over and tried to crowd out anything around them. They produced a large number of beans for an initial picking and then smaller batches for the next few weeks until they were done. They are very tasty beans and met all expectations. One regret is they don't keep producing very well.
Date published: 2012-10-31