Pole Bean And Pea Tower
Short Description
A space-saving way to grow pole beans and snap peas.
Full Description
One of these pole bean or pea towers takes up only 5 square feet, so you can save space in your garden. Can accommodate at least 12 pole bean vines or 36 pea vines. String the cotton twine (provided) from hoops at top and bottom of the 6' galvanized pole.
Buy this product
Order
Quantity
Price
$39.95
Buy 2 or More for $35.95 each
100%
satisfaction
guaranteed
Video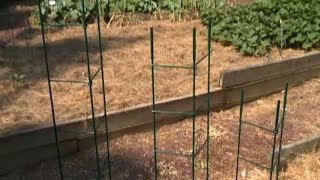 Pole Bean And Pea Tower
is rated out of
5
by
30
.
Rated

4

out of

5
by
Lisa35
from
Great but needs to be taller
it is great, it could be better if it is 2 feet taller. Most pole beans can reaching 9 feet, this pole only goes 6 feet.
Date published: 2016-03-12
Rated

5

out of

5
by
GardenJen
from
Awesome Bean and Pea Tower
I bought three of these towers last season and was amazed with them. They are easy to put together. I used two for beans and one for cucumbers. Both did great on the tower. When the plants were in bloom the towers became stunning garden features. I would rate these as a must have. This year I planted nasturtiums on one of the towers just for the visual. Can't wait for it to fill in.
Date published: 2015-06-04
Rated

5

out of

5
by
HoldenIron
from
Glad I gave these a try!
I use box gardens and I always looking for ways to get more volume in the limited space I have to use. I have 3 of these and have tripled the volume of beans and cucumbers I can grow in the same space. At the end of season each pole separates into 2 hoops and 2 poles for easy storage.
Date published: 2015-05-07
Rated

5

out of

5
by
BJNPLS
from
VERY nice - Received many compliments.
I am in a community garden and wanted to keep things organized in a small space (12' X 4' raised bed). I bought one of these for pole beans and am really impressed. When the beans begin to grow it really looks impressive. The beans are so easy to reach. The installation is simple (I was surprised it was so quick and easy to install). I have received questions as to where I got it by many other gardeners. I am so impressed, I just ordered two more for my garden! Highly recommend!
Date published: 2015-02-12
Rated

5

out of

5
by
JustAnotherBeanGrower
from
This thing is worth it weight.
We have used this system to grow pole beans for the last 2 year. It is a little expensive to hold up string, but believe me it is worth it. The metal is great and stands up over time. It looks good for year 3 and beyond. Your yield will increase, You will find that beans will grow both on the inside and outside and it will take some time to find them all. We just parboil the beans, put them in plastic bags, and store in the freezer. It is now January and we still have green beans left.
Date published: 2015-01-02
Rated

4

out of

5
by
DirtyKnees
from
Does its job
Had reservations when I realized it was only 6 feet -- tripod towers that I'd built with saplings always led to a tangled drooping mess of bean vines at the top when they were no taller than that. For whatever reason, this year with this tower I got a reasonable mushroom-shape. The beans give up and grow across and drape rather than trying to climb higher? Who knows. It did require a supporting tie to prevent leaning. The central stake doesn't go deep enough to hold against wind when in soft garden soil. The bottom circular rung would have prevented toppling, but it was pretty unstable.
Date published: 2014-09-21
Rated

4

out of

5
by
KayInMD
from
Great tower; gets top heavy
I'm was very pleased with this tower and will put in 4x as many next year. I did, however, discover a design limitation -- it gets top heavy and needs some support. To be fair, I did put about 35 plants on it and they really wanted to be 10' tall, not 6'. Once they grew past the top, they started wrapping themselves around each other and made a heavy knot of green beany goodness. Add in several very violent thunderstorms (it was unusual to have so many) and the tower started tipping -- the Leaning Tower of Pole Beans. I ran some guylines from the top down hoop down to tent stakes and that took care of it. There may be other ways to secure it better, so give it some thought if you plan on misuing the tower like I did. Dimension-wise, the bottom hoop is about 32" across, so it fits nicely in a standard 4'-wide bed.
Date published: 2013-08-26
Rated

5

out of

5
by
bluebean
from
LOVE the tower!!
Every review I read says this will hold anywhere from 12 to 36 pea/bean vines. HOLD UP...I was able to grown 72 vines per tower. I did purchase more string to allow for all the vines:-) Can you say AMAZING? The most important part with this many vines is to make sure you go out daily and train the vines to the string. Then sit back and wait:-) Well, weed and wait lol. I had two towers of peas and two towers of beans which\ supplied more than enough for daily meals throughout the harvest season, and plenty for freezing. In fact our peas were the hit of the neighborhood for the neighbor kids. Literally had them waiting for me everyday to come and nab my peas! This year I will be doubling the peas so that we will have plenty even after the hungry kids pass through:-) I made a couple of "towers" on my own, they worked ok, not as sturdy and weather proof though, but spending the money on THE tower and being able to use it year after year is a better deal...trust me! I grew up on a farm and the back-breaking work of picking beans or peas in the hot sun......for the birds:-) The "tower" makes gardening fun and not a chore at all:-) FYI, I will have a total of 10 towers this year and plan on canning and freezing the extras...oh how sweet it is! And how wonderful these towers are!!!!
Date published: 2013-03-10