Electronic Soil Tester
Short Description
Helpful garden tool to find out how well your soil supports plant growth.
Full Description
This solid-state model quickly and accurately measures soil fertility and pH levels. No batteries required.
Buy this product
Order
Quantity
Price
100%
satisfaction
guaranteed
Video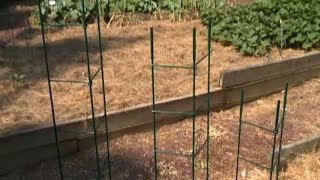 Electronic Soil Tester
is rated out of
5
by
26
.
Rated

1

out of

5
by
ginnie
from
don't buy!
I bought this a couple weeks ago and it doesn't seem to work. (I did move the switch to ph or fertility) When I bought it the needle was pointed to 7 even though it was off which I thought was odd. When I put it in the ground-different places-the needle hardly moved. I deliberately put it where I knew the ground to be rich or poor. I will take it back -but I am disappointed. I really wanted a soil tester. I like other Burpee products.
Date published: 2017-03-23
Rated

1

out of

5
by
AnMarieB
from
soil tester didnt work
I tried it on 3 different beds in Texas, all read exactly the same. Then also tried it in soil in Arkansas, read the same. I am confident the soil is not the same in both states/every bed, but instead, the tester did not work.
Date published: 2017-03-08
Rated

5

out of

5
by
Kghareeb
from
Worked Perfectly
I bought this product and followed the instructions on Pantlay's review. It worked perfectly in vinegar.
Date published: 2017-02-12
Rated

5

out of

5
by
J Fo
from
Pantlady review is the answer
My brother gave me his Burpee meter and said it did not work. It had been in his garage for a number of years. I followed Pantlady's instructions and now it works great.
Date published: 2016-12-30
Rated

1

out of

5
by
Carol R
from
Maybe as a plant marker if I paint it?
I've bought 4 of these over the years, and saw one with the name Burpee. I thought it would be better. Name, you know. But when I got it home, I tried the ammonia/distilled water/vinegar test. Cleaned the probes between each dip with a pH neutral soap solution, then rinsed carefully in distilled water. I did it just like I'd do in a science class. Guess what? They are all miraculously about a pH of 4.2. I didn't turn water into wine, I turned ammonia and vinegar into distilled water! So I poured the vinegar into a jug of water for my acid-loving plants, and poured the ammonia on my compost pile, and poured the distilled water into a window box. The tester? I use it when I teach classes, as an example of "You Get What You Pay For." And I bought a pretty expensive tester from the local Ag and Garden supply place. That one passed with flying colors of litmus pink and blue.
Date published: 2016-09-21
Rated

4

out of

5
by
Jack39m
from
Quick easy testing product
I used this tester and all my plants grown great this year. I like the the features of checking ph and fertilizer in one unit and it must read well because my plants grew a lot better then my neighbor
Date published: 2016-09-16
Rated

5

out of

5
by
Rick 69
from
Great help for virgin soil
Garden area went unused for 30 years and this unit made it easier to figure out a program to achieve a great harvest.
Date published: 2016-09-15
Rated

1

out of

5
by
qkrick
from
messed up soil
I thought with the name and the price I could not go wrong. Well that was a mistake. I did some research on the Internet and read that distilled white vinegar should register at approximately 2.4. Will needless to say it didn't. It registered 4.2 and rainwater registered at 5.8. I've lost some respect for the name Burpee. And the metal prongs were cleaned before testing.
Date published: 2016-07-28