Garden Tool - Spade
Short Description
Spear Head Spade™ makes your toughest tasks easier.
Full Description
Trouble digging in rocky or dense clay soils? Difficulty transplanting or separating highly rooted and fibrous plants? Want to use less effort to do what must be done? With these spades your toughest tasks are as much as 80% easier than with regular shovels. The blades are made of high carbon manganese steel that is thicker and harder than normal shovels, hold their edge well and are powder coated with an epoxy resin for durability and ease of cleaning. The reinforced fiberglass handles are among the lightest and strongest shovels available and are weather resistant and non-conductive.
Buy this product
Order
Quantity
Price
100%
satisfaction
guaranteed
Video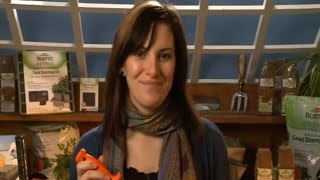 Hori Hori Gardening Knife
The one tool you can't do without! Beveled for shoveling and serrated for sawing , it can be used to dig, weed, transplant, divide perennials and more.
Watch video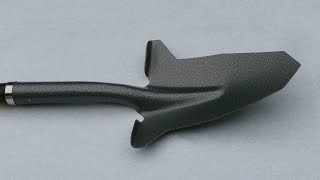 Growing Calendar Not Available
Garden Tool - Spade
is rated out of
5
by
7
.
Rated

5

out of

5
by
Diesel5610
from
Great garden tool!
I bought this last year and it has quickly become my favorite gardening tool. Makes digging holes incredibly easy and is great to dig, divide and transplant perennials. I would buy another one immediately if something happened to mine.
Date published: 2017-05-05
Rated

5

out of

5
by
Lolo
from
Spade
Couldn't dig in my rocky soil without it! Worth every penny.
Date published: 2016-09-15
Rated

5

out of

5
by
Nonni
from
Couldn't plant my garden this year without it
I have a big garden that I love. I also have had two recent hip replacements that cause me to be a cautious gardener. This tool allowed me to stand as I dug up and divided perennials, dug good sized holes for new plants and dig up plants that needed moving. The tool digs easily through all roots and soils better than my traditional spade. All tough jobs that involve digging are now possible for me. I totally appreciate this tool!
Date published: 2016-05-23
Rated

5

out of

5
by
Jessibeth
from
Awesome!
I bought the 59" model. I have only had it about a month, but I have really given it a workout so far. It is my go to tool for tought garden soil, planting trees, digging around and rocks and prying them up. It will pry up big rocks and large areas of grass. It is very easy to use. Excellent for edging. Seems to be good quality, and I am hoping it lasts for many years.
Date published: 2016-04-06
Rated

5

out of

5
by
Turbo
from
Great spade
I have problem with both knees so this spade works really good. I am very impressed with it and I would definitely recommend it. Makes it so much easier to dig holes to plant .
Date published: 2014-11-02
Rated

5

out of

5
by
Shexellexie
from
Love it!!!
I bought the one with the short handle, and have now ordered the long handled version. I love it! I have very heavy clay soil, full of clods, and shovel just slips in, and then you can use it to slice and dice. (Good for whacking those same clods too!!) Nice wide edge to put your foot on, and does not pick up too heavy of a load. It is nice to find a really well engineered product like this - makes the work so much easier. That point just slides under rocks and lifts them right up - I am really pleased with this very cool tool.
Date published: 2013-06-15
Rated

5

out of

5
by
MetalClarinet
from
I have to dig while seated
I used to double trench part of the garden each year and with our heavy clay soil, broke several shovels over the years. But to me, the standard spading shovel was my friend and I loved the feel of the hickory handles. However, the decades have passed and back and knee trouble have greatly slowed my digging. Last year I tried digging while seated -- just using my arms to work the shovel into the soil. Decades of adding compost and sand have made my soil reasonable friable but it is still a clay based soil. I couldn't dig very deep without standing up and stepping on the back edge of the shovel. The spear head shovel arrived today and I spent an hour and a half turning a five foot by five foot raised bed. I was able to slowly work the blade into the soil about 2/3 of the length of the shovel head, and then go back a second time and get the lip of the shovel about 2 inches below the soil line. It isn't double trenching, but I believe the bed is pretty well turned. The coating on the blade works about as well as any other coated blade. After a minute of digging, about 1/4" of soil stuck to the blade. Because the blade is 1/3 smaller than a standard shovel blade and because the handle is so light, adhering soil was not an issue. The spear point taper works well for me. Used the traditional way, I'm sure it would make it easier to dig in heavy soil or soil with a moderate amount of roots. Of course, you are not moving as much dirt, so it will take you longer. The overall length is the same as my standard garden shovel. I have never enjoyed digging with a shorter D handle shovel so i would recommend the long version. The end has a hole for hanging the shovel. I would rather have a solid end, since I end up pushing a bit from the end. That rubber loop may break down over time. The blade is riveted twice and has collar. Both are important in a shovel, because they keep the part of the blade that holds the handle from twisting and eventually breaking. I know this from experience. The handle itself is a lot lighter than hickory. In time, we'll see if it is as strong. You can see in the picture that there is a rubber grip partway down the handle. Perhaps this will be in the right place for you. I can see where it might be annoying for some people. It didn't get in my way nor did it help me. Perhaps if you put two of these shovels in your shed nose to tail, they will mate like worms. Given the price, I was prepared to dislike this shovel. Instead, I'm looking forward to going outside tomorrow to dig some more.
Date published: 2013-03-12