Wall O Water 3/Pack
Short Description
Fill the tubes of these plant protectors with water, and you can plant earlier and harvest later.
Full Description
The Wall O Water will add 8 weeks to your growing season. Fill the tubes of these self-standing plant protectors with water, and they provide additional heat for plants, so you can plant earlier and harvest later. Protects plants down to 16 F. Reusable. 18" diam. x 18" high.
Buy this product
Order
Quantity
Price
$19.95
Buy 2 or More for $16.95 each
Send me an email when this item is back in stock
Customers also bought these products
Thank you!
Add to Wish List
100%
satisfaction
guaranteed
Video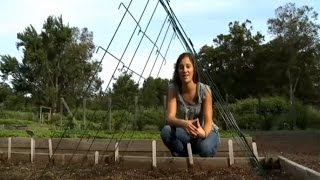 We are unable to find growing calendar for current product in your zone
Wall O Water 3/Pack
is rated out of
5
by
23
.
Rated

5

out of

5
by
lgh945m
from
will this realls works like y'all said it will
Date published: 2015-02-15
Rated

5

out of

5
by
bethiegail
from
I just love thise we already have tomatoes and winter squash in and they are doing wonderfully need to get more thank you so much for this product
Date published: 2014-05-15
Rated

3

out of

5
by
Scarecrow
from
Season extenders
These work well, but it can burn the leafs that touch the sides on a sunny warm day. They will do nothing for the part of the plant that grows out the top. I think it should be 24 inches tall with 2 smaller layers of tubes. They held up well. I can use them again next year.
Date published: 2012-08-14
Rated

5

out of

5
by
Love2Grow
from
Bell pepper's best friend
Our last frost date here in SW Colorado is usually June 1, and I wouldn't garden without these. Even with our short season, my tomatoes grow 5 feet tall and produce like crazy because I can start them early with Wall O' Waters. I leave bell peppers in their Wall O' Waters for the entire season. Our nights are pretty cool sometimes, and I've learned that the peppers are very happy to produce big and well if I let them have this protection all summer. They grow much taller than the top of the plastic, but the extra warmth at the base makes a big difference anyway. Early in the season, you can fill the tubes less than full and arrange the whole thing like a teepee with just a small hole at the top -- giving extra protection from frost. After the weather warms up, you can fill the tubes to the top and the walls stand straight up. Sometimes we use wooden stakes on the inside to brace the walls against spring winds. Our local garden store sells plastic tube inserts to use when leaks get to be too much for duct tape, which takes about 3 years of all-season use for us with high altitude UV exposure. These have been a worthwhile investment for us too.
Date published: 2010-02-06
Rated

5

out of

5
by
GardenGirl88
from
Must Have for Northern Growers
We are a zone 3 here in Northern MN, and we have a last frost date near the end of May. We planted tomatoes and peppers on Mother's Day, had 2 or 3 more decent frosts of about 20 degrees, and although they got nipped on top a little, they went absolutely crazy inside their WOWs. A hint for easier filling- put the empty WOWs over an upside down 5-gallon bucket, fill the tubes, and have a second person there to help you place them over the plants. I will never use milk jugs or coffee cans again after using these. They are a great investment.
Date published: 2009-08-26
Rated

1

out of

5
by
msaunt
from
Poorly constructed
I purchased a 3 pack from the garden center. Within 2 days, 2 of them had developed holes in the seams between tubes, causing one to fall over completely. The second one is still standing, but won't if any more of the seams go. I may return all 3 and just go with some row cover.
Date published: 2009-06-03
Rated

5

out of

5
by
Hobbyfarmer
from
Best value for your money
I have been using Wall o' Water for at least 10 years in Michigan ( zone 4). Planting tomatoes in April outside is unthinkable here. With Wall o'Water, I can get a head start on smaller part of my garden while waiting for the earth to get less muddy and cold for rototilling my 2000 sq foot garden. The Wall o Water is very durable. I make sure to put in a tomato cage around the plant before I set in the Wall o'Water, so if any high spring winds rip through and possibly knock it over, the cage protects the plant. This little extra planning saves me alot of heartache every spring. I also take the time to fill it up with warmer tap water ( as our hose is not connected yet and comes straight from our well, so it is very cold year round.) because sunlight in April here is not exactly a consistent thing and I want to ensure the plant stays warm until it is over its transplant shock. On a few cold nights in late April ( probably 20 degrees or lower, not really sure, but it's Michigan, so it probably was.) I take a water bottle and fill it with really hot tap water and set it inside the Wall of Water for extra warmth through the night. It's like going to bed with a hot water bottle. The second best thing about this product is that when you are done with using it for the season, dump the water out and let it dry and it stores away flat and can fit in a drawer. ( I have a 3 drawer filing cabinet in my garden corner of the garage.) Try that with tomato cages and the ninety bajillion other parts of gardening that multiply when you are not looking and then run away to some place else when you are. The material feels like heavy weight shower curtain liner to the touch and is very durable. Any minor pricks into the plastic can be patched with this amazing thing called duct tape. (YMMV.)
Date published: 2009-05-21
Rated

2

out of

5
by
apoleary
from
Too small
When I transplanted my tomato starts out into the garden this spring, I was really excited about using the Wall O' Waters as I had high hopes that they would help my plants grow better, since they're not in full sun. The problem I ran into is that the Wall O' Water's were way too small! My plants would have been crushed if they were crammed inside. I guess this product would work if you transplant early or start with smaller plants in the garden, but since mine were at least 18" tall and in a gallon pot by the time they were moved to the garden, the Wall O' Water was pretty useless.
Date published: 2008-10-14