Tomato & Pepper Automator Trays
Short Description
Your plants new best friend.
Full Description
The Automator Trays increase yields by as much as 40%. The special SRM RED(TM) material dramatically enhances the growth and yield of tomatoes, peppers, eggplants, melons and even cucumbers. The patented tray warms the soil for early root development and directs water and fertilizer to the plant roots. Helps retain soil moisture to help prevent blossom end rot. Keeps cut worms and weeds at bay. These 12" x 12" square trays are made to fit inside of the Burpee Tomato Cage for an even better growing experience. Easy to use, clean and store.
Buy this product
Order
Quantity
Price
$11.95
Buy 2 or More for $9.95 each
100%
satisfaction
guaranteed
Video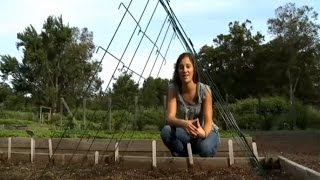 We are unable to find growing calendar for current product in your zone
Tomato & Pepper Automator Trays
is rated out of
5
by
18
.
Rated

2

out of

5
by
Kathleen
from
Meh.
I cannot see any difference in the performance between plants growing with the tray and those growing without the tray. Both plants are growing tall, full, and seem to be heavy with tomatoes. Perhaps weeds around the stem is the only difference since weeds cannot grow through the plastic.
Date published: 2015-06-21
Rated

5

out of

5
by
Sojourner
from
35 years and I still think these are great
I've been using these at least since the 80s - back when basic black was the only color they came in, and I still love them. It makes watering tomatoes easy. Although I never had a problem with the watering spikes becoming "clogged", one way to prevent that would be to put a piece of coffee filter around the bottom of each spike to keep soil from floating up through the hole. I will probably need to do that in my new location, as a matter of fact, due to its very sandy soil. The older ones did not have any sharp edges to damage stems. I will inspect the new ones for this reported problem and take steps accordingly, if necessary. I usually drip irrigate these days, but even so, these are still on my list of garden helpers. They make it easy to water and effectively mulch up to the stem - at the place where I would normally need to leave open through the cardboard underlayer I use as weedblocker (and then mulch on top). Makes things easier and neater. I used to use these for my peppers and eggplants as well, but I don't know how that would work with the red color now. Wish I could still get them in basic black!
Date published: 2014-10-07
Rated

4

out of

5
by
AgTeacher
from
Very Nice, but needs tweeking
This is a great product, but I have to agree with others that the sharp edge can damage your tomato's stem. I read the reviews and trimmed the hole away before I set my plants. I also set the trays well down in the soil. We have had some very strong winds and no damaged stems. I'd give 5 stars if it were not for the fact I had to trim the hole out.
Date published: 2014-07-09
Rated

5

out of

5
by
imbutton
from
tomato and pepper automated tray
WOW!! I have tomatoes and more and more. I'm canning, freezing and eating fresh beautiful perfect tomatoes. I owe my good fortune to Burpee tomato automated trays. I planted three, that's right, three tomato plants in three raised beds. I prepared the soil with a liquid mulch. Two of the beds had never had tomatoes planted and the third one had tomatoes planted last year. I placed three of Burpee automated trays and planted Jet Star, Supersonic and Red Knight. WOW OH DOUBLE WOW! All three plants are HUGE with hundreds of tomatoes on each plant. I owe all this good fortune to the Burpee automated trays. My tomato plants exceed all expectations and I have enough to share with neighbors and family and still can eat, freeze and can tomatoes. I have already ordered my supplies from Burpee for my 2014 garden. Burpee products are the best!
Date published: 2013-09-01
Rated

4

out of

5
by
Joseph742
from
Great for my Tomatoes
These do work very well However, have a few flaws giving them 4 stars instead of the five I would have giving them. On the Positive side, we live where they limit watering; the trays help target the water to the plants roots where it was needed. I place fertilizer in the cones, bringing the plant, both food and water to the roots. The plastic around the hole that you place your plant through is sharp, however, I had no problems planting my plants though it. The trays also helped in keeping the area around my plants weed free. This season I had my best yield of tomatoes to date in one season. On the negative side the drain cones could be bigger, to put more fertilizer in them. The plastic to me was very thin and could be heavier. They are very rigid from trays outer edge down the slot going to the hole you plant your plants through. Making it difficult planting your plant. If holes were slightly larger, I feel the plastic would be more flexible. l will continue to use them and do recommend this product.
Date published: 2013-08-02
Rated

2

out of

5
by
Jimmmmmy
from
Automator trays
I purchased these trays last year 2012. They look like a great idea, but more work needs to be done to have a good product! While the tomato plants were small, things were good. My plants grew to approx. 6 feet tall. Meanwhile the stems out grew the hole in the automator. This caused the automators to cut into the stems. This caused me to loss a plant before I figured out why the plant was wilting. Bottom line is the hole is too small and way to sharp. Until the hole is made a lot bigger, I suggest that before using make the hole as big as you can.
Date published: 2013-04-28
Rated

2

out of

5
by
Powhatan
from
Design Issues
Go back to the drawing board. I lost 3 plants with a brisk wind which caused the stems to get cut at the opening. The hole has very sharp edges. If you manage to install without hurting your stem, better check the weather report. I am going to try taping around the hole edges to buffer the sharp edge since I invested so much in multiple trays.
Date published: 2012-04-17
Rated

4

out of

5
by
TomatoCrazy
from
Very helpful
For the most part I really like these. They definitely help target water, make applying fertilizer easier, and keep away the weeds. They are a little tricky to put around the plants but I've never broken a plant. I do wish they were made of heavier plastic, although I have had mine for about four years and there's a few cracks in them but they are still very functional. As for taking them out of the garden in the fall I just cut off the stem right above it and pick up.
Date published: 2012-03-21