XL Pro Series Cage - Red
Short Description
Our tallest and widest cages for managing the biggest tomato plants.
Full Description
Give your tomato plants room to grow. These taller and wider tomato cages allow easy access for picking. Cages are 18" square by 58" high, providing 150% more growing space. Now available in red or green. Three extenders measure 18" x 18" x 24" tall.
Buy this product
Order
Quantity
Price
Order:
3 Cages, 3 Extenders
100%
satisfaction
guaranteed
Video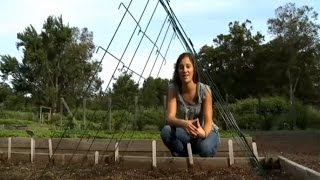 XL Pro Series Cage - Red
is rated out of
5
by
14
.
Rated

5

out of

5
by
Lally
from
Tomato cages and extenders
We planted three Big Boy tomato seedlings in mid-June which is a bit late for Central New York. The XL cages were added by mid-July and the extenders were added by the first of August. The tomato plants are easily 8 feet in height, about 2 feet above the extenders, and still growing in mid-September, so we are so glad we made the additional purchase of extenders. The cages and extenders are excellent products. Rather than using the extender to cage attachment hardware that arrived with the extenders, we used nylon zip-lock ties to attach the extenders to the original XL cages. This was a simple and easy idea, and the extenders are securely attached.
Date published: 2016-09-19
Rated

5

out of

5
by
herbanion
from
Sturdiest cages I have found
Always have trouble with cages in the past falling over when tomato plants get large. These cages didn't move a bit and are still hold the tomatoes upright without any additional effort to keep them straight. Love thee cages.
Date published: 2016-09-15
Rated

5

out of

5
by
azzmoed
from
sturdy build
I had tree of these from a year ago needed a fourth,my plants are over 6ft and these cages hold them upright and the large spaced cage allows easy access for tomato picking
Date published: 2016-09-15
Rated

5

out of

5
by
GHBIII
from
Exactly what I wanted
I grow one plant each of four varieties of tomatoes. I place them in cages in the four corners of my 8 by 16 foot raised bed garden. For years I used the round/conical shaped cages which could not bear the weight of the plants when loaded with tomatoes. My solution was to tie the cages to the corner posts that I use to hold the chicken wire to keep animals out of the garden. The solution often caused the corner posts to be pulled away from the 4 by 4 members of the raised garden. I love my new red cages. They are strong enough to bear the weight of plants fully loaded with tomatoes without needing to be tied to the corner posts. The red color also draws nice comments from neighbors. If I could make one suggestion it would be to have the cages available in other quantities. I needed to order two 3 packs to get the four cages I needed. I gave the other two to a neighbor who just loves them.
Date published: 2016-09-15
Rated

5

out of

5
by
cnraab
from
These cages are awesome!
These are the best cages I have ever used. They have withstood the occasional summer thunderstorms that have blown my pervious cages over, but not these. I have received many compliments on how nice they look too(red cages). I would not hesitate to recommend these to anyone wishing to grow tomatoes.
Date published: 2016-09-15
Rated

5

out of

5
by
Suze
from
Best Tomato Cages ever
These I am excited about, though our tomato plants never reached the top of them to use the extenders. They are very sturdy, tall, and will be easy to store.
Date published: 2016-09-15
Rated

5

out of

5
by
Anne136
from
Very good tomato cages
I bought these a couple of years ago because the cheap, round kind kept getting blown over by storms and I was tired of growing horizontal tomatoes...after awhile they wouldn't straighten back up. These cages did the trick, they have stood up to all kinds of weather and never even tilted. They're easy to fold and unfold and get in and out of the garden. I highly recommend!
Date published: 2014-09-17
Rated

5

out of

5
by
CSTOMATOES
from
Extenders Great! Use Common Sense and Ingenuity!!!
I bought multiple sets of these cages with extenders over 2 years ago for my tomato plants. The online description of the cages and their reviews at the time sold me on the notion that perhaps these would solve the problems I had experienced with home-improvement and nursery cages: too short, un-sturdy, rusting, collapsing with storms. Since I only grow heirloom indeterminate tomatoes along with one indeterminate hybrid (Burpee Brandy Boy Hybrid) that regularly reach vine lengths of 10 - 14 ft. in a growing and producing season, I needed a solution and these cages gave that to me. The brackets that come with the extenders are absolutely worthless, but I figured that out as soon as I tried constructing the first one. I used small cable ties to connect the extenders, and they work great! In the first year of use, I connected 2 extenders on top of each bottom cage to give me 8 feet total above ground, and of course, each plant began overspilling the top edges of these cages and ran down the edges by late August. I would not add another extender on top of these because my step ladder would not allow me to pick tomatoes higher than 10 feet by first frost in October! After the first year of use, I didn't use my common sense and disassembled each cage and folded them up for storage indoors. It wasn't much of a hassle to reassemble the cages the second year of use. After leaving the cages in place over winter this past year, I simply removed the assembled 8-foot cages/extenders from the beds and laid them to the side while I conditioned the soil and transplanted my seedlings. What a time-savings! The cable ties are still very strong and all I had to do is lift the entire units over the plants and tie off the cages at the 4-ft joint to the sides of my raised beds with nylon cord to secure the soon-to-be weighted cages from the high winds we get here with storms. These cages are sturdy, when supported properly to the sides to prevent collapse from high winds, connect easily to extenders with cheap cable ties (there are multiple sets of supplied plastic connectors in some TN landfill right now#, should last many years without rusting #well-coated), and will take much less of your time maintaining your tomato garden. They are well worth the high cost you will invest.
Date published: 2014-05-11