XL Pro Series Cage - Red
Short Description
Our tallest and widest cages for managing the biggest tomato plants.
Full Description
Give your tomato plants room to grow. These taller and wider tomato cages allow easy access for picking. Cages are 18" square by 58" high, providing 150% more growing space. Now available in red or green. Three extenders measure 18" x 18" x 24" tall.
Buy this product
Order
Quantity
Price
Order:
3 Cages, 3 Extenders
100%
satisfaction
guaranteed
Video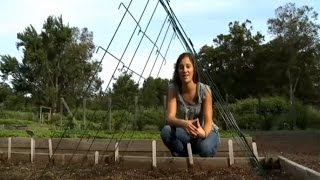 XL Pro Series Cage - Red
is rated out of
5
by
8
.
Rated

5

out of

5
by
Anne136
from
Very good tomato cages
I bought these a couple of years ago because the cheap, round kind kept getting blown over by storms and I was tired of growing horizontal tomatoes...after awhile they wouldn't straighten back up. These cages did the trick, they have stood up to all kinds of weather and never even tilted. They're easy to fold and unfold and get in and out of the garden. I highly recommend!
Date published: 2014-09-17
Rated

5

out of

5
by
CSTOMATOES
from
Extenders Great! Use Common Sense and Ingenuity!!!
I bought multiple sets of these cages with extenders over 2 years ago for my tomato plants. The online description of the cages and their reviews at the time sold me on the notion that perhaps these would solve the problems I had experienced with home-improvement and nursery cages: too short, un-sturdy, rusting, collapsing with storms. Since I only grow heirloom indeterminate tomatoes along with one indeterminate hybrid (Burpee Brandy Boy Hybrid) that regularly reach vine lengths of 10 - 14 ft. in a growing and producing season, I needed a solution and these cages gave that to me. The brackets that come with the extenders are absolutely worthless, but I figured that out as soon as I tried constructing the first one. I used small cable ties to connect the extenders, and they work great! In the first year of use, I connected 2 extenders on top of each bottom cage to give me 8 feet total above ground, and of course, each plant began overspilling the top edges of these cages and ran down the edges by late August. I would not add another extender on top of these because my step ladder would not allow me to pick tomatoes higher than 10 feet by first frost in October! After the first year of use, I didn't use my common sense and disassembled each cage and folded them up for storage indoors. It wasn't much of a hassle to reassemble the cages the second year of use. After leaving the cages in place over winter this past year, I simply removed the assembled 8-foot cages/extenders from the beds and laid them to the side while I conditioned the soil and transplanted my seedlings. What a time-savings! The cable ties are still very strong and all I had to do is lift the entire units over the plants and tie off the cages at the 4-ft joint to the sides of my raised beds with nylon cord to secure the soon-to-be weighted cages from the high winds we get here with storms. These cages are sturdy, when supported properly to the sides to prevent collapse from high winds, connect easily to extenders with cheap cable ties (there are multiple sets of supplied plastic connectors in some TN landfill right now#, should last many years without rusting #well-coated), and will take much less of your time maintaining your tomato garden. They are well worth the high cost you will invest.
Date published: 2014-05-11
Rated

3

out of

5
by
NevadaBill
from
Great cages, lousy extenders
These tomato cages are the cat's meow-sturdy, well made and superior to any other cage out there. As to the extenders-the clips are a joke and a waste of time. They do not stay in place and the weight of a large tomato plant will cause the extender to collapse. Burpee needs to go back to the drawing board on this one.
Date published: 2013-06-27
Rated

5

out of

5
by
CrazyNonna
from
Best Tomato Cages EVER!
Two years ago, I went all in and bought 18 of these cages. I am now expanding my garden and buying 6 more. They are durable, easy to use, and hold up season after season. My original 18 still look like new! They conveniently fold up and are much easier to store than the cone-shaped cages. Their square shape also makes accessing your plants much easier. Lastly, because the 4 prongs on the bottom are straight, they install into and uninstall out of the soil like a dream. I won't use any other cages ever again.
Date published: 2013-01-07
Rated

5

out of

5
by
FarmerTK
from
A Must-Have For Tomato Plants
I just ordered another three-pack, after having ordered 2 three-packs last year. These cages are incredibly sturdy and do a great job of corralling the plants. They are nicely coated and easily manageable right out of the box; just unfold, stick in the ground and you're done. Forget about those conical varieties with the long stakes that always bend and get these instead.
Date published: 2012-11-24
Rated

5

out of

5
by
Henry
from
Excellent Cages
These cages with the extenders are the best . I have used others but none can compare to these. I have found the plastic clips to be a waste of time. I just used lock ties, one on each side, to fasten the extenders to the cages. This works fine.
Date published: 2012-07-16
Rated

5

out of

5
by
CaliGardenGirl
from
FINALLY! THE PERFECT TOMATO CAGE!
I absolutely love this tomato cage! I have looked for years and years to find a cage that was large enough to accommodate my heirloom Brandywine Tomato plants. These cages are not only large enough to handle big indeterminate tomato plants, but also very sturdy and well-made. At 58 inches in height, I was able to grow large tomato plants without purchasing the extensions; but if you want some extra height then you can purchase the 24 inch extensions, which will give you nearly 7 feet of height. The cages come in a coated finish of either red or green, which is much more attractive than the metal products out there, and adds a pop of extra color to your garden. They conveniently fold up for storage at the end of the season. I think this is a better product than the Texas Tomato cages, far more attractive and sturdy and for less than half the price. You cannot find a better tomato cage on the market.
Date published: 2012-06-19
Rated

4

out of

5
by
Stella
from
Great Tomato Cage!! Not so great extenders
I love these tomato cages and now they come in red which makes them so pretty to watch the plants grow!! They are sturdy and can be used year after year. BUT the extenders are really hard to use!! The connecters are these plastic horizontal clamps that just don't work. The space that the bars are supposed to clamp the cages together are not big enough and so be careful that you don't hurt the tomato plants. I so sadly dropped many blossoms just trying to get them connected. So my suggestion is buy the cages but leave the extenders or figure out another way to connect them to the top. I was thinking of just wiring them instead of fighting the included connecters. So I rate these just a 4 because of that but the cages themselves are a 5!!
Date published: 2011-07-04