Strawberry, Seascape PP 7614
Short Description
High-yielding and good strawberries for any garden soil.
Full Description
Your family can enjoy these large, delicious bright red strawberries in spring, summer and fall--three seasons of sweetness. This new day-neutral strawberry starts fruiting about 3 months from planting, regardless of when you plant it. The hard-working plants produce a plentitude of sweet, juicy berries. The 12-18" plants are easy-growing;whether in matted rows, high density or containers. Heat-tolerant, remarkably disease resistant. Full sun. Zones: 4-8
Buy this product
Order
Quantity
Price
Order:
25 Bare Root Plants
Send me an email when this item is back in stock
Customers also bought these products
Thank you!
Add to Wish List
Product properties
Zone This refers to the USDA hardiness zone assigned to each part of the country, based on the minimum winter temperature that a region typically experiences. Hardiness zone ranges are provided for all perennial plants and you should always choose plants that fall within your range.
4-8
Sun The amount of sunlight this product needs daily in order to perform well in the garden. Full sun means 6 hours of direct sun per day; partial sun means 2-4 hours of direct sun per day; shade means little or no direct sun.
Full Sun
Height The typical height of this product at maturity.
12 inches
Spread The width of the plant at maturity.
24-36 inches
Fruit Bearing This refers to whether this product produces fruit or not.
Day Neutral
Life Cycle This refers to whether a plant is an annual, biennial or perennial. Annuals complete their life cycles in one year; biennials produce foliage the first year and bloom and go to seed the second year; perennials can live for more than two years.
Perennial
Restrictions:
Item 19938 cannot ship to: AA, AE, AK, AP, AS, CN, FM, GU, HI, MH, MP, PR, PW, VI
See all Burpee plant shipping restrictions for your state
100%
satisfaction
guaranteed
Video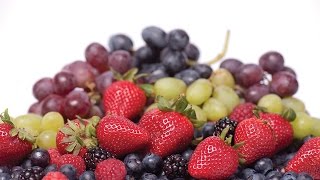 Fall Planted Fruits
Fall is an ideal time to plant fruit plants. Plants will establish strong root systems and get a jump on spring growth.
Watch video
Choose a location with loose, well-drained soil containing plenty of organic matter.
Strawberries may also be planted in containers or pyramid gardens, as an edging for flower and shrub borders or in matted beds and rows.
To grow in rows, space strawberry plants 18-24 inches apart in rows 3-5 feet apart. Runners will form new plants and eventually form a solid bed.
Planting Bare Root Plants:
Soak roots in lukewarm water two hours before planting.
Trim roots to 3 inches long and pick off any blossoms or dead leaves.
Using a trowel, open a hole large enough to spread roots out without bunching roots.
Set plants in the hole so that the crown is level with the surrounding soil line.
Press soil firmly against roots.
Water frequently until plants are growing vigorously.
Planting Potted Plants:
Make sure the root ball is sufficiently moist.
Carefully unpot the plant.
Set plants so the crown is level with the surround soil line.
Back fill the hole with soil and press soil firmly against the root ball.
Water frequently until plants are growing vigorously.
Apply a light mulch to keep weeds down, conserve moisture and keep fruit clean.
After harvest, remove old foliage. Be careful not to injure the crowns.
Fertilize beds in early summer and again in September with a balanced fertilizer. Do not fertilize if plants are flowering.
Watering is very important in early summer and September.
Note that June-bearing plants produce the second year after planting. Cut all runners off during the first year, leave 2-3 runners the second year.
Winter protection for all strawberry varieties is important in most northern areas. Apply a mulch of straw or other loose organic matter 2-3 inches deep over the plants after the ground freezes but before the temperature drops below 20 degrees F. In spring, pull the mulch back into the rows.
Pick the fruit as it ripens, when fully red.
Pick with a short piece of stalk attached.
Regular picking will help keep the plants fruiting.
Fruits are best eaten straight off the plants, and may be kept for up to a week in the refrigerator if kept dry. They are also easily frozen, or made into preserves.
Fruit Bearing
Day Neutral
Ornamental Use
Beds, Container
Harvest Season
Summer-Fall
Strawberry, Seascape PP 7614
is rated out of
5
by
31
.
Rated

5

out of

5
by
silverthorne
from
I simply happened on to 3 plants in 20216
I am using the hanging bucket system and already enjoying berries my friend Lori has had this variety for 10 years and I love the way that this berry keeps in the refer. I cannot wait for finishing my hanging garden patch in buckets.
Date published: 2016-07-19
Rated

5

out of

5
by
PAN1
from
Couldn't be better
I planted the bare root plants when they arrived in our clay soil that had been mixed with various animal poop (horse, chicken, and llama) plus pine chips and mulch. We cut off all the flowers until June 1st. The plants not only all lived, but they have thrived and have such huge leaves that visitors say they have never seen strawberry plants that large. We are now picking large berries that are very sweet. We couldn't be more pleased with this purchase.
Date published: 2016-06-10
Rated

5

out of

5
by
Jon B
from
Strawberry Tower
I ordered 75 bare root strawberry plants for my strawberry tower project. All of the crowns and roots looked good when they arrived and EVERY crown has sprouted new growth within 3 days of planting. I am extremely happy with the quality of plants and the price. I will update my review of the berries once they start producing but so far so good.
Date published: 2016-04-21
Rated

4

out of

5
by
ronk48
from
Good so far
I put these in my raised bed as soon as I got them in the middle of April with some I salvaged from my last planting they are doing good and look forward to a great harvest only thing I have to put up a cage over them to keep the tree rats from eating them as they produce will let you know more as the season progresses
Date published: 2015-05-08
Rated

5

out of

5
by
DowneastFarmer
from
Wonderful Results !!!!
I got the bare roots on a friday afternoon, since I have 6 weeks to go before they can go out I potted them up in 6 inch rounds . I followed instruction provided with the plants . I placed plants under a 6500k grow light 16 hours on 8 off . By monday I saw an great amount of vigorous growth and just in 3 days . Thank you burpee you can look forward to my continued business .
Date published: 2015-04-21
Rated

5

out of

5
by
mski
from
Great Bare Roots
The roots showed up on time, they were in excellent shape large (had to trim ) and healthy. They all grew it only took 5 days for them to green up . I live in the so called Strawberry capital of the world, cant buy a good berry (white inside) unless I go to one of the few small fields and pay $8 for a 3 pack. Also cannot find good bare roots. Go figure. Will see how they produce.
Date published: 2015-03-19
Rated

5

out of

5
by
GoodOleCountryBoy
from
Sweet Success
My first planting ever of strawberries but have been gardening a LONG time plus hold a Horticultural degree from UCONN. SOOO... I do things by the book the first time around and this is how I planted these berries. I'm in Zone 6A and am able to get into the garden fairly early and prepared my strawberry bed just on time for a late March planting of 50 Seascapes and 50 Mara Du Bois starts. I ordered them in February and they arrived March 27, 2014..... in the ground the following day. I have a garden consisting of a fairly clay based soil so I amended the 6' x 30' berry bed heavily with peat and a few old bags of perlite, threw in some lime and a touch of 10-10-10. Mounded up tall, flat top rows for good drainage and planted. I then loaded the valleys between the rows and up to and around the plants with sawdust.......... a lot of sawdust. Wheelbarrow after wheelbarrow as I have access to all I want. The berries took to their new homes immediately and began to grow in April very well. As per "the book".... I clipped all flowers that arrived until June 1...... less a few here and there. The flowers I left produced nice berries and if I were to do it again, I'd let them bloom out mid May. Besides weeding (and I did a lot of it) a little fertilizer is all I added. By late June I was eating a LOT of BIG, gorgeous picture perfect berries that continued through late July, tapered off a bit and came back in September. I had so many berries, I got sick of them and would invite friends into my patch to eat all they wanted. Seascape is a GREAT plant. Very hardy, great producer with a reasonable runner set which is easy to keep up with. The flavor is excellent and if you put the work into them, you WILL get picture perfect berries. Even the late berries were beautiful and of good size. In the end, I ate berries from the first part of June through the first week of October. What's best, I love the idea you can put out plants this year and eat very well this year too. I have yet to decide if I will let them run this upcoming spring of not, but probably will. As for the Mara Du Bois (if anyone cares)? A very interesting berry to say the least. But they are a small berry and their flavor is....... well....... strange. I would not plant them again. They are finicky, produce MASSIVE runners yet low numbers of berries and I found the work unreasonable for the reward. They are too candy tasting to me. Seascape...... I will positive plant them in the future, although I will be trying some others before doing so. It's a gardener's thing..... I'm sure you understand. Plant these........... and do it early and do it by the book!!! You WILL be rewarded. The photos shows three rows. The left is Mara Do Bois, the center and right Seascape. April 4 after mulching.
Date published: 2015-01-21
Rated

5

out of

5
by
HughGelsman
from
very nice!!
I ordered 25 seascape strawberries 5/06/14. All 25 were beautifully bear root transfered plus they added 2 that made a total of 27 bareroot plants. I got them into the garden which was nothing more than turned up sand and clay mixed with a wheelbarrow full of pinestraw and 3- 40 Ib bags of mushroom compost. The garden is 14ft by 6ft and the plants took up half the space of it. The two extras were verry small and unfotunatly did not make it through the summer, however all of them did emerge including the small extras that were taken by drought. It is now 11/3/14 and the 25 original plants are thriving despite several periods of drought and an infestation of brown caterpillars that absolutely loved both the leaves and berries. The individual berries that i didnt cut off before bloom were verry tiney, alpine size. This is because they were newly planted and i was supposed to cut off all berry growth from the first year. I would like to point out that I let these bad boys run like crazy!! and they did!! they made runners from runners from runners up to the fourth generation! I propagated the original runners which gave me 60+ plants includeing the original. Once the babbies were tucked in, the momas realized that they could let loose and wham!! now there are about 120+ seascapes that have now started to spill over into the other half of garden space. This was partly due to my neglect of putting the original runners into the empty space and detaching them from mother. I will eventually detach from the momma plants and take my original runners out of the 3-4 inch small planters that i have put them in many months ago, and stick them in the ground in the empty side of the strawberry patch. Then i will use the same small planters to propagate the 2nd and 3rd gen of runners while they are still attached to the 1st gen. I will repeat this process and eventually start my own strawberry plant selling opperation in order to pay for the original 25. These plants are literally paying for themselves, i would like to encourage any home gardener that loves to grow these types of plants to do the same. Burpee is top notch!! Happy Gardening and God Bless!
Date published: 2014-11-03