Strawberry, Mara Des Bois
Short Description
From France, the perfect variety for a container or raised bed.
Full Description
These unstoppable producers are perfect for containers or raised beds. From June until frost, this French variety produces a non-stop harvest of fragrant, lusciously sweet, plump strawberries. US Plant Patent #08517.
Buy this product
Order
Quantity
Price
Order:
25 Bare Root Plants
Send me an email when this item is back in stock
Customers also bought these products
Thank you!
Add to Wish List
Product properties
Zone This refers to the USDA hardiness zone assigned to each part of the country, based on the minimum winter temperature that a region typically experiences. Hardiness zone ranges are provided for all perennial plants and you should always choose plants that fall within your range.
4-8
Sun The amount of sunlight this product needs daily in order to perform well in the garden. Full sun means 6 hours of direct sun per day; partial sun means 2-4 hours of direct sun per day; shade means little or no direct sun.
Full Sun
Height The typical height of this product at maturity.
12-15 inches
Spread The width of the plant at maturity.
12-24 inches
Fruit Bearing This refers to whether this product produces fruit or not.
Day Neutral
Life Cycle This refers to whether a plant is an annual, biennial or perennial. Annuals complete their life cycles in one year; biennials produce foliage the first year and bloom and go to seed the second year; perennials can live for more than two years.
Perennial
Restrictions:
Item 10679 cannot ship to: AA, AE, AK, AP, AS, CN, FM, GU, HI, MH, MP, PR, PW, VI
See all Burpee plant shipping restrictions for your state
100%
satisfaction
guaranteed
Video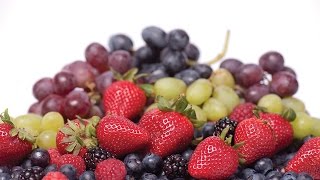 Fall Planted Fruits
Fall is an ideal time to plant fruit plants. Plants will establish strong root systems and get a jump on spring growth.
Watch video
Choose a location with loose, well-drained soil containing plenty of organic matter.
Strawberries may also be planted in containers or pyramid gardens, as an edging for flower and shrub borders or in matted beds and rows.
To grow in rows, space strawberry plants 18-24 inches apart in rows 3-5 feet apart. Runners will form new plants and eventually form a solid bed.
Planting Bare Root Plants:
Soak roots in lukewarm water two hours before planting.
Trim roots to 3 inches long and pick off any blossoms or dead leaves.
Using a trowel, open a hole large enough to spread roots out without bunching roots.
Set plants in the hole so that the crown is level with the surrounding soil line.
Press soil firmly against roots.
Water frequently until plants are growing vigorously.
Planting Potted Plants:
Make sure the root ball is sufficiently moist.
Carefully unpot the plant.
Set plants so the crown is level with the surround soil line.
Back fill the hole with soil and press soil firmly against the root ball.
Water frequently until plants are growing vigorously.
Apply a light mulch to keep weeds down, conserve moisture and keep fruit clean.
After harvest, remove old foliage. Be careful not to injure the crowns.
Fertilize beds in early summer and again in September with a balanced fertilizer. Do not fertilize if plants are flowering.
Watering is very important in early summer and September.
Note that June-bearing plants produce the second year after planting. Cut all runners off during the first year, leave 2-3 runners the second year.
Winter protection for all strawberry varieties is important in most northern areas. Apply a mulch of straw or other loose organic matter 2-3 inches deep over the plants after the ground freezes but before the temperature drops below 20 degrees F. In spring, pull the mulch back into the rows.
Pick the fruit as it ripens, when fully red.
Pick with a short piece of stalk attached.
Regular picking will help keep the plants fruiting.
Fruits are best eaten straight off the plants, and may be kept for up to a week in the refrigerator if kept dry. They are also easily frozen, or made into preserves.
Fruit Bearing
Day Neutral
Harvest Season
Spring-Fall
Strawberry, Mara Des Bois
is rated out of
5
by
10
.
Rated

5

out of

5
by
Lilybean
from
Delicious flavor and scent!
This is the first time I've grown strawberries and I've neglected them horribly. Just pulled away the worst of the weeds to give them a fighting chance and found my first berry of the season. We had to split it five ways so everyone could try it, but the smell was positively unreal and the flavor was amazing. I cannot wait for more to ripen!
Date published: 2016-06-08
Rated

5

out of

5
by
CathyJean
from
One of the best strawberries I have every tasted!!
I planted these along with Albion after a lot of web research. They are a prolific bloomer and so sweet. Going to add more to my garden next year. alone with the Albion strawberry.
Date published: 2015-08-25
Rated

5

out of

5
by
JulieN
from
Wonderful
Bought fifty, grew well, wonderful taste, runners are now going crazy. Fantastic purchase. Had a slight problem with delivery, Burpee customer service went above and beyond to rectify. Couldn't be more pleased.
Date published: 2015-06-07
Rated

1

out of

5
by
72jld72
from
Unreal
Don't put this weak variety in a raised bed with a compost mix involved. Three out of twenty six survived. Very disappointed. Guess I can only hope for healthy runners at this point.
Date published: 2015-05-15
Rated

2

out of

5
by
GoodOleCountryBoy
from
Really Strange Strawberry
This is a copy of a Seascape review I just wrote but changed as needed to reflect Mara Des Bois: My first planting ever of strawberries but I have been gardening a LONG time plus hold a Horticultural degree from UCONN. SOOO... I do things by the book the first time around and this is how I planted these berries. I'm in Zone 6A and am able to get into the garden fairly early and prepared my strawberry bed just on time for a late March planting of 50 Seascapes and 50 Mara Des Bois (MDB) starts. I ordered them in February and they arrived March 27, 2014..... in the ground the following day. I have a garden consisting of a fairly clay based soil so I amended the 6' x 30' berry bed heavily with peat and a few old bags of perlite, threw in some lime and a touch of 10-10-10. Mounded up tall, flat top rows for good drainage and planted. I then loaded the valleys between the rows and up to and around the plants with sawdust.......... a lot of sawdust. Wheelbarrow after wheelbarrow as I have access to all I want. The berries took to their new homes immediately and began to grow in April very well. As per "the book".... I clipped all flowers that arrived until June 1...... less a few here and there. The flowers I left produced nice berries and if I were to do it again, I'd let them bloom out mid May. Besides weeding (and I did a lot of it) a little fertilizer is all I added. By late June I was eating a LOT of BIG, gorgeous picture perfect Seascape berries but the MDB were lagging way behind. The first berries dropped or rotted or simply sat there waiting for ???? But, they finally decided to grow........... and they grew runners like weeds. These are HUGE runner producers and it is mandatory to get into the patch every two days and trim them. If you do not, they grow runners and few berries. You will really have to work at these berries and I did. Although I did my due diligence and I got a lot of berries, they are small and their taste is really strange!!! Like strawberry candy....... and I mean like commercial, fake strawberry candy. Sweet beyond pleasant. Everyone who I shared them with agreed, their taste is just wrong. But, they grew out until frost and I picked berries nearly everyday and tossed them in with the Seascapes or enjoyed them out of hand. A worthy berry to try for those who like odd things......... I like odd things but will not grow these again. The WILL be tilled under this spring......... maybe!
Date published: 2015-01-21
Rated

5

out of

5
by
Svitlana
from
Great flavor
This strawberry is very tasty and produces a lot of berries.
Date published: 2014-10-22
Rated

5

out of

5
by
skewley
from
Best tasting strawberries
These plants have been producing strawberries on and off since June and are now producing a pile this September. Best things about these strawberries is the taste. They are succulent and sweet.
Date published: 2014-09-05
Rated

5

out of

5
by
ScubaStan
from
Amazing Taste and Smell!
I'm a convert of the Mara Des Bois Strawberries. They are definitely more finicky to start then the other Strawberries i've tried. I tried a batch of 25 in spring/summer of 2013 and only 2 survived but the berries were incredible. I was so impressed by the taste I got another batch of 25 for 2014. Of the 25 I had 18 survive (decided to grow them hydroponically). They threw out a huge amount of runners that I was able to root 20+ to give to my brother. They need LOTS and LOTS of full sun for sweet berries. I've grown Albions and Seascapes and the Mara Des Bois is far far superior in taste. Pros: The best tasting strawberries i've ever tasted hands down. And anyone i've shared them with will say the same. Cons: Definitely harder to grow then other more commercial varieties. Likes to throw alot of runners. Berries aren't as large as Albions or Seascapes. I would say the aver size i'm getting is about the size of a large peach pit. Definitely worth trying! I seem to have better luck growing them hydroponically vs traditional soil.
Date published: 2014-07-08