Sunflower, Ms. Mars
Short Description
Standout variety with dark-red-to-purple flowers, leaves and stems.
Full Description
One uncommonly gorgeous sunflower! Standout variety's flowers, leaves and stems are suffused with dark-red-to-purple hues. Low-growing, vigorously branching flame-type 20-30" tall sunflower's merlot-colored ray petals transition to a pretty pink. Full sun.
Buy this product
Order
Quantity
Price
Product properties
Sun The amount of sunlight this product needs daily in order to perform well in the garden. Full sun means 6 hours of direct sun per day; partial sun means 2-4 hours of direct sun per day; shade means little or no direct sun.
Full Sun
Height The typical height of this product at maturity.
20-30 inches
Spread The width of the plant at maturity.
18-24 inches
Ornamental Use Ways in which the product may be used in the garden for ornamental effect.
Beds, Borders, Cut Flowers
Life Cycle This refers to whether a plant is an annual, biennial or perennial. Annuals complete their life cycles in one year; biennials produce foliage the first year and bloom and go to seed the second year; perennials can live for more than two years.
Annual
Sow Method This refers to whether the seed should be sown early indoors and the seedlings transplanted outside later, or if the seed should be sown directly in the garden at the recommended planting time.
Direct Sow
100%
satisfaction
guaranteed
Video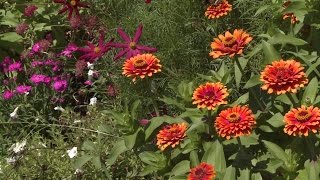 Sunflowers are grown from seed sown directly in the garden after frost.

Direct sow seeds in average soil in full sun after all danger of frost.
When choosing a site consider that sunflowers need a well-drained soil. They face the sun, so make sure they are in an open area of the garden. The taller varieties will cast shadows on other plants, so plant these at the north end of your garden.
Prepare the soil by removing weeds and working organic matter into the top 6-8 inches of soil; then level and smooth.
Most plants respond well to soils amended with organic matter. Compost is a wonderful form of organic matter with a good balance of nutrients and an ideal pH level, it can be added to your planting area at any time. If compost is not available, top dress the soil after planting with 1-2 inches of organic mulch, which will begin to breakdown into compost. After the growing season, a soil test will indicate what soil amendments are needed for the following season.
Sow seeds ½ inch deep in groups of 2 or 3 seeds. Space the groups 18-24 inches feet apart, depending on the variety.
Firm soil lightly, water and keep evenly moist.
Seedlings will emerge in 7-10 days.
Thin to one plant per group when seedlings have two sets of leaves.

Keep weeds under control during the growing season. Weeds compete with plants for water, space and nutrients, so control them by either cultivating often or use a mulch to prevent their seeds from germinating.
Mulches also help retain soil moisture and maintain even soil temperatures. For annuals an organic mulch of shredded leaves lends a natural look to the bed and will improve the soil as it breaks down in time. Always keep mulches off a plant's stems to prevent possible rot.
Keep soil evenly moist but not wet.
Once established sunflowers can tolerate drought.
No fertilizer is needed unless the soil is poor. Do not over fertilize.
Monitor for pests and diseases. Check with your local Cooperative Extension Service for pest controls recommended for your area.
Some varieties only produce one bloom so once the bloom is spent, the plant may be removed.
Remove plants after they are killed by frost in fall to avoid disease issues the following year.

Edible sunflowers will mature in about 3 months or more after sowing. To harvest the seeds, cut the heads off after the stalks are quite dry but before fall or winter rains come. Check the flower heads for maturity to see if the florets in the center of the flower disk have shriveled and the back of the flower head is turning yellow, or the head is starting to droop. Cut flower-heads with a foot of the stalk attached. Hang heads in a warm, dry, well-ventilated place so the seeds may fully ripen and dry. Cheesecloth, netting or a paper bag with holes punched in for ventilation should be placed over the head to protect the seeds and to collect those that may drop from drying.
Shorter varieties may be grown in containers. Be sure to use a commercial potting mix.
Pollenless varieties make terrific cut flowers.

Ornamental Use

Beds, Borders, Cut Flowers

Sunflower, Ms. Mars

is rated out of

5

by

10

.

Rated

3

out of

5

by

KenVtown

from

It's beautiful, but small.

I was pleased with the color. Looks great as a single flower, but needs a very small vase -- the picture is a 6 inch vase. Also, because each plant produces multiple flowers, that reduces the stem length. Another reason for a short vase. They just started blooming during the 2nd week of August and while there are multiple buds on each stalk, they haven't bloomed yet, so don't know what they will look like. I'll update that later. One disappointment is the germination rate. Only half the seeds grew. Mine are also on the short side -- only about 1 1/2 feet tall.

Date published: 2015-08-21

Rated

3

out of

5

by

amp1014

from

Disappointing Quantity

Tried this sunflower seed for the first time in 2015. It was planted against our privacy fence with another type of sunflower. The height of 20-30 inches is correct - they were not very tall. We were disappointed in how few seeds germinated and produced flowers. I was hoping these would be more of the vibrant pinkish-red as shown in the picture, but they were more a merlot color. A nice change to the typical yellow sunflower, but not pleasing enough to try again soon.

Date published: 2015-08-14

Rated

5

out of

5

by

Elmo199

from

The Most Profound Little Sunflower I Have Grown

I must of had 50 of these little gems though out the yard last summer season. I planted them in pots and in the ground. Absolutely stunning for such a small sunflower, one little stock must of had seven or eight blooms. The blooms lasted a fair amount of time too. I plant half early in the season by March and then another half in June for a full season of these beauties.

Date published: 2015-01-06

Rated

5

out of

5

by

sunflowerlover

from

Lots of Blooms!

I was very excited to receive these sunflower seeds as a gift. I ended up getting 50 instead of 25 seeds! I planted several seeds, and almost all of them germinated. They reached a maximum height of 2 feet, and they produced multiple blooms. One had up to 50! While I had trouble with rabbits eating my other sunflowers, these were virtually untouched. The blooms lasted at least 5 weeks each. These plants lasted months after my other dead sunflowers had rotted! My last one died in early November. These sunflowers are very good, and I would recommend them.

Date published: 2014-11-27

Rated

1

out of

5

by

Chaz

from

Nothing like what I expected

From the written description and picture I expected a lot more from these seeds. Germination was okay but the plants it produced were shorter than expected and the color was no where near as vibrant as the image that they show. I would not suggest wasting your time and effort with these, I was sorely disappointed.

Date published: 2014-11-20

Rated

1

out of

5

by

ratty

from

disappointed

was really looking forward to ms mars. very disappointed All planted same very good soil in large pots. Inconsistent growth mostly very small or unopened "buds" few nice first flowers.would not use purple in description. bought 3 pks. would not buy again.planted an inexpensive mix which is spectacular.

Date published: 2014-09-22

Rated

5

out of

5

by

sunflowergirl

from

Very nice!

I planted a row of the Ms. Mars in my garden along with 3 other varieties of sunflowers and these held up better than the rest; we had numerous storms this year that pummeled the other rows of sunflowers but because these were not as tall and gangly, they held up and the entire row of seeds bloomed! They were beautiful! I'm going to plant them on the side of my house next year where they can be seen since my garden was for mostly vegetables and nobody really got to enjoy them but me and my hubby!

Date published: 2014-09-12

Rated

1

out of

5

by

Shortyrin

from

one wimpy bloom

I was very excited to get these seeds, the blooms look beautiful in the photos. Sadly they did not do well in my front garden that gets full sun. Out of the whole packet I had one tiny bloom. They are stated to grow 20-30" but mine only grew to 12" and the one bloom was about 2" in diameter. Such a disappointment.

Date published: 2014-09-07