Moonflower, Giant White
Short Description
HEIRLOOM. Fragrant 6" flowers open in the evening.
Full Description
These old fashioned flowers, as the name implies, open in the evening. As evening falls, you can actually watch them open. For added interest, mix them with morning bloomers such as morning glories. Grown as an annual but perennial in mild areas, they're easy to grow and grow best in full sun.
Buy this product
Order
Quantity
Price
Product properties
Ornamental Use
Trellis or Lattice
Sow Method
Direct Sow/Indoor Sow
100%
satisfaction
guaranteed
Images
Video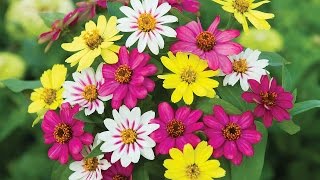 Annuals Tour #1
Take a garden tour and see favorite annual plants in a garden setting. In this video- Zinnia, Angelonia, Marigold, Petunia, Celosia and Vinca.
Watch video
Ornamental Use

Trellis or Lattice

Sow Method

Direct Sow/Indoor Sow

Moonflower, Giant White

is rated out of

5

by

24

.

Rated

5

out of

5

by

rambobarbie

from

beautiful moonflowers

They take their time but are absolutely worth the wait and they can take the heat. Start inside as early as possible to give them the head start that they need. Once they start blooming they will be an attention getter. They open at night and are beautifully fragrant and they glow in the dark almost. Close about mid morning till the next night and are impressive in size and vine coverage. I planted one on each side of my trellis and it was magnificent. Make sure you soak them over night and water them well and plant in full sun.

Date published: 2015-05-16

Rated

5

out of

5

by

greenone8

from

Love Moonflowers

My tried and true way to grow these is to soak the seeds overnight in a mason jar. Then I add a seed sprouting lid (like the kind you sprout alfalfa seeds for salads and sandwiches). Keep them warm for a few days and rinse them daily and you will see a high germination rate....almost 100%. I then plant them root down in my prepared bed cover with a little soil and snug them in and keep them watered well. I diligently train the vines to a trellis again a barn wall. I plant about 10 packages every year with breathtaking results. Hummingbird moths love them and give me an evening show after the blooms start. It is so worth the extra effort to start early but wait until the ground is warm to plant the seeds. It's all about timing. Can't go without Moonflowers. Burpee's seeds are the best.

Date published: 2015-05-15

Rated

5

out of

5

by

BobGeorgia

from

Moonflower - easy to start from seed

This is the 3rd year I've purchased Burpee moonflower seeds, each year 90% of the seeds planted germinated. I start them indoors in peat pots using a seed starting soil mix purchased at a local garden center then plant them in the ground outside about 2 weeks after they germinate, weather permitting. The vine is fast growing and the blooms do not disappoint, large and fragrant.

Date published: 2015-04-06

Rated

1

out of

5

by

Rob27

from

Dissapointed

I have been growing moonflowers for a number of years but this is the fist time I purchased seeds from Burpee. Out of the 20 seeds I ordered only 6 germinated. The ones that did germinate are so far looking O.K. but I do not see significant growth yet. This will be a "wait and see" case.

Date published: 2014-07-07

Rated

1

out of

5

by

Jade

from

So sad!

Always have Moonflowers growing up the deck every Summer. NOTHING in the world smells like these beauties. BUT not a single one of these even sprouted last year! That was my first experience getting them from Burpee and I am just SO SAD I didn't get any! However, I can't say that my first experience with Burpee was all bad because I did get the most stunning show of Heirloom Morning Glories from them!

Date published: 2014-03-31

Rated

4

out of

5

by

YankeePlanter

from

Beautiful but tricky here in Connecticut

If planted in a location that gets full sun and allowed to grow up a serious trellis, Moonflowers can put on a seriously impressive show if the weather is hot long enough. I've had twenty-five blossoms open at a time from two vines on a rather put upon lilac (the trellis), and the flowering began in early August and continued on into late-September. On the other hand, last summer's soaking wet June resulted in a very slow start for the vines, and I ended up with only a few blossoms before a frost hit them in mid-October. Note that nighttime and daytime temperatures below 60 or so can cause almost fully formed blossom buds to fail to open. The plants will do better if you start them in in peat pellets or containers before putting them out in the garden, and, like morning glories, the seeds can be soaked overnight and/or started in damp paper towels. You don't need many plants to have a nice display.

Date published: 2014-01-14

Rated

5

out of

5

by

Nate76018

from

Moonflower exceded my Expectations

I will sow this variety year after year.Thanks.

Date published: 2013-10-22

Rated

2

out of

5

by

Gypsy

from

Moonflower

I planted my Moonflower seeds in early-mid April. They are now about 10 feet tall, yet no signs of any buds. The plant looks healthy and has grown 4-6 inches every day over the past week since the last good rainfall. When might I expect to have flowers?

Date published: 2012-06-22